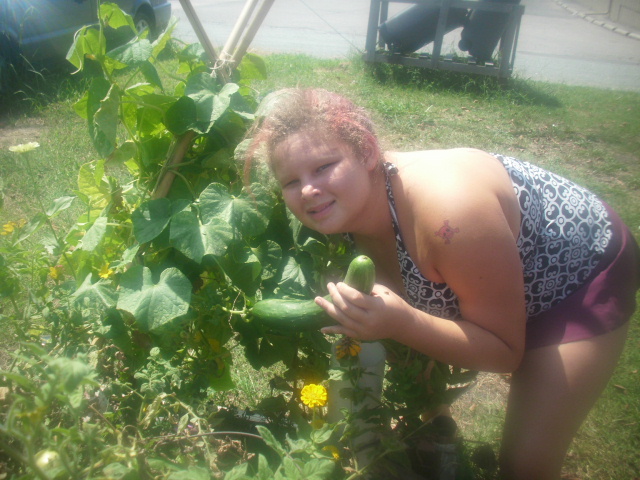 This is grandchild #1 with a prize cucumber. I'm hoping to get 8-10 pounds and try pickling a few. She's a great help in the garden and kitchen.

This is granchild #2. This one is eager to help too. She'll get her hands into anything, loves to play in the compost

Which one is cuter?, the tomato or the boy? This is grandchild #3. Will NOT get his hands dirty and squeals is he even sees a worm. Loves to help, but only things that don't get his hands dirty.

This is my DH's red dahlia type Zinnia, he is king of Zinnias. Some are 4.5 ft. tall and strongest in the garden.

Green gold, on the way. My tomatoes are finally coming in!!!!!

I had never seen an okra flower. It is beautiful!. Is okra part of the morning glory family? I guess this on is finished for the season.

This is a baby corn that did not develop. I don't think they were pollinated correctly (if at ALL, LOL). The kids got a kick out of it. It grew off of a corn cob that was discarded in the compost.

My crowning achievement!!!! My first (maybe only?) sandwich. This is a tomato, basil on white bread with mayo and a little sprinkle of parmesan. I only got half. I passed it around for everyone to taste and it never came back
go figure. It was absolutely delicious.
Thanks for indulging me, I'm lovin' it!!!!!
Kari and Stan



Posts

: 165


Join date

: 2010-05-24


Age

: 57


Location

: Zone 7 VA



Very nice and I LOVE zinnias. I was wondering about the morning glory thing vis a vis sweet potatoes too. They are very viney and have a similar flower. I think I read somewhere that they are related, but I could have just made that up on the spot. And heaven forbid I take the two minutes it would take to look it up online.




Posts

: 2467


Join date

: 2010-05-05


Age

: 61


Location

: Warner Springs, CA USDA Zone 8a, Sunset Zone 7 (I think)



Gorgeous pictures (and helpers!) trustinhart!

According to this site -- http://www.ghorganics.com/page2.html -- okra is a good companion plant for eggplant and peppers, which are nightshades. Wikipedia says okra is in the mallow family, however, and is related to cotton, cacao, jute, and hibiscus. The flower does remind me of hibiscus.

Sweet potatoes are part of the morning glory family.



Posts

: 3350


Join date

: 2010-04-27


Age

: 49


Location

: Manassas, VA - Zone 7a



---
Permissions in this forum:
You
cannot
reply to topics in this forum