Is this a corn borer? I noticed this guy in the middle of a corn stalk and there is a bunch of brownish powder that looks like sawdust. The leaves are being eaten and I suspect there's more of these. I read somewhere to use Dipel Dust. Is Dipel dust safe to use? How do I get rid of them organically? Thanks.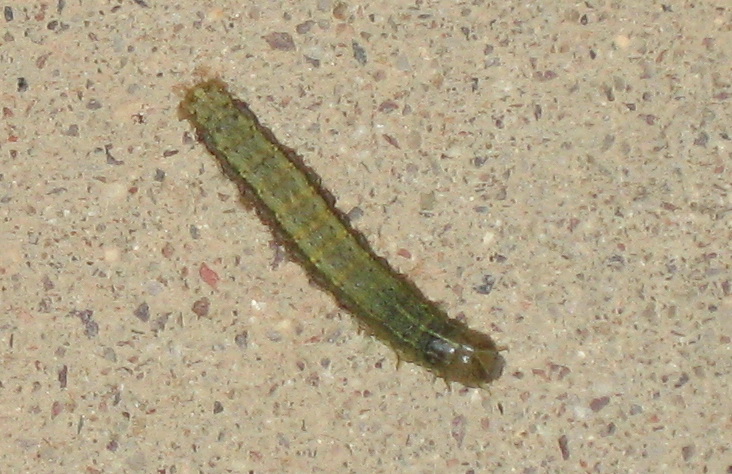 Posts

: 169


Join date

: 2010-05-28


Location

: Chandler, AZ USDA Zone 9A



I cannot say for sure, but it does look like one. This was the first year I didn't have any. From the picture it looks more like a corn borer than a corn earworm per my google image search.

I found this HERE:

Beneficial insects, such as ladybugs and lacewing, will consume a large number of borer eggs. Spray Dipel Dust (Bt-kurstaki) or Monterey Garden Insect Spray (spinosad)
to kill young caterpillars. Repeat applications every 4-5 days until
tassels turn brown. Use botanical insecticides only as a last resort.

And THIS:
Bacillus thuringensis can be an effective control for fall
armyworm in the whorl stage, and for ECB (European Corn Borer) prior to its boring into the plant. A granular
formulation can be applied by hand rather rapidly to small plots of corn, and will lodge
right in the center of the whorl where the worm is feeding. Liquid sprays will also flow
into the center of the whorl. Treating for ECB with B.t. must take place as the tassels
are emerging. This is when the larvae typically re-distribute from the tassel to the lower
parts of the plant, including the developing ear. Surfaces must be mated with B.t. at this
time because the borer must ingest the B.t. before it begins internal feeding. This may
require more than one application. ECB may also continue to infest ears to a lesser extent
during the silking stage.

It does go on to say that Bt is not effective for corn earworms as much.



Posts

: 2467


Join date

: 2010-05-05


Age

: 62


Location

: Warner Springs, CA USDA Zone 8a, Sunset Zone 7 (I think)



---
Permissions in this forum:
You
cannot
reply to topics in this forum