I'm happy to say I harvested my first ever watermelon. It was the largest in my community garden rows.
I tried the tendril test.....A tendril a few inches from the stem should be curling and brown, and the underside should be buttery yellow.
Well, that didn't work. No stem found nearby at all and the underside was the same as the topside. But the thing was bigger than I expected so I harvested it.
I tried the 'thump' test and it sounded more solid than two smaller ones. This and another a little smaller sounded the same. I just harvested the biggest one and took it home.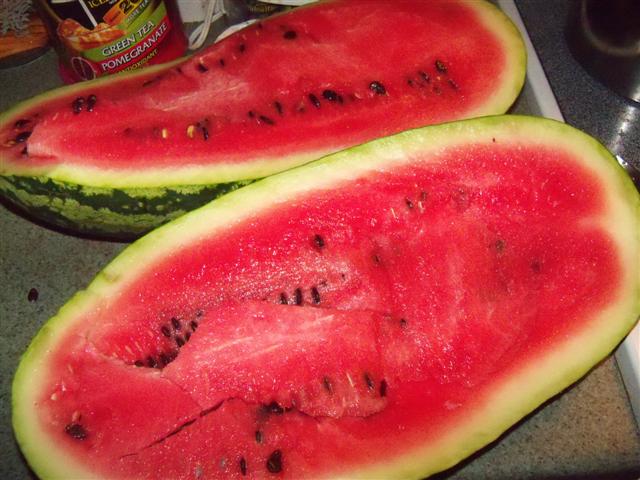 Here it is, cut in half. I didn't cut it very evenly because my knife wasn't big enough. Next time I'll cut it in half crosswise, then in half lenthwise.
It tastes good so I guess I did alright. I've got half in my son's fridge and half in mine. I'll be snacking on watermelon tonite.
Tomorrow I think I'll harvest the next largest and bring it to my daughter. It, too, doesn't seem to have any tendril nearby but the packet for Sugar Baby watermelon states they avg 8-10 lbs. This one is over 14 lbs so I think the next one might be fine as well, with the same thumping sound.
Wish me luck.



Posts

: 4687


Join date

: 2010-03-21


Age

: 75


Location

: Southwestern Maine Zone 5A



Looks so yummy! Congrats!



Posts

: 51


Join date

: 2010-07-22


Location

: Dover, Arkansas zone 7 UpSo



Congratulations!!!!!!! Your garden must be lovely!!!



Posts

: 165


Join date

: 2010-05-24


Age

: 58


Location

: Zone 7 VA



Beautiful Sugar Baby.

So happy for you. Glad it tastes good and Good Luck on your future harvests.



Posts

: 3141


Join date

: 2010-06-10


Age

: 70


Location

: Coastal Oregon, Zone 9a, Heat Zone 2 :(




Certified SFG Instructor




Posts

: 741


Join date

: 2010-03-05


Age

: 22


Location

: Illinois zone 6



Now that was worth it all! I had to BUY a watermelon today because mine has not produced.




Posts

: 2467


Join date

: 2010-05-05


Age

: 62


Location

: Warner Springs, CA USDA Zone 8a, Sunset Zone 7 (I think)



She's a beauty, QB!



Posts

: 7392


Join date

: 2010-02-26


Age

: 64


Location

: yelm, wa, usa



Fantastic-looking melon, QB. You must have a red thumb.




Posts

: 1450


Join date

: 2010-03-16


Age

: 62


Location

: Southeastern Missouri (6b)



---
Permissions in this forum:
You
cannot
reply to topics in this forum