Latest topics
»
Hi Everyone
by
skidmoca
Today at 9:07 pm
»
Hello from Northern Ontario Eh!
by
skidmoca
Today at 9:04 pm
»
Eggplant - (Japanese) Millionaire
by
Scorpio Rising
Today at 8:57 pm
»
Floating Away and New Seeds!
by
Scorpio Rising
Today at 8:55 pm
»
Happy Birthday!!
by
Scorpio Rising
Today at 8:48 pm
»
How's the Weather Where You're At?
by
Scorpio Rising
Today at 8:47 pm
»
ahoy mateys from Arkansas
by
Scorpio Rising
Today at 8:45 pm
»
N&C Midwest: February 2018 !
by
Scorpio Rising
Today at 8:37 pm
»
N&C Midwest: When are your starting seeds?
by
Scorpio Rising
Today at 8:31 pm
»
Northern California & Coastal Valleys - What are you doing this month?
by
sanderson
Today at 4:22 pm
»
A new SFG fan from Texas
by
Mastogarden
Today at 9:32 am
»
Sowing Experiment! Anyone Tried This?
by
Scorpio Rising
Yesterday at 8:49 pm
»
Fourth Year SFG in Canada
by
trolleydriver
Yesterday at 5:13 pm
»
Your favorite blackberries or raspberries?
by
AtlantaMarie
Yesterday at 7:07 am
»
Aerogrow by Miracle Grow
by
AtlantaMarie
Yesterday at 7:05 am
»
Seed Organizing Ideas
by
AtlantaMarie
Yesterday at 7:04 am
»
Areogardening
by
BeetlesPerSqFt
2/20/2018, 9:54 pm
»
2018 SFG in Brooks, GA
by
Scorpio Rising
2/20/2018, 9:39 pm
»
has55's R & D Journey
by
sanderson
2/20/2018, 1:55 am
»
parsnips in square foot garden?
by
sanderson
2/20/2018, 1:43 am
»
WANTED: Pictures of Compost Bins
by
bigdogrock
2/19/2018, 10:28 pm
»
The New Square Foot Gardening Foundation page is now online!
by
sanderson
2/19/2018, 6:40 pm
»
February: What to plant in Northern California and Central Valley areas
by
sanderson
2/19/2018, 6:31 pm
»
Invasive Tree Roots - Very important topic for newbies.
by
sanderson
2/19/2018, 6:23 pm
»
excited to be here!
by
Kate888
2/19/2018, 2:57 pm
»
Butterfly Junction
by
sanderson
2/18/2018, 12:16 am
»
New England Feb 2018
by
sanderson
2/17/2018, 8:14 pm
»
TrolleyDriver's Compost Thermometer
by
has55
2/17/2018, 8:17 am
»
SUGA 2018
by
SQWIB
2/16/2018, 3:15 pm
»
LED grow lights......any advice?
by
sanderson
2/15/2018, 12:08 pm

August brought my first real influx of bugs. We shall see what September brings.
Here we are at the end of summer - although September always seems to be pretty dang hot. I know about now it is easy to feel burned out from garden duties so I am wondering who else is going the year round route?
What to plant in Sept in So Cal:
Beets, Broccoli, Brussel Sprouts, Carrots, Celery (mine finally sprouted), Leeks, Peas, Spinach, and if it stays warm long enough Bush Beans and Summer Squash
Share what is going on in your garden about now. And don't be shy about pictures!
Also - how are you saving your harvest? I am finding a real bumper crop of beans and cucumbers and am doing some freezing and some pickling but they keep coming!!!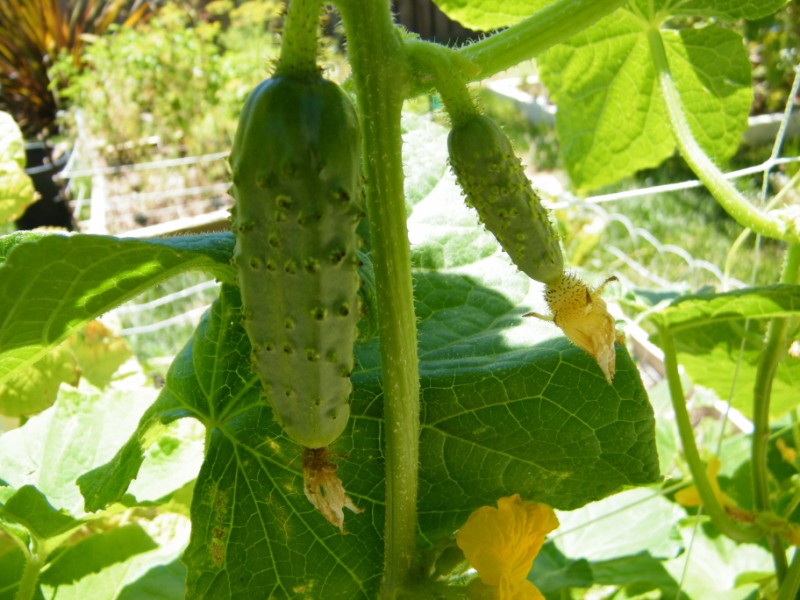 Posts

: 2467


Join date

: 2010-05-05


Age

: 62


Location

: Warner Springs, CA USDA Zone 8a, Sunset Zone 7 (I think)



wonderful photos,

tried this summer to sfg and while I knew this would be a great experiment I am ready for help,

I live near the ocean and while my sfg gets great sun it has been very cool, almost all the veg I planted is bitter, my yellow pear tomatoes which I had almost given up on are doing OK, nothing to brag about, but they are delicious, early summer I harvested some onions, herbs are wonderful, carrots bitter too,

but main problem is powdery mildew, on all squash and melons, horrid, treated with fungicide, mildew seems to laugh and spread, I am hoping that my 2 pumpkins will hold on long enough to ripen, any suggestions?

next year I will get mildew resistant varieties, but I am concerned....

have winter plantings in seed trays now, about 1 inch tall, would like to prep area before transplanting, do you add mels mix or other to replace lost soil?



Posts

: 2


Join date

: 2010-09-06


Location

: san diego-point loma



I know that the coast stays cooler and more overcast and this year more so than most. The heat is yet to come!

One of the worst powdery mildew samples I ever saw was in Encinitas in the same maritime belt you are in. She said she gets it every year, but still manages to get a harvest from the plant. For that, it might be worth talking to a local nursery that has someone experienced in it to get a local take on it.
Also be sure you have the right mildew. There is downey mildew and powdery mildew and they are somewhat different. I have read that both are becoming huge problems with the commercial veg farming in Ca. It is possible the pathogen is changing per the article I read thus making it harder to control. I believe it.
Not sure why anything would be bitter. That is a new one for me - anyone else? Carrots can be planted year round. I have planted some every month and each crop is a little different. The latest ones seems to be growing the fastest. Might be worth trying one more square to see if a later planting makes any difference.
According to Mel, the next step, once you have cleared out a square, is to add some compost to it and plant again. If you have homemade - great - otherwise just whatever you can get locally. I plan to buy a half yard of it and keep it on hand as I redo each box.
Hope you got something out of the deal! Keep us updated.
Last edited by Chopper on 9/6/2010, 1:58 pm; edited 1 time in total



Posts

: 2467


Join date

: 2010-05-05


Age

: 62


Location

: Warner Springs, CA USDA Zone 8a, Sunset Zone 7 (I think)



Found this at
carrotmuseum.com
:
Carrots can taste
soapy or bitter - Two ingredients determine a carrot's flavour: sugars and
terpenoids (volatile compounds that impart the carrot flavour). Some varieties
are naturally high in terpenoids, which make the carrots taste bitter or soapy.
Because terpenoids develop earlier than sugars, a carrot that is harvested too
young might taste bitter.
The taste in carrots is based on the right balance of sugars and terpenoids.
Terpenoids produce a soapy turpentine-like taste that will mask sweetness.
Differences in flavour components have been found to be attributable more to
genetics than to climatic conditions; however, the controversy continues.
Volatiles can also increase during cold storage (around -1C) which is a common
practice (even for organics!)
Many different terpenes in carrot can cause a turpentine-like taste. Usually
terpenes give a desirable taste to carrots, but in high concentrations can give
undesirable taste. Factors influencing undesirable taste include genetics,
growing conditions, diseases and insects, post-harvest handling and storage
atmosphere.
Storing carrots near apples or other fruits that manufacture ethylene gas as
they ripen, encourages the development of terpenoids in the vegetable and
causing them to become bitter when exposed to ethylene.
Raw carrots will taste more soapy than cooked ones, as cooking breaks down the
terpenoids allowing the sweetness to come through.The Nantes variety produces roots which have higher sugar content, lower in
terpenoids and less suitable for long-term storage.
A lot depends on the growing conditions ( if you grow your
own) - the flavour is best if they mature when days are warm and sunny and
nights are cool and still. The plant is photosynthesizing like crazy in the
daytime and putting a lot of sugars down into the root, then a cool night comes
and the carrot 'rests' instead of burning up that sugar. Where the night time
temps stay in the 60s or warmer, the plants respire more at night and use up the
accumulated sugars.
So for the sweetest roots, time your carrot crop to mature
at a time of year with warm days and chilly nights. and no matter what the
conditions, harvest late in the day rather than in the early morning.



Posts

: 2467


Join date

: 2010-05-05


Age

: 62


Location

: Warner Springs, CA USDA Zone 8a, Sunset Zone 7 (I think)



I think I will try planting one square each month as an experiment, thanks for all the great advice,

I am going to garden center today again and will ask someone else about the mildew,

it took 3 people to get me on to Bayer Tree stuff for our diseased eugenia hedge, so sometimes it pays to ask again, and again,

since I finally have registered I can check back with you all, I am determined to make this work



Posts

: 2


Join date

: 2010-09-06


Location

: san diego-point loma






Posts

: 3350


Join date

: 2010-04-27


Age

: 50


Location

: Manassas, VA - Zone 7a



Finally got one box done and have sugar snaps , cucumbers, pole beans, carrots. May have the next box soon, broccoli, califlower, kale, romaine lettuce. Your pics sure look good!



Posts

: 247


Join date

: 2010-05-17


Location

: zone 8b, SoCal



I am FINALLY picking up my compost on the 15th. Then I can get a new box planted - well an old box. The boxes are not cooperating with my 6 month turnover plan so will plant where I have availability. LOL. Looking forward to LETTUCE. I love growing the very tender kinds with short shelf lives. Best gotten right out of the garden.

The first to be almost emptied is the corn. Grew, produced, done. Even the pole beans are done now. The only thing still showing life in the box is the zucchini. All my other squashes from summer are done.

My very first box from March still has tomatoes and peppers growing, much to my surprise.

This is the first year I have ever truly eaten with the seasons and it is a blast.





Posts

: 2467


Join date

: 2010-05-05


Age

: 62


Location

: Warner Springs, CA USDA Zone 8a, Sunset Zone 7 (I think)




---
Permissions in this forum:
You
cannot
reply to topics in this forum