Page 2 of 2 •

1, 2
Just a suggestion--I have used mini hoops over some grow beds for several years.
My mini hoops were reinforcement wire---cut to fit the length of grow beds---hooped
over---secured with stakes===then heavy poly over wire hoops.
I have no photos----i dont think---my home burned this past summer and lost
gardening pics that were on computer---but might have some pics that were saved at
photobucket.==


These are sleeves I made from one inch thinwall square tube.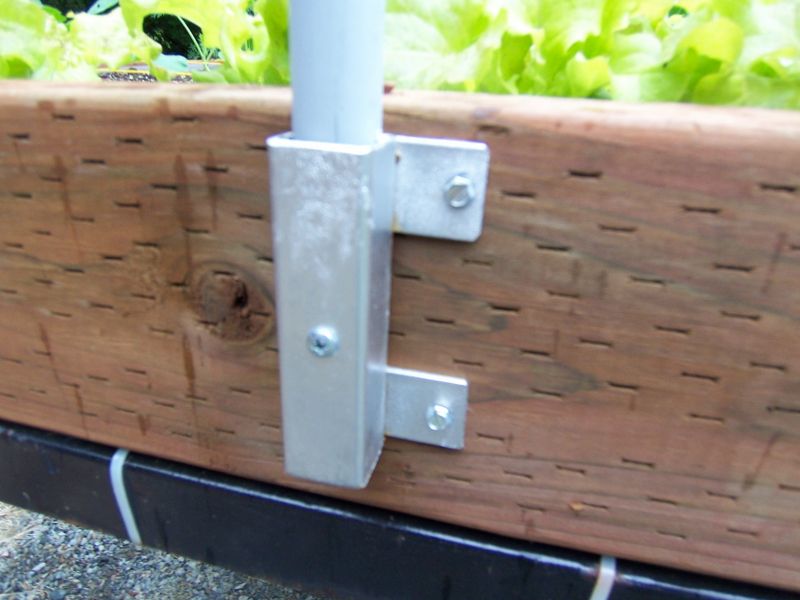 Another option would be to use 1 inch pvc to make the sleeves and hold them down with the strap brackets made of steel, not the plastic ones. The sleeves make it much easier to install and remove the hoops as desired.



Posts

: 7392


Join date

: 2010-02-26


Age

: 64


Location

: yelm, wa, usa



@CarolynPhillips

wrote:Just a suggestion--I have used mini hoops over some grow beds for several years.

My mini hoops were reinforcement wire---cut to fit the length of grow beds---hooped

over---secured with stakes===then heavy poly over wire hoops.

I have no photos----i dont think---my home burned this past summer and lost

gardening pics that were on computer---but might have some pics that were saved at

photobucket.==
Oh, gosh, I'm so sorry to hear about your home!! That is terrible. I am thankful you are here safe and have the time and wherewithall to join us.
I like your hoop idea. I am gardening in my front yard (literally) and am still searching for what, if anything, I can do for cold frames that won't get the HOA after me. I am just grateful no one has come after me about my monster squash. (Maybe they are scared of it???

)



Posts

: 3350


Join date

: 2010-04-27


Age

: 50


Location

: Manassas, VA - Zone 7a



Megan, can you direct me to a picture of your Monster Squash--

Thank you for the sympathy---it was hard, but sometimes I get confused
cause I think I have something when I actually dont.

And I searched my photobucket account for the pics of mini hoops made
of reinforcement wire but could not find them.-----



Posts

: 3350


Join date

: 2010-04-27


Age

: 50


Location

: Manassas, VA - Zone 7a



Boffer ,The pictures didnt load for me yesterday but they did today. I really like your
table gardens---raised gardens. I am working on making my grandfather a table garden. He really likes to garden but hes running out of energy (80 years old)
you sure did put alot of work into those bed/box covers. they are really nice.
Page 2 of 2 •

1, 2
---
Permissions in this forum:
You
cannot
reply to topics in this forum