Latest topics
»
Hi Everyone
by
BeetlesPerSqFt
Today at 10:23 pm
»
Northern California & Coastal Valleys - What are you doing this month?
by
sanderson
Today at 9:41 pm
»
Path Width
by
sanderson
Today at 9:39 pm
»
parsnips in square foot garden?
by
Turan
Today at 8:38 pm
»
Horsetail weed
by
Kate888
Today at 8:32 pm
»
N&C Midwest: When are your starting seeds?
by
aliceingardenland
Today at 7:35 pm
»
How's the Weather Where You're At?
by
donnainzone5
Today at 7:05 pm
»
A new SFG fan from Texas
by
sanderson
Today at 6:02 pm
»
Your favorite blackberries or raspberries?
by
Mikesgardn
Today at 5:51 pm
»
SUGA 2018
by
SQWIB
Today at 2:02 pm
»
MD Home & Garden Ticket Drawing (until 2/24/18)
by
sfg4uKim
Today at 8:41 am
»
Happy Birthday!!
by
AtlantaMarie
Today at 4:16 am
»
Mid-Atl - Feb 2018 - Anyone starting seed indoors yet?
by
BeetlesPerSqFt
Today at 12:22 am
»
Hello from Northern Ontario Eh!
by
skidmoca
Yesterday at 9:04 pm
»
Eggplant - (Japanese) Millionaire
by
Scorpio Rising
Yesterday at 8:57 pm
»
Floating Away and New Seeds!
by
Scorpio Rising
Yesterday at 8:55 pm
»
ahoy mateys from Arkansas
by
Scorpio Rising
Yesterday at 8:45 pm
»
N&C Midwest: February 2018 !
by
Scorpio Rising
Yesterday at 8:37 pm
»
Sowing Experiment! Anyone Tried This?
by
Scorpio Rising
2/21/2018, 8:49 pm
»
Fourth Year SFG in Canada
by
trolleydriver
2/21/2018, 5:13 pm
»
Aerogrow by Miracle Grow
by
AtlantaMarie
2/21/2018, 7:05 am
»
Seed Organizing Ideas
by
AtlantaMarie
2/21/2018, 7:04 am
»
Areogardening
by
BeetlesPerSqFt
2/20/2018, 9:54 pm
»
2018 SFG in Brooks, GA
by
Scorpio Rising
2/20/2018, 9:39 pm
»
has55's R & D Journey
by
sanderson
2/20/2018, 1:55 am
»
WANTED: Pictures of Compost Bins
by
bigdogrock
2/19/2018, 10:28 pm
»
The New Square Foot Gardening Foundation page is now online!
by
sanderson
2/19/2018, 6:40 pm
»
February: What to plant in Northern California and Central Valley areas
by
sanderson
2/19/2018, 6:31 pm
»
Invasive Tree Roots - Very important topic for newbies.
by
sanderson
2/19/2018, 6:23 pm
»
excited to be here!
by
Kate888
2/19/2018, 2:57 pm

It's time to start winterizing parts of the garden, but I wanted to take some pictures for next year's reference first. The garden is in the area behind our garage. The yard is fenced in, so I attached the trellises to the fence. The ground is covered with gravel (landscape fabric beneath). There's still room to expand along the left-hand side and part of the far back (and I've already planned all of it for next year).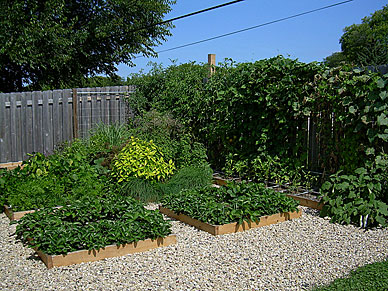 Strawberries in the two front boxes, carrots and bush beans in the middle left, herbs in the middle right, more herbs in the back right, raspberries against the back fence (hidden by the lemongrass), and tomatoes, pole beans, peppers, zucchini, eggplant, and cucumbers against the side fence.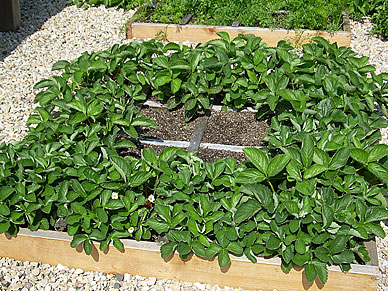 Strawberries! The middle is empty for next year's strawberry pyramids. These strawberries had a VERY rough start: I purchased them from a farm, and when I arrived to pick them up, the woman had already dug up all 100 of the plants with a PITCHFORK and put them bare-root into plastic bags. It was dark, so I couldn't plant them until first light. I babied them for a month before they looked like they'd live. But I followed Mel's advice, snipping runners and blooms, and they finally flourished. I'm letting them fruit just once before winter, and hopefully I'll get some nice strawberry jam!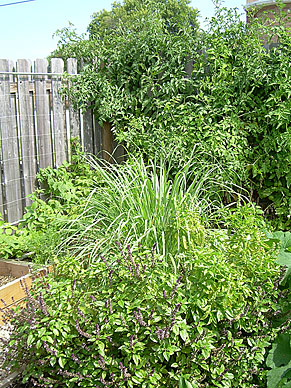 The raspberries are partly visible in the back, left side. In the front is cinnamon basil, followed by oregano, thyme and other types of basil (all of which are barely visible). The lemongrass won't stop growing! Tomatoes in the back.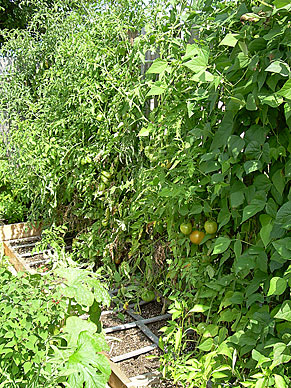 8 different types of tomatoes, onions have already been harvested.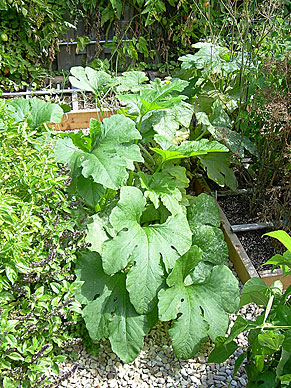 Zucchini monster! It actually starts just in front of the tomatoes. I'm enjoying watching how far it grows.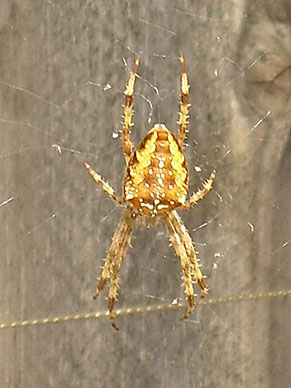 This little beauty just took up residence in the back corner between the raspberries and tomatoes. She's quite accommodating, and I'm careful not to disturb her web when picking ripe, yellow raspberries off the vines.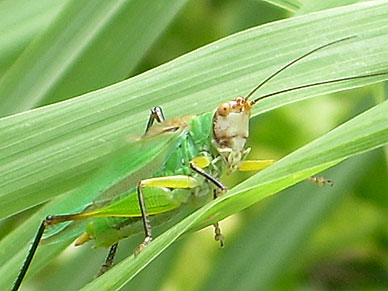 And this melodious grasshopper was singing on the lemongrass when I was taking pictures! He's a clever little guy: I'd look on the top of the blade, he'd flip to the bottom. I'd look at the bottom, he's be back on top. This continued for about 5 minutes before I kept still, and he decided that I was safe.
That's all for this year! The peppers will be coming out soon (they really bombed this year), and garlic will go in. This was my first year veggie gardening, and I learned a lot!
THANK YOU, everyone!
-Michelle

AWESOME



Posts

: 768


Join date

: 2010-03-11


Age

: 38


Location

: Flint Area, Michigan (zone 5a-5b)



Thank you!!!
There were failures: the peppers performed dismally due to a bacterial disease. By the time they recovered after I treated them, it was too late. One, poor pepper is trying to grow to maturity! LOL
Right now, the cucumbers are rapidly dying off (I looked up what was causing it, but now I've forgotten), although they're so close to the end of the season, anyway, that I'm just letting them go (I have 4 large plastic bags full of cukes in the fridge right now). Also, the zucchini has contracted powdery mildew (I water with a hose). Again, I don't care enough to treat at this point.
The strawberries came with brown-spot disease, but I've treated them twice, and all it resulted in was odd leaf growth. I read that as long as you can keep it to a minimum and it doesn't seem to affect the berries, that it's okay to leave it that way.
And I HATE Japanese Beetles!!! Next spring I'm putting milky spore powder on the lawn.
Now that I've made it sound like a disease incubator, I am quite happy with how the garden performed.

I'm very lucky to have a store called Brew & Grow nearby (they're company truck has a logo of angry, maniacal-looking cartoon tomatoes on it). They have many types of compost as well as vermiculite. Not cheap, unfortunately, but I'm in this for the long haul.
And I looked up that spider: she's (it's a girl) a Common Garden Spider orb-weaver. Extremely common in Britain and in every northern country.
-Michelle
I am all over you hating the japanese beetles, but I think MP takes a couple years to work, but better than nothing! I plan on doing it this fall AND next spring.
i found that simple baking powder, water, oil mix helped with PM. We have it too, silly Midwest weather. My cukes had downy mildew

So i got some odd veggies and not many either.
That spider gives me the creeps. I am NOT a spider person. Give me a snake any day...
how is the rest of your garden?



Posts

: 768


Join date

: 2010-03-11


Age

: 38


Location

: Flint Area, Michigan (zone 5a-5b)



The rest has done pretty well (all floral). So much of it was "holding beds" that have now been broken up since we just had a deck installed (and a back door! We have direct access to the backyard now!



)
I'm about to start in on a shade garden by the side of the house. Many plants are sitting in pots waiting to go in. Some of the plants that were moved for the deck have now been planted against the far back fence (which eventually runs to the veggie garden and supports the tomatoes). The only thing I've really had problems with is one lilac bush: it's leaves have turned brown and crunchy and are falling off, all of them. I looked up lilac diseases, but I haven't found anything that looks as severe as this. There are 3 other lilacs nearby (all different varieties), and they're all doing well.
And a bunch of hostas are chilling out in the kiddie wading pool, waiting for the shade garden to be ready!
-Michelle
Your garden is beautiful! We got a good harvest, but it wasn't nearly that visually pleasing!




Posts

: 778


Join date

: 2010-04-29


Age

: 49


Location

: Central Virginia, 7A as far as I can tell



Gorgeous. The lemon grass is interesting. I would love to find out more about its culinary possibilities.



Posts

: 2467


Join date

: 2010-05-05


Age

: 62


Location

: Warner Springs, CA USDA Zone 8a, Sunset Zone 7 (I think)



@Chopper

wrote:Gorgeous. The lemon grass is interesting. I would love to find out more about its culinary possibilities.
It's used in Thai cooking. I thought that I would start to experiment with that this year, but I got ahead of myself.
When I pulled/cut the lemon grass, my hands smelled like lemon Pledge!

-Michelle

---
Permissions in this forum:
You
cannot
reply to topics in this forum