Well, my wife and I have been gardening in raised garden beds for years now, but not following Mel's method. I was completely unaware of the method. I used raised beds because my soil here is more like gravel and dust. I made them a foot deep because I had no idea that i could do it only 6 inches deep! I'm looking forward to employing Mel's methods to my garden and having better results.

I filled the boxes w/ compost from my municipal dump and have topped off with homemade stuff and with more from there. Guess my first task is to figure out how to add the peat moss and vermiculite so i can have that delicious sounding friable mel's mix. mmm mmm mmm. my veggies are gonna love that! I plan on converting my all compost boxes to mel's mix over time. Just a box or two a year so i can keep it affordable.
I've already put grids on 2 boxes that I'm done with for the year and I feel more productive already.

I'm also really excited to grow my squash up a trellis like is described in the book, but really didn't understand much of what mel wrote about tomato vines and trellises. I can't really say i've ever seen a tomato vine plant.
Anyway, I'm glad to have found this resource and to have the opportunity to talk gardening with such a great bunch of people like you guys!



Posts

: 3


Join date

: 2010-09-05


Location

: Great Basin USA



Hi there, and welcome!
I am new here this year as well, and it is such a great place. I hope you will share with use your experience in raised bed gardening! I have been trellising my squash and tomatoes this year. The squash is a little ornery but it WILL be trellised, if you convince it. (I just needed a much bigger trellis is all!) My tomatoes are just nudging 8 feet, which is small by comparison to some of the reports I've been reading here.
Where is great basin? The US has many watersheds. I completely understand if you don't want to be more specific, I'm just curious.

Happy Labor Day, and happy gardening!




Posts

: 3350


Join date

: 2010-04-27


Age

: 50


Location

: Manassas, VA - Zone 7a



Welcome - you are right, this is a terrific resource and if your less entheusiastic gardening friends don't want to hear another squash story, we will always listen - a lovely resourse that is so valuable.
Collectively there is so much knowledge and experience here that I am not sure that there is a problem that someone hasn't come across. I have really enjoyed that - and the humor

Enjoy the rest of your labor day weekend



Posts

: 142


Join date

: 2010-05-10


Age

: 44


Location

: Durham, NC



Found this - Great Basin outlined in pink: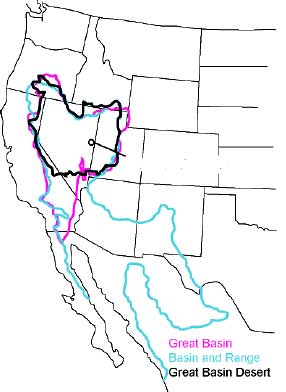 Posts

: 2467


Join date

: 2010-05-05


Age

: 62


Location

: Warner Springs, CA USDA Zone 8a, Sunset Zone 7 (I think)



I'm in Northwest Utah more specifically. I can see the Great Salt Lake from my backyard deck.



Posts

: 3


Join date

: 2010-09-05


Location

: Great Basin USA



Welcome from California! I like how you speak for your veggies, mmmm !



Posts

: 247


Join date

: 2010-05-17


Location

: zone 8b, SoCal



---
Permissions in this forum:
You
cannot
reply to topics in this forum