I harvested my first carrot and beet yesterday. After 4 months of eager anticipation this what they looked like. Drum roll, please.....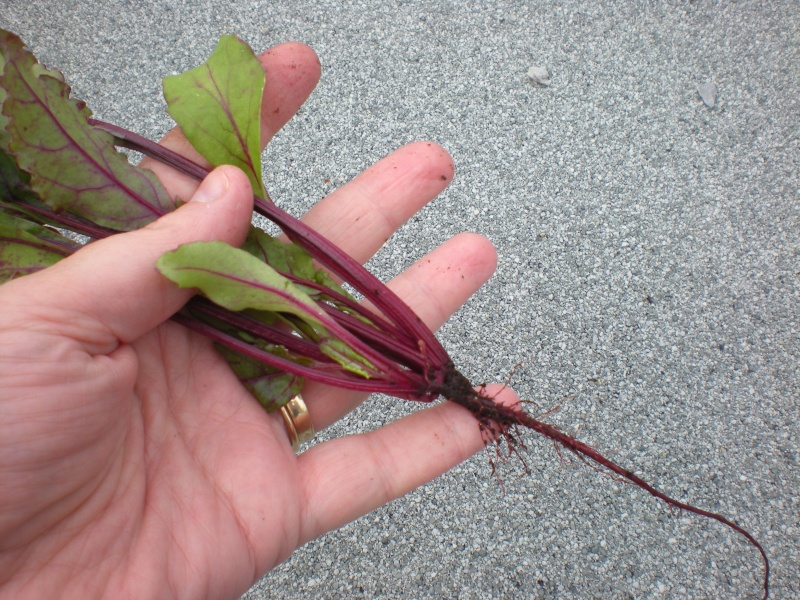 [/url]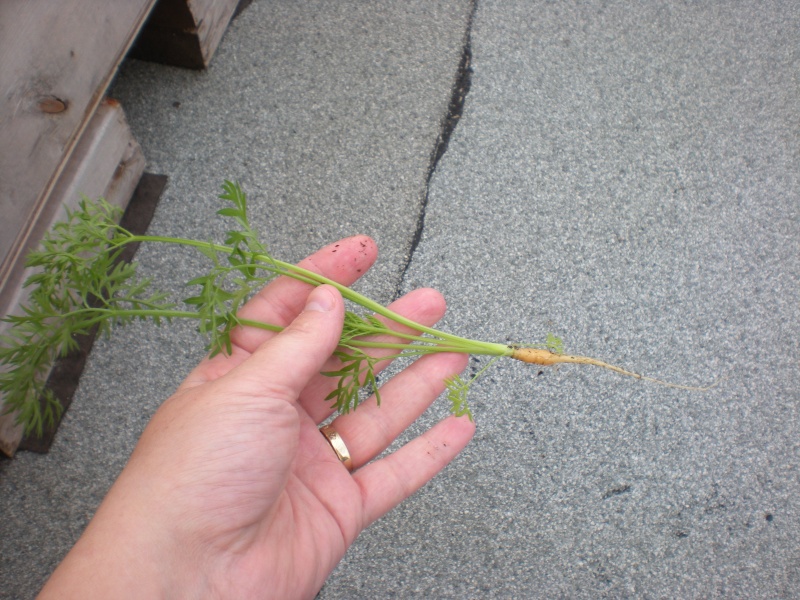 Last edited by boffer on 9/13/2010, 8:23 pm; edited 1 time in total (Reason for editing : attempt to fix img code)



Posts

: 135


Join date

: 2010-05-11


Location

: Saint John, NB (zone 5)



oh my. I don't know what to say. I can imagine what you thought when you pulled them up.
I am so sorry---have no idea why they didn't grow for you. But if it were my soil, I would be adding some phosphorus to it..... or .......Bulb fertilizer.
oh my.....




Posts

: 778


Join date

: 2010-09-06


Age

: 47


Location

: Alabama Zone 7a



Oh dear! Well, maybe to leave them grow a little longer?
You are in good company, though. Here are my biggest carrots from last year:




Posts

: 3350


Join date

: 2010-04-27


Age

: 50


Location

: Manassas, VA - Zone 7a



On the bright side, beet greens are delish! Steamed w/ a touch of Neuman's Own italian dressing. Keep watering those babies. you may yet get a few beets.


Forum Moderator Certified SFG Teacher




Posts

: 14165


Join date

: 2010-03-06


Age

: 54


Location

: Keene, NH, USA ~ Zone 5a



I think I'll leave them in the ground a while longer. The tops were looking very lush but the roots didn't amount to much! I tried the carrot and it did taste pretty good, in any case.




Posts

: 135


Join date

: 2010-05-11


Location

: Saint John, NB (zone 5)



My very favorite beet greens are Bull's Blood, which make pathetic beets, but the greens are both beautiful and delicious




Posts

: 778


Join date

: 2010-04-29


Age

: 48


Location

: Central Virginia, 7A as far as I can tell



My beets and carrots "thrive" similarly in my light-challenged SFG. Sometimes the carrots take eight months to reach a middling size, although I planted some in a planter that gets more sunlight about four months ago, and they're coming along much better than usual.

I once decided to be patient with the beets and eventually was rewarded with some that were normal-size.

Much depends upon temperature and light, in my experience. Watering regularly also helps. I'll be experimenting with a drip system next spring.

Certified SFG Instructor




Posts

: 2127


Join date

: 2010-03-02


Age

: 70


Location

: Bend, OR (Zone 5-6)



Mine took over 3 months before they had any growth.
I thought they'd mature faster.
I'm glad I got some this year and will try again next year.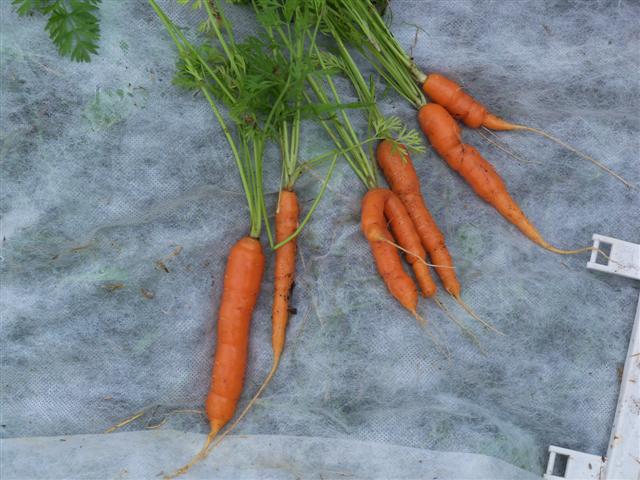 These are 2 varieties, Mokum and Nantes. They were delicious though, so I was happy with the flavor.
I harvested another small bunch the other day and shared with my son and his family. They liked the flavor. I just didn't like the long wait.
I'll be trying next year but not expecting miracles until Sept.



Posts

: 4683


Join date

: 2010-03-21


Age

: 75


Location

: Southwestern Maine Zone 5A




You clearly have very healthy plants by the photos. They just need to stay in the ground a few more weeks.
If you feel around the top of the plant just under the ground you can tell if there is a decent carrot or beet there without disturbing the roots or pulling them up.
They can be very slow growers depending on the weather.
If your plants were not healthy I would have been worried.
They probably might benefit from some fish or seaweed fertilizer.

Ray Down Under




Posts

: 122


Join date

: 2010-03-02


Age

: 71


Location

: Paynesville, Victoria, Australia



This has been a strange year for growing things.

I planted an early square of Coreless Nantes carrots way back in late March, expecting an early summer harvest. I pulled two of them around July 1. One looked like yours. The one next to it was the largest carrot I've ever raised. The rest felt tiny so I left them. I pulled two more in August which were about the size of my little finger. There is one left growing in the square and it still feels tiny. They were all growing in the same square. I planted a later box with carrots and some grew to medium size while others remained tiny.

I can't explain it.



Posts

: 1450


Join date

: 2010-03-16


Age

: 62


Location

: Southeastern Missouri (6b)



---
Permissions in this forum:
You
cannot
reply to topics in this forum