Here are my cukes. They have been wonderful and prolific and then they were attacked by aphids and got a disease - Alternaria Leaf Spot I think. Even the fruit is starting to streak.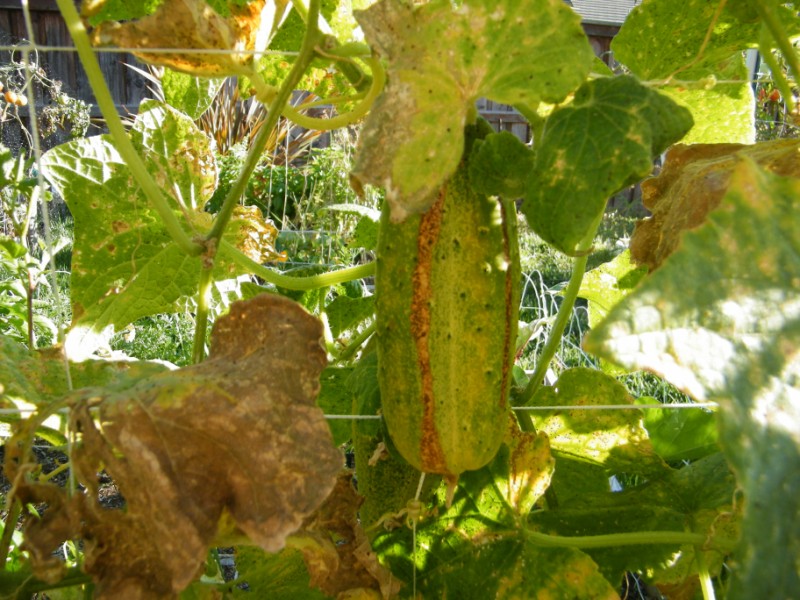 So...for never again: I will never plant a bed without treating it with a fungicide first. A tip I learned from Carolyn to whom I will be forever grateful.



Posts

: 2467


Join date

: 2010-05-05


Age

: 61


Location

: Warner Springs, CA USDA Zone 8a, Sunset Zone 7 (I think)



I'll never try squash again without treating for SVB and squash bugs. Such heartache when they're dried up and dead within a matter days




Posts

: 778


Join date

: 2010-04-29


Age

: 48


Location

: Central Virginia, 7A as far as I can tell



Hi Chopper,

I'm sorry about your cukes. They really look pathetic.

You mentioned treating the soil with a fungicide - how do you do that?

Would it work for tomatoes? I'd really like to treat the beds I had my tomatoes in.

Thanks
Gloria



Posts

: 425


Join date

: 2010-03-15


Location

: Double Oak, TX Zone 8a



I am afraid I will give misinformation, but the person I heard it from grows tomatoes. Besides the regular good clean up practices and using resistant plants, it makes sense to treat the soil that harbors the fungus. In our gardens one would hope we could also be strict with rotating crops.

But for me, as soon as I pull my tomatoes I will be treating with fungicide and a week before I plant I will be treating with fungicide because fungus has always attacked anything I have ever grown that is normally susceptible. So, no more Ms Nice Guy.

I believe she continues to use fungicide weekly. I would kill to have healthy tomatoes for an entire season.



Posts

: 2467


Join date

: 2010-05-05


Age

: 61


Location

: Warner Springs, CA USDA Zone 8a, Sunset Zone 7 (I think)






Posts

: 2467


Join date

: 2010-05-05


Age

: 61


Location

: Warner Springs, CA USDA Zone 8a, Sunset Zone 7 (I think)



---
Permissions in this forum:
You
cannot
reply to topics in this forum