Can someone post a picture of their berry patch? I'll be starting a new bed this Fall & moving my plants from their temporary bed. I'd like to see pics of your support system & how they are trained/pruned.

Thanks.



Posts

: 754


Join date

: 2010-03-02


Age

: 68


Location

: Southeast Tennessee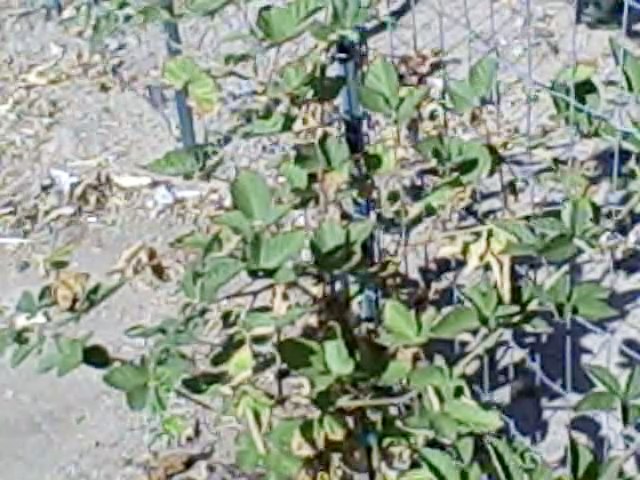 Here is ours we planted last april, no berries yet , hope you can see how we have it supported. I would like to know the same as you too, hope Josh sees this, I was thinking of posting a thread myself to ask him advice cause his look so good. Should we be cutting it back? can you see from the pix some of the leaves are dry and crinkled up but I water it every morn cause I read the roots are shallow and need moisture but it looks dried out by the afternoon, we are in 8b and it is warm here.



Posts

: 247


Join date

: 2010-05-17


Location

: zone 8b, SoCal



I keep the blackberries pruned back to 4 foot,they will grow much taller than that if you don't prune them,but when you prune them back then they will put out side shoots too.
I don't use any support for them, mine are Navaho I have 5 plants in a 4x4 SFG.
I prune them in the fall,I cut out any stems that had berries on them this year, if yours are new plants that didn't have berries this year then just cut them back to 4 foot, and if they are 4 foot or less just cut the tip off of them so they will put out more shoots, they should have blackberries for you next year.
This is the last pic I have of them taken 8-8-10 when I just had pruned them back when I was doing my garden clean up.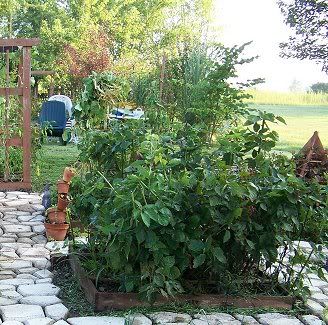 We had a big crop of them this year (second year) big berries quarter size.

Certified SFG Instructor




Posts

: 741


Join date

: 2010-03-05


Age

: 22


Location

: Illinois zone 6



Thanks Josh! I don't know what kind our is , we bought the plant at Lowe's and it did'nt say, I tried to ask but they did'nt know. I guess I will prune it back and see what happens ! We put the trellis there cause it said to grow it on a support but then I guess we have to prune it anyway. Do you fertilize in spring? I've read ammonium sulfate or ammonium nitrate at bloom or mid summer. Your plants look great, hope ours does as well, thanks for sharing. Good luck with yours also Dixie ! hope to see your pix when you get it going!




Posts

: 247


Join date

: 2010-05-17


Location

: zone 8b, SoCal



Josh has an upright variety of blackberry. If you have a trailing sort then you will need support - or high tolerance for free-growing tangle




Posts

: 334


Join date

: 2010-04-27


Location

: Iceland



---
Permissions in this forum:
You
cannot
reply to topics in this forum