Trying to post some pics..........but not doing so good.
This is my salad box. The back row of four squares (with the discarded baby gate I rescued from the dump bin at work) is cucumbers. I had to replant 4 of the eight because of cutworms. there are two squares of yellow bush beans and two of green beans. I have two squares of spanish onions which have made it to golf ball size. Front right is a square of dill with a square of mesclun mix to the back of it and another one to the left. The two squares of mesclun mix kept us in greens almost all summer. Front left square has green onions in each corner and a head of romaine lettuce in the center. There is another square like that on the left just in front of the cucs. After I used the green onions for salads the romaine had more room to mature. There is one square of radishes second from the left. I had more in the herb bed.
GK
Hey! It worked this time!!

GK
veggies
Peppers didn't do so good this year....only two bell peppers and one hot green pepper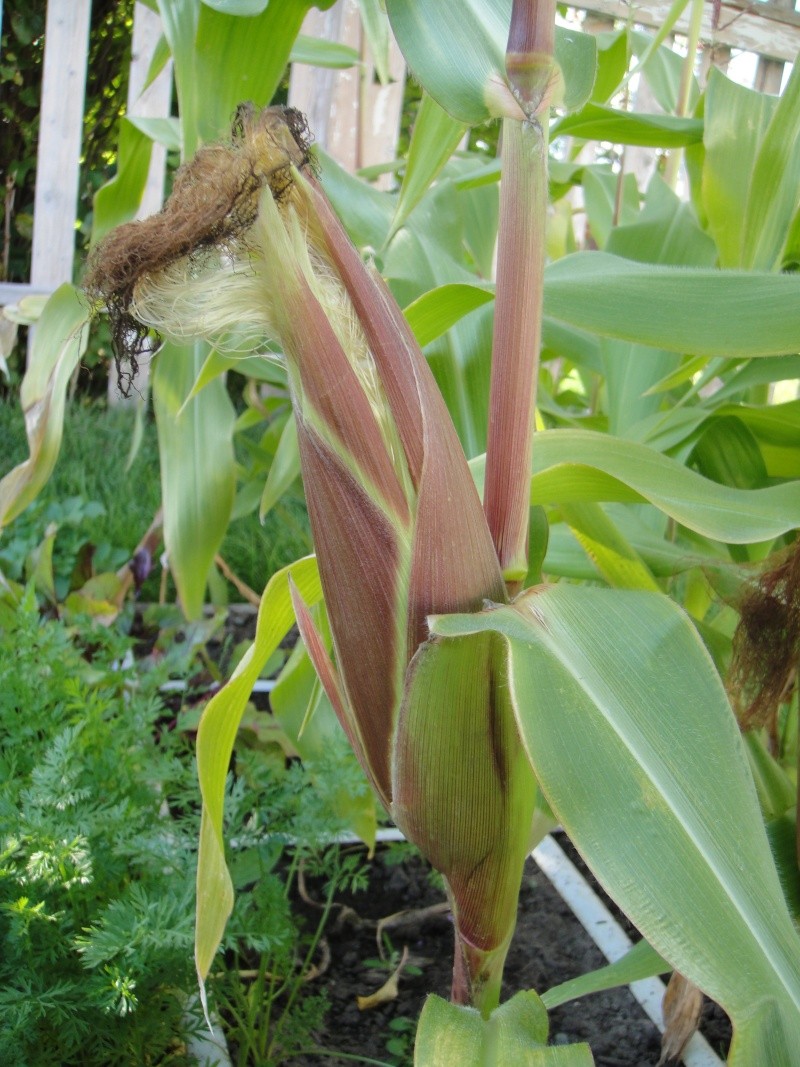 Corn...got three ears so it wasn't a total loss. One for me, one for Bob and one for the earwigs.
Next year I will plant the corn in a different place. It needs to be in a place where it doesn't get so much afternoon shade and will perform better. And I think I will put some kind of cover over the ground to warm the soil quicker.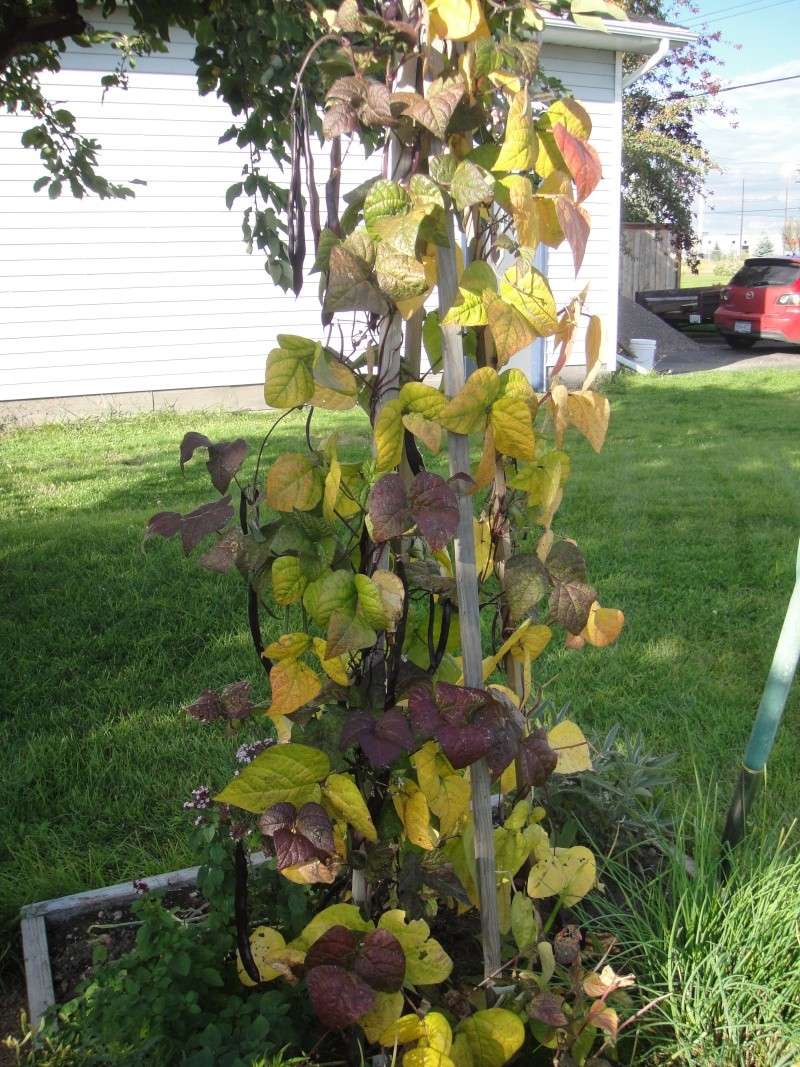 pole beans.......I am not sure why the leaves started turning yellow and purple......maybe because it is getting close to the end of the season? They were still blooming and producing more beans though.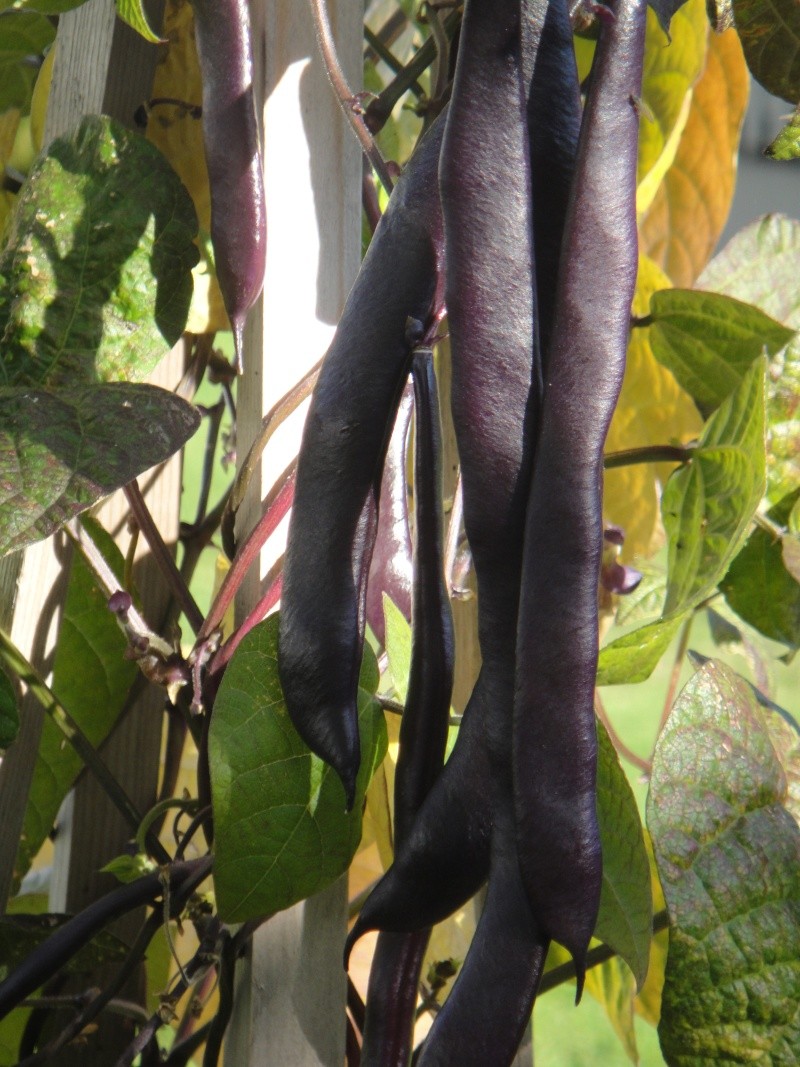 These got too big while I was away, but maybe I can use the seeds to plant next year.
GK
Wow, what a beautiful garden, GK! Beautiful flowers, great looking veggies and herbs!

My pole beans are turning colors too... no purple leaves, but some of the leaves are turning yellow. (The lima pole bean leaves are still bright green.) A lot of mine got big, too; I'm going to use them as dried beans.



Posts

: 3350


Join date

: 2010-04-27


Age

: 50


Location

: Manassas, VA - Zone 7a



Just beautiful, love the color of the flowers.



Posts

: 247


Join date

: 2010-05-17


Location

: zone 8b, SoCal



So glad you could enjoy your garden before that nasty frost hit you a few days ago.
Beautiful, and I love the recycled baby gate for a trellis. Was it tall enough for the cukes?



Posts

: 3141


Join date

: 2010-06-10


Age

: 70


Location

: Coastal Oregon, Zone 9a, Heat Zone 2 :(



Last year it would not have been but this year it was. In my first SFG I used garden netting for the cucs but they got so heavy that the netting just stretched and sagged and did not provide adequate support. I had more cucs than we knew what to do with. This year I knew they needed something sturdier so tried the gate instead. However due to plague and pestilence they didn't do as well as last year at all. I did get enough to keep us in cucumbers through the summer but that was it and they are finished now.

I love finding things that people are throwing away and re-purposing it for something else. Perhaps it is a combination of my Mennonite ancestry, being raised with very little and my hippie days that make wasting things almost painful to me.

GK
absolutely beautiful gardens - particularly the sunflowers!
brilliant how you repurposed an old child gate. wish i had thought of that myself - i actually gave away several recently when i was cleaning out the basement.
how did you get the sunflowers to 'stay put'? did you have to brace them in some way? i love sunflowers myself but was afriad they wouldn't stay upright in my sfg boxes with the ultra friable soil.
these garden pictuers are even more welcoming on this cold day in december where there's snow all around. .. makes me yearn for spring time!
thanks again for sharing these pics!

they are lovely!



Posts

: 625


Join date

: 2010-03-04


Location

: USA



---
Permissions in this forum:
You
cannot
reply to topics in this forum