Latest topics
»
The Research Journey:Back to Eden Organic Gardening 101 Method with Wood Chips VS Leaves Composting Garden Soil
by
sanderson
Today at 3:02 am
»
The Research Journey:Composting Leaves Only
by
sanderson
Today at 2:36 am
»
California's Drought
by
sanderson
Today at 2:24 am
»
Second Year SFG in Canada
by
sanderson
Today at 2:22 am
»
CANADIAN REGION:What are you doing in October 2016
by
Kelejan
Yesterday at 10:47 pm
»
Can i just mix up the Mel's mix right in the garden box?
by
Kelejan
Yesterday at 6:15 pm
»
Fall garden push
by
Cajun Cappy
Yesterday at 5:44 pm
»
Testing MM Calculator
by
pforrester1
Yesterday at 5:09 pm
»
Sweet Potatoes
by
sanderson
Yesterday at 4:40 pm
»
Tomato Tuesday 2016
by
countrynaturals
Yesterday at 4:06 pm
»
When do I prep potted raspberries for winter?
by
trolleydriver
Yesterday at 1:19 pm
»
Please Welcome Our Newest Forum Moderator!
by
CapeCoddess
Yesterday at 12:07 pm
»
who has chickens
by
bigdogrock
Yesterday at 7:12 am
»
N&C Midwest: October Happenings!
by
MrBooker
Yesterday at 7:05 am
»
Sanderson's experiments with Bio-Flora Ag Products
by
dstack
Yesterday at 6:13 am
»
Flowers that easily reseeded
by
yolos
Yesterday at 12:07 am
»
Jade Plant
by
Scorpio Rising
10/25/2016, 11:21 pm
»
Microbes...you gotta see this one !!!
by
Scorpio Rising
10/25/2016, 9:53 pm
»
Fun Spider addition to Home Page
by
Scorpio Rising
10/25/2016, 9:49 pm
»
The Research Journey:Growing in a Raised Wood Chip Organic Gardening Bed
by
has55
10/25/2016, 7:16 am
»
The Research Journey:Building Healthy Soil
by
has55
10/25/2016, 7:13 am
»
the Research Journey:How to Grow Large Healthy Organic Tomatoes
by
has55
10/25/2016, 7:07 am
»
Bountea Compost Tea - Got it!!!
by
sanderson
10/25/2016, 3:23 am
»
Northern California & Coastal Valleys - What are you doing this month?
by
sanderson
10/25/2016, 1:28 am
»
Straw Bales with Seeds?
by
donnainzone5
10/24/2016, 11:50 pm
»
TrolleyDriver's Compost Thermometer
by
jimmy cee
10/24/2016, 10:44 pm
»
Notice: Gluten-free Recipes Sub-Forum- Up and running!
by
BeetlesPerSqFt
10/24/2016, 9:20 pm
»
Our Newest Regional Hosts!
by
Scorpio Rising
10/24/2016, 8:56 pm
»
Indian Solar Gardening Calendar
by
Scorpio Rising
10/24/2016, 8:52 pm
»
Asia Region -Showcase of Gardens - Show Us Yours
by
rajmahendra
10/24/2016, 8:36 pm
Dear SFG Friends -
I am new to SFG - first 4x4 planted this spring...90% of all plantings consumed by grasshoppers after my seeds sprouted...except tomatoes. Apparently the hopping green guys dont like tomatoes...
If you cant beat them, join them.
I followed with 14 more tomato plants.
They still live...and are doing reasonable...(the tomatoes, not the grasshoppers).

Second box started last week. Kale, three kids of lettuce and onions. Grasshopper population much decreased with cooler weather, so fingers crossed for better luck.

Plans to start two vertical 2x4 boxes in the spring.

Would love to build a few deeper boxes over winter and try carrots and potatoes in the spring too.

Two rookie questions...
Wondering what you all do for plant / crop rotation...Since its Mel's Mix, do we need to rotate plantings?

Any hints to make grasshoppers chose another area to live? I live in the Upper South, if that matters...

I have really enjoyed this website.

Thanks to all of you for sharing your wisdom with the rookies!!

WJB



Posts

: 16


Join date

: 2010-09-22


Age

: 53


Location

: Oklahoma



Hi WJB, welcome to SFG and to the forum!
Glad your tomatoes are hanging in there, and good luck on your second box! Wish I had some grasshopper advice for you, but that's one pest I have not had here, knock on wood!
According to the book, crop rotation is not necessary, just add a trowel of compost whenever you re-purpose a square. I have worried a little despite that, but don't have enough experience with SFG to have anything meaningful to say backed up with experience. I grew up on a farm and rotation makes sense when you have acres of land devoted to a single crop... but when dealing with square feet, well, pests are going to travel and so do roots, so I really don't think it matters very much.



Posts

: 3350


Join date

: 2010-04-27


Age

: 49


Location

: Manassas, VA - Zone 7a



Oh man , grasshoppers are the scurge of my garden ! that is why I drape a fine mesh netting around my boxes ! where do they all come from ! I bought the mesh at the JoAnn's fabic and craft store for .99 cents a yard and it is wide enough to cover my 3x6 boxes. Thats what works for me !
Also I love to grow Kale! watch out for the aphids! I think the ants bring them, I usaully spray Safer brand insecticidal soap if it gets too bad. Hey maybe you could put some tomato leaves around to discourage the grasshoppers ! just a crazy thought. Best of luck !



Posts

: 247


Join date

: 2010-05-17


Location

: zone 8b, SoCal



Welcome !!

Vigilance is the only way I've found to beat grasshoppers. We have three different varieties down here, with different "seasons" ....so it's year-round battle.

Couple of things that seem to help ....

- Marigolds planted in close proximity

- Keeping the first 12" of the plant (from ground up) free of leaves/buds (n/a for some plant types)

- Mulch with Spaghnum moss ... they dont like the uneven//squishy footing.

- Clean up ..... get the dead stuff away (far away) from the base of the plant.

I think I've used about every "insect spray" on earth to keep these things at bay, and the grasshoppers just laugh at me and keep on munching. Not positive any insecticide work on 'em ...LOL



Posts

: 1012


Join date

: 2010-08-27


Age

: 47


Location

: Wesley Chapel, Florida (Zone 9)



WJB



Posts

: 778


Join date

: 2010-09-06


Age

: 46


Location

: Alabama Zone 7a



Welcome aboard.
I'm in a wholly different growing zone so don't know the ins and outs of southern gardening.
In the north we battle flea beetles in our cabbages.
Here's a peek under the insect barrier in June. I found that the lightweight insect barrier worked well to deter the dreaded flea beetles from my bed of cabbages this year. It should work in all gardens against all types of insects.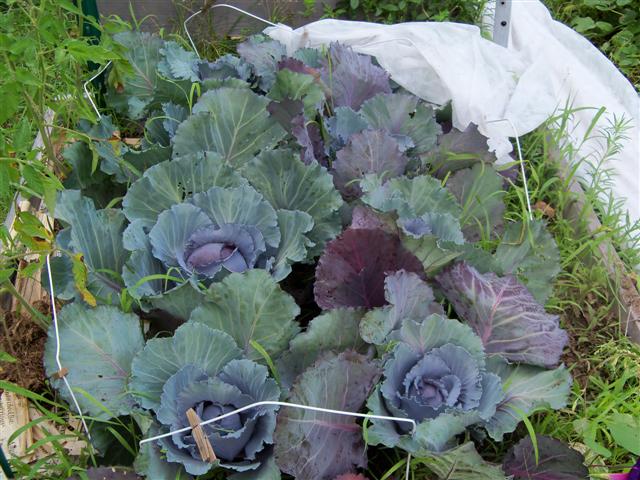 Here's my bed of cabbages, free on insect damage of any kind.
Enjoy your gardening.



Posts

: 4613


Join date

: 2010-03-21


Age

: 74


Location

: Southwestern Maine Zone 5A



---
Permissions in this forum:
You
cannot
reply to topics in this forum