I wanted to prepare my bed for spring by adding a green manure crop to my raised bed. In the ones that were harvested, on Sept 26th I raked the beds and scattered winter rye over the tops, then raked in the seeds just a little and tamped them down with the back of my rake. Today, 6 days later, I've got nice blades of rye popping up all over the spaces.
We had 1 1/2 inches of rain in these last 6 days so I'm sure Mother Nature helped.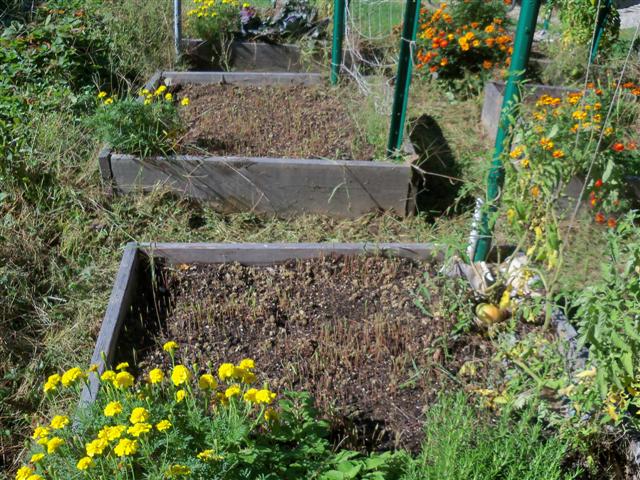 Here are 2 of the beds closest, sown with rye.
Here's a close-up of one of the beds.
Not all the beds are thru producing so I'll do the same with the other beds when I can. I hope the addition of green manure next spring will be beneficial to my garden.
Here's a view of most of my beds. I still have tomatoes, cabbages, parsnips, Swiss chard and my A-frame is now sown with carrots and lettuce seeds.
Quiltbea, I find this extremely interesting, I was considering trying something similar this fall/winter myself. Please let us know how it works out! Also, I love your boxes!





Posts

: 3350


Join date

: 2010-04-27


Age

: 50


Location

: Manassas, VA - Zone 7a



Thanks Megan. My boxes are 12" spruce lumber put in last spring.
The 7' fence posts my son hammered into the 2 northside corners of 6 of my boxes support peas and tomato plants, which I rotated this year.

This is a first with me trying a green manure crop. I don't see why it shouldn't work. It'll grow until winter freezes stop it, then start regrowing in the spring once again. As long as I turn it before it goes to seed, I see no problems.
I seeded winter rye in several bald spots in my yard last winter. It was lovely having green in the winter. The only problem I discovered was the roots were deep enough that turning it over by hand was very difficult and I ended up having to use a tiller. In the SFG, you might find you will need to pull the plants and chop them up, then return them to the garden. Please, please let us know how this works out for you. You are breaking new SFG ground!



Posts

: 904


Join date

: 2010-03-03


Location

: USA



I'll try to remember what happens next spring.

I'm usually on here with all that's new in my garden happenings so I shouldn't forget.

I would hesitate to do that because the boxes are not conducive the tilling and plowing under. And considering the space limits of the boxes it seems like it might be too "rooty". But, the things I do not know fill books. I will be interested to see if you think it was worth it in the end. Has anyone done this before and how did you handle to 'plowing under" part?



Posts

: 2467


Join date

: 2010-05-05


Age

: 62


Location

: Warner Springs, CA USDA Zone 8a, Sunset Zone 7 (I think)



---
Permissions in this forum:
You
cannot
reply to topics in this forum