Most of my table tops are put to bed.
From left to right: 15 squares of winter storage of carrots and parsnips; 20 squares of fall planted onions and garlic; waiting on winter squash; one lone BS left-the rest of the squares have been prepped and are ready to be planted-this will be the first box I plant in the spring.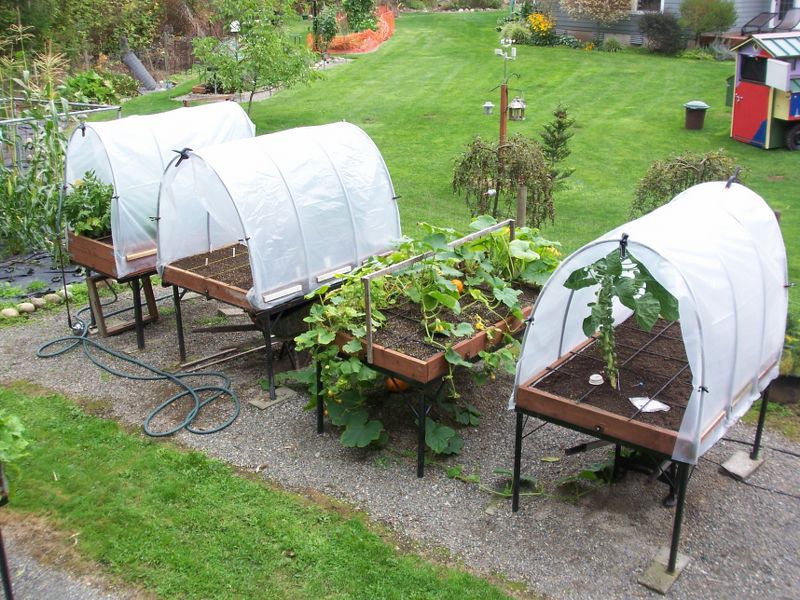 The box on the right is my fall planting of broccoli, lettuce, and parsnips. The black plastic covered boxes are ready for planting in the spring. The yellowish leaves are 4 squares of tromboni squashes that are fading away. I finally got 4 dozen ears of corn. Last year I got 25 dozen from the same space. I guess I'm a fair weather gardener!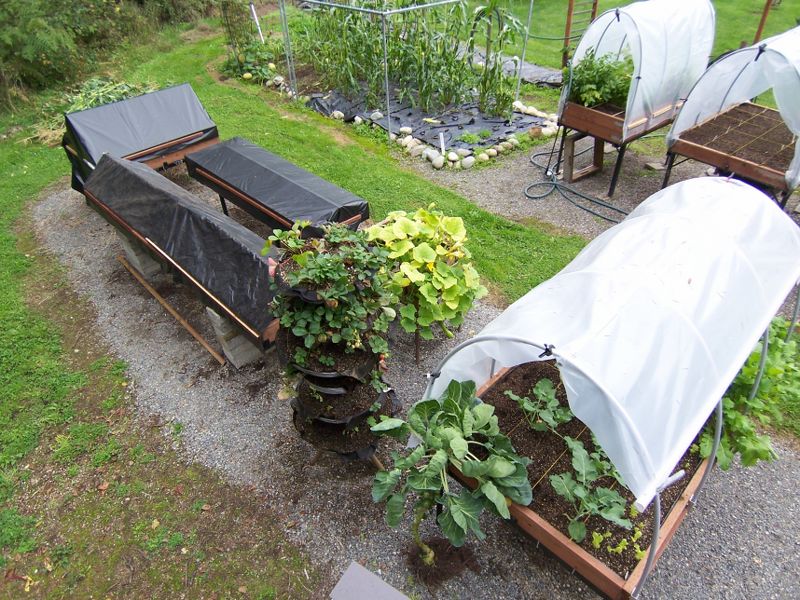 I've got some other raised beds with winter squashes, cukes, and beets still coming.
It's been a tough year weather-wise. To summarize, all I can say about this year is...just wait till next year!



Posts

: 7392


Join date

: 2010-02-26


Age

: 64


Location

: yelm, wa, usa



Looks good! Yup, Next year will bring bumper crop to you! Nice BS!


Forum Moderator Certified SFG Teacher




Posts

: 14165


Join date

: 2010-03-06


Age

: 54


Location

: Keene, NH, USA ~ Zone 5a



Today's harvest included various lettuces, 3 EARLY Girl tomatoes (Early Girls in October?), 3 Black Russian Tomatoes which were not fully ripe, but the branch got damaged, enough broad beans and blue lake pole beans to cook for dinner as well as the last (6) sugar snap peas from the planting back in July which I will add to my salad tonight. Will pull the sugar snap pea vines up in the next few days. The bush beans did not do well but I did get enough for a few meals this season. Pulling the last few plants out soon.
Still getting sporadic lemon cucumbers.
No peppers this season and no eggplant. They are even harder to grow than tomatoes around here.
Corn is still on the stalk and the ears look about 4 inches long. I know the package said dwarf, but the silks still have not turned brown. At least I will have a few stalks to use for fall decorations.
Fall Gardening
Still awaiting delivery of my onions, shallotts and garlic.
I planted new sugar snaps around September 5th and have blossoms. At the same time transplanted broccoli and cauliflower for this fall, but I think the cabbage worms have found them. Off to the store tomorrow to get some BT.
Using MM in various containers, I planted from seed and also a few transplants, several types of lettuce and a few perennial herbs on my covered porch which gets pretty good sun.
Seeded for ching chiang, an early dwarf pac choi and some Drunken Woman Frizzy Head Lettuce for the same porch. Previously seeded and continue to harvest some romaine, leaf lettuce and swiss chard from planters made to fit over your porch railing.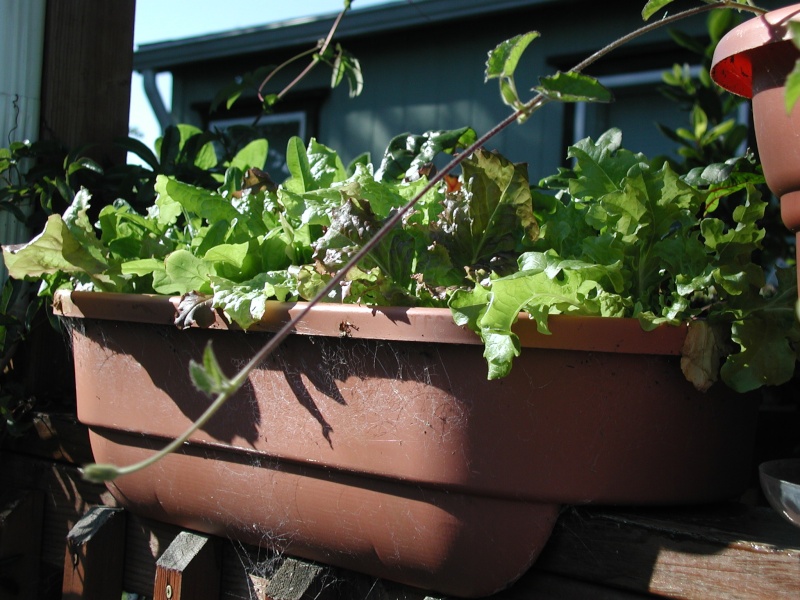 These lettuces have to fight with my strangling Passion Flower Vine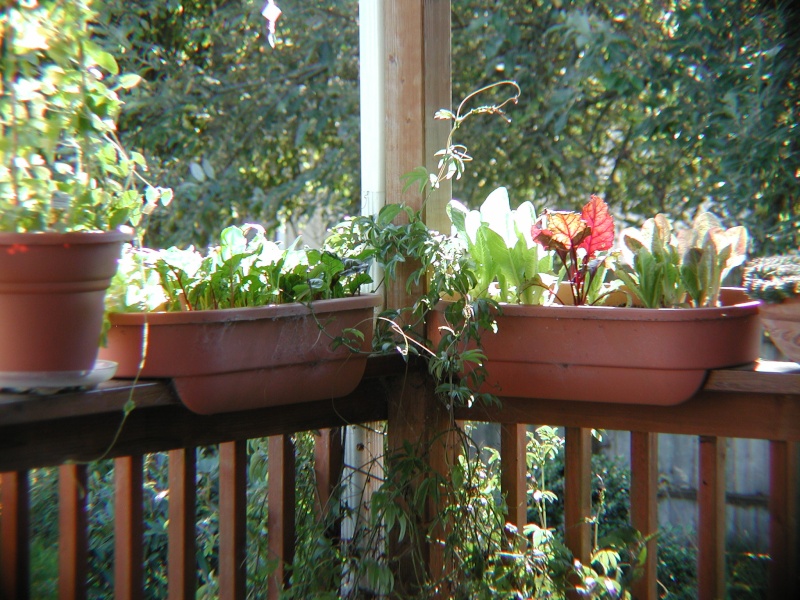 Big committment from DH to build 3 TT 4 X 4s during the next month.
That means I can limit my planting in the old garden which was created by the prior owners. Using Mels old book, I had amended and amended with peat moss and compost, and used string for my grids, added a 2 foot path down the middle made of cinder blocks so nothing was more than 3 feet away, but the weeds have been too much for me to handle.



Posts

: 3141


Join date

: 2010-06-10


Age

: 70


Location

: Coastal Oregon, Zone 9a, Heat Zone 2 :(



@Furbalsmom

wrote:Big committment from DH to build 3 TT 4 X 4s during the next month.
That's wonderful!!



Posts

: 7392


Join date

: 2010-02-26


Age

: 64


Location

: yelm, wa, usa



Drunken Woman Frizzy Head Lettuce!!!!!

I NEED some of that! LOL!

Pics are wonderful. gorgeous!

GK
Regional Hosts




Posts

: 1156


Join date

: 2010-08-12


Age

: 66


Location

: Canada 3b



---
Permissions in this forum:
You
cannot
reply to topics in this forum