Morning fellow SFGer's!!
Just a couple of pics and updates.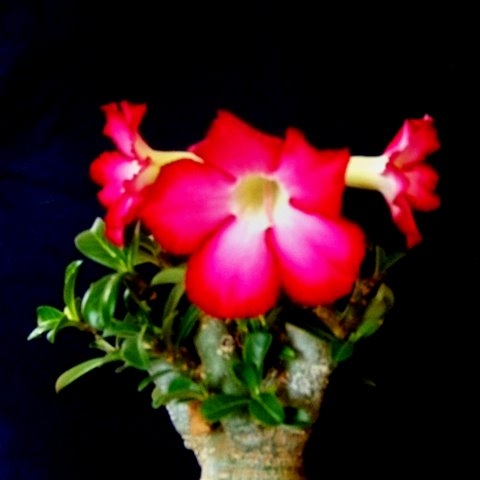 This is my Desert Rose. I brought it in the house and put it on top of the fridge and forgot about it. I reached up a few days ago and found these beautiful blooms. I heard they are hard to get to bloom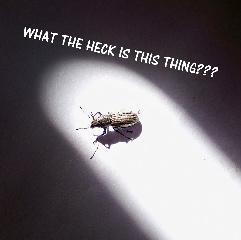 BTW, can anyone help ID this critter? It's eating my green beans. I've only seen one.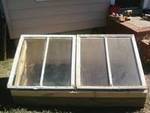 This is my new cold frame. DH built it for me Friday. It's 3x6. He broke on e of the window panes before finishing it and he was so disappointed. Never fear, he can fix anything and replaced with a piece of plexiglass. I can't wait to fill it up with lettuce and toms. BLT's in January!!!!!
I'm so excited about my garden. All my fall crops have come up except the carrots, (still too hot around here for those). Even the garlic has sprouted. Can't wait, I'll send more pics as they get bigger.
Hope you all are well, enjoy our SFG's!!!
Great pics. Love the cold frame. Aren't we lucky to have husbands who can build or fix anything? Can't help you with your bug though.

GK
Regional Hosts




Posts

: 1156


Join date

: 2010-08-12


Age

: 66


Location

: Canada 3b



Nice pix thx for sharing, the desert rose also looks like a mandeville. Not sure about the bug but my Rodale book says pest like the japanese beetle, mexican bean, and flea beetle, are what like to infest beans, so I guess take your pick ? hope the cold frame serves you well!



Posts

: 247


Join date

: 2010-05-17


Location

: zone 8b, SoCal



Thanks for the kind replies.

Garden Angel, thanks for the ID and tonight I found a potato bug out there on the green beans. Any ideas on how to cure these critters!!

See ya in the garden!!






Posts

: 2260


Join date

: 2010-04-25


Age

: 39


Location

: Post Falls Idaho and LOVING it



MM;

You should be a writer, I am so serious!!!!! You can tell a story and I feel like I'm there!! Geez, a bug that lived for 8 months in a jar. Are you sure Monsanto didn't genetically engineer it???
I grabbed it and squished it before it could hiss at me. I've gotta get rid of them, I want green beans on my Thanksgiving Dinner table.
Thanks for the giggle MM, you're the best!!
---
Permissions in this forum:
You
cannot
reply to topics in this forum