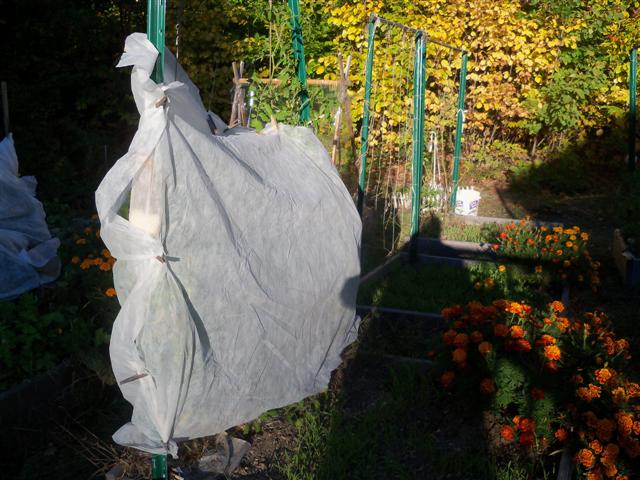 I covered my San Marzano Gigante 3 tomato plants with a circle of cold barrier cloth. With temps dropping to the mid 30s last nite, I thought I'd play it safe and prevent frost. I used spring clothespins to hold the barrier pieces closed against the cold nite air.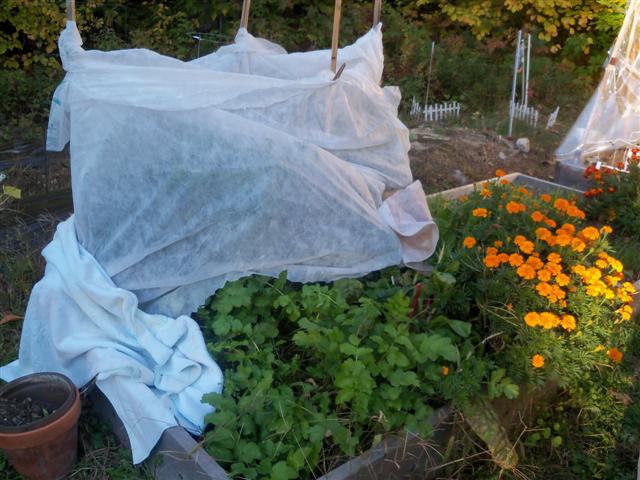 These are the 3 Oregon Spring plants. The greenery in front of them are my parsnips. I haven't yet tried any since I'm still waiting for a couple of frosts to sweeten them before I pull any.
I picked one of the San Marzanos today and there are still several more that are ripening so I hope to get a few more before the frosts get the plants.



Posts

: 4688


Join date

: 2010-03-21


Age

: 75


Location

: Southwestern Maine Zone 5A



Thanks for the pictures. I was wondering how I would try to cover my tomatoes when we get predictions of frost, which I hope won't be for another month.




Posts

: 3141


Join date

: 2010-06-10


Age

: 70


Location

: Coastal Oregon, Zone 9a, Heat Zone 2 :(



That looks like the same kind of thing that I used and it worked quite well even down to -5C. I did learn though that it is best up higher so it is not resting on the leaves. The leaves that were touching the cloth froze.

Finally picked my tomatoes on Sunday, a month later than everyone else in the area.

GK
Regional Hosts




Posts

: 1156


Join date

: 2010-08-12


Age

: 66


Location

: Canada 3b



I took the temp inside the barrier. Its 46* outside right now and the temp inside the barrier was 70* with the sun shining. I'll have to try again tonite when it gets much cooler.





Posts

: 4688


Join date

: 2010-03-21


Age

: 75


Location

: Southwestern Maine Zone 5A



Oh what a clever idea! I never even thought to try that under the frost cover even though I do it in my cold frame all the time. DOH! I have a couple of min/max thermometers I could use for that.

GK
Regional Hosts




Posts

: 1156


Join date

: 2010-08-12


Age

: 66


Location

: Canada 3b



---
Permissions in this forum:
You
cannot
reply to topics in this forum