Latest topics
»
Bare Root Fruit Trees
by
RoOsTeR
Today at 5:14 pm
»
Invasive Tree Roots - Very important topic for newbies.
by
sanderson
Today at 4:25 pm
»
Hello from Pottstown, PA
by
sanderson
Today at 4:13 pm
»
Northern California & Coastal Valleys - What are you doing this month?
by
sanderson
Today at 4:11 pm
»
Compost for Mel's Mix
by
sanderson
Today at 4:10 pm
»
Happy Birthday!!
by
Mellen
Today at 1:16 pm
»
February 2017 Avatar: Time to Wake Up!
by
Mellen
Today at 12:55 pm
»
Winter Gardens - Photos
by
BeetlesPerSqFt
Today at 12:45 pm
»
Turan in the Western Mountains
by
Turan
Today at 12:23 pm
»
Lower South Feb 2017
by
ralitaco
Today at 11:59 am
»
My Solar Dehydrator at Work
by
ralitaco
Today at 11:32 am
»
One Very Happy Earthworm!
by
countrynaturals
Today at 11:14 am
»
My experiences with commercial cedar raised beds
by
ralitaco
Today at 11:06 am
»
Advice and Preparations for Sweet Potatoes in Wisconsin
by
Dhooy77
Today at 9:37 am
»
Third Year SFG in Canada
by
sanderson
Today at 3:18 am
»
Ground Cherries
by
countrynaturals
Yesterday at 10:50 pm
»
Cold garage starters
by
Ginger Blue
Yesterday at 8:47 pm
»
Butterfly Junction
by
BeetlesPerSqFt
Yesterday at 5:44 pm
»
Gardening in Central Pennsylvania, 3rd year SFG
by
CapeCoddess
Yesterday at 2:32 pm
»
A really, really Frugal Gardener
by
CapeCoddess
Yesterday at 2:22 pm
»
New England February 2017
by
CapeCoddess
Yesterday at 1:45 pm
»
Spaghetti Squash Recipes
by
newbeone
Yesterday at 9:20 am
»
New compost bin and 4x8 cedar bed
by
newbeone
Yesterday at 8:29 am
»
N&C Midwest: February 2017
by
CitizenKate
Yesterday at 12:19 am
»
How's the Weather Where You're At?
by
Scorpio Rising
2/23/2017, 11:49 pm
»
Senseless Banter...
by
donnainzone5
2/23/2017, 8:10 pm
»
So. California & Inland Valleys -March / April Planting Guide
by
sanderson
2/23/2017, 12:47 am
»
2017 SFG Adventures in Hampstead, NC
by
ralitaco
2/23/2017, 12:38 am
»
Our 2017 garden makeover
by
CitizenKate
2/22/2017, 11:16 pm
»
Fall means apples....
by
reynajrainwater
2/22/2017, 10:43 pm
As I'm starting to get fruit/vegetables in my garden, I'm running into this issue & suspect it will end badly (rot, spot, etc.)
Despite vigorous prunning/trellising/planning, some stuff just pops up too quickly or is concealed by vegetation on the plant & goes unnoticed until it's too late. The close/small SFG footprint seems to magnify the issue (especially on the larger stuff like the tomatoes & bell peppers)
End result is that I've got fruit/veggies that are either touching, or that are going to make contact soon & there isn't enough room to tension/redirect the fruit/veggie.
Is there a certain item, spacer or material that I can insert between the fruit/veggies that is porous, compressable, breathable, inert & won't damage the produce. Most importantly, it needs to stay in place with no support structure, other than opposing (compressive) pressure.
Tenatively, I'm thinking pieces of foam or kitchen sponge, cut-to size & inserted between the contact points ???
Hopefully someone has some experience/advice for this, or can point me at a gadgety-gizmo that I'm unaware of ???
ATM, issue is with Bell Peppers, but I antipate being in the same situation with tomatoes shortly ... and those are even more susceptible to damage/rot

I understand that the only solution may be to "cull the herd" ....but I wanted to ask before I just snipped perfectly good developing produuce off (everything is similar sized & I caught it too late, so this isn't one of those"snip one" to make the others grow bigger situation....).
Again ..tension/slinging isn't an option ...the fruit is co-located & there isn't room.
Hi Acara, maybe can you post some pictures so we can see exactly the situation? I'm no expert by any means but I would venture to say that I would think your climate is good there so it would'nt hurt the veggies to touch? also if I were you instead of trying to put something artificial between the fruits that might be a breeding ground and host a desease , I would coat the veggie with DE and it would help with desease , cause you only water at the base of the plant it could stay there unless it rained. That's what I would do, my plants aren't that tall yet.



Posts

: 247


Join date

: 2010-05-17


Location

: zone 8b, SoCal



This was a week ago (10/9) & the peppers have almost doubled in size since then ..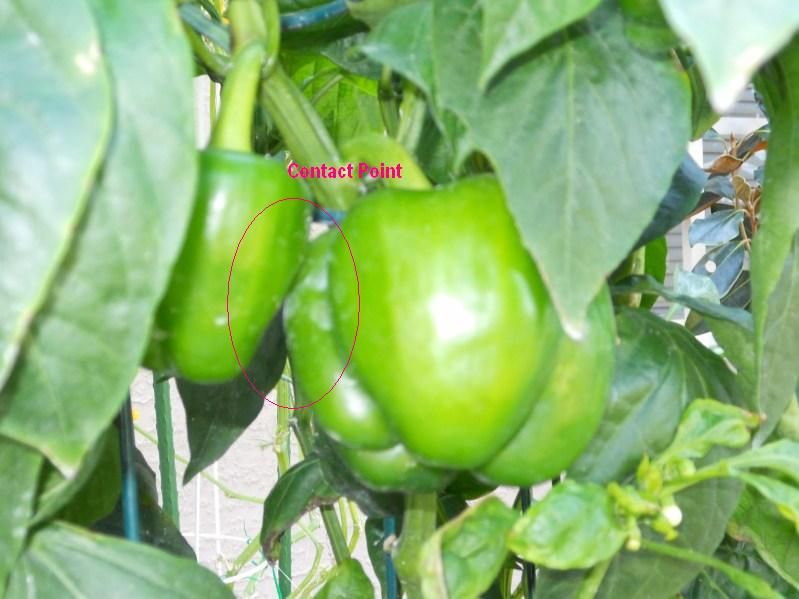 They look very healthy ! I'm thinking they are just suppose to grow like that and there really is no way to prevent them from growing close together and don't really see a problem with them touching ? :scratch: they don't really look like they are too crowded , but has anyone had a problem from that ? looks like so far so good to me!




Posts

: 247


Join date

: 2010-05-17


Location

: zone 8b, SoCal



I live way up north and my peppers are long gone now, but I didn't have any trouble with them touching. There is enough 'give' on the fruits that they were able to continue to grow without rotting or damaging.

The same held true for my tomatoes when I had a couple touching. Usually in the case of the toms, the larger ones ripened and could be picked before the others so they were removed and out of the way. I never had too many on a branch ripening at the same time.

Maybe I was just lucky.




Posts

: 4618


Join date

: 2010-03-21


Age

: 74


Location

: Southwestern Maine Zone 5A



Hey Acara!
I'm up in the Panhandle. We had an incredibly hot and HUMID summer this time around. I can tell you that my tomato varieties that clustered did not suffer damage from touching each other. I had cracking from the bouts with excessive rain we had, but I really can't say there was a problem from the fruits contacting each other. My jalapenos, (that did NOTHING during the summer) are now setting loads of fruit now that its cooled off some. So far they are setting and growing to the size I like to harvest at without any problem. I'd leave them be unless you see a problem.. you may just have a bumper crop !!



Posts

: 383


Join date

: 2010-04-08


Location

: Florida Panhandle



Kewl ....... I'm confident that I'm completely qualified & have enough SFG experience under my belt to "do nothing"



... thanks for the input everyone
Veggies can get away from you really fast, and they are sneaky varmints too. I had everything cheek by jowl and didn't have a problem with it. Good luck, sounds like you are having a great crop going there!



Posts

: 3350


Join date

: 2010-04-27


Age

: 49


Location

: Manassas, VA - Zone 7a



---
Permissions in this forum:
You
cannot
reply to topics in this forum