I took some photos of my fall garden today. We're still having daytime temps in the 80s, and night temps are in the 50s this week after dropping to the 40s last week. I'm loving this fall? weather. (I haven't figured out how to put all the photos in one post, so I may have to post them separately.)
The first one is a view of most of the garden plus my finger. (I'm no photographer.) The box in the foreground holds my mustard greens and Tendergreens. The box to its right contains the last of my bush beans and a few head lettuce plants in the far corners. You can see my large SFG box planted with broccoli by the lawn chairs, and I have two tomato plants still going strong on my trellises.
This is a photo of the SFG which contains broccoli plants, one Blue Lake bush green bean plant, and some parsley in the left corner. In front of that box is a bed in which we broadcast some Red Russian kale and arugula. My Callie girl managed to get in this photo, too.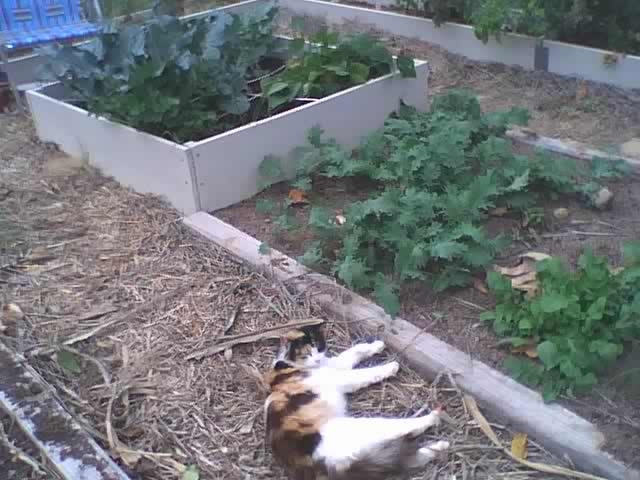 This last photo is more or less a repeat but I had to take it because Callie rolled over onto her back. I think she's the perfect poster child for a Square-foot Gardener, showing what we do in our gardens instead of working hard.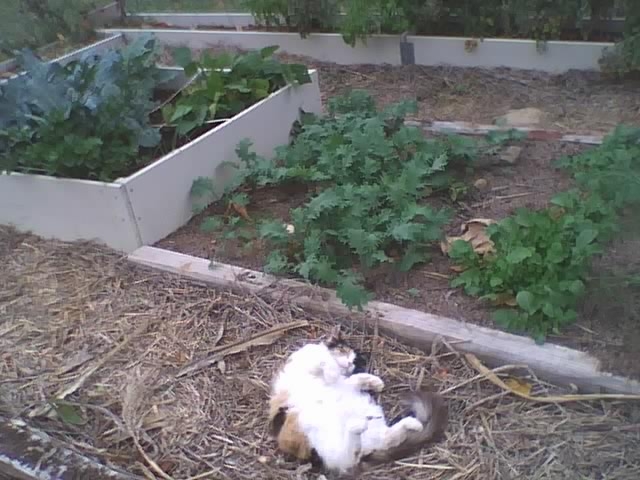 Thanks for sharing Ander!
Next year I hope to do better at fall planning.







Posts

: 2260


Join date

: 2010-04-25


Age

: 39


Location

: Post Falls Idaho and LOVING it



I love your garden Ander, you still have so much green in it!!! And to have your Cattie friend that warms my heart. I have two cats that would come visit my garden last year, but now with the dogs, they cant get down there. Some day they will have that again. I liked when they came to visit.
Keep up the sharing, going into fall and winter this really shows us what an SFG can do

Ha-v-v



Posts

: 1123


Join date

: 2010-03-12


Age

: 57


Location

: Southwest Ms. Zone 8A (I like to think I get a little bit of Zone 9 too )



awww. look at the kitttttty.

nice garden arrangement ander
I like visiting gardens--thank you for sharing it with us.



Posts

: 778


Join date

: 2010-09-06


Age

: 47


Location

: Alabama Zone 7a



Very nice indeed. Thanks for pics



Posts

: 754


Join date

: 2010-03-02


Age

: 68


Location

: Southeast Tennessee



@middlemamma

wrote:Thanks for sharing Ander!

Next year I hope to do better at fall planning.
Love your new avatar photo, Jennie. What cute kids!
---
Permissions in this forum:
You
cannot
reply to topics in this forum