Hello. I've been browsing the forums here for a few weeks and finally decided to register today to ask a question.

This is going to be my first year of SFG. I did some container gardening last year with mixed results. I am, otherwise, completely new to gardening. I'm looking forward to using it as a fun, family project.

My question is - The area where I will place my boxes is slightly sloped. Should I dig in the high side or prop up the low side (with bricks or pieces of 4x4s) of each box to make them level? I am planning on having plywood bottoms.

Thanks for input.

Joe Tucker



Posts

: 6


Join date

: 2010-03-17


Location

: Springfield, TN



Your choice. In my climate the extra wood/ground contact is not a good idea. In your climate, it may not be a big deal. What do you think you would like the look of? Personally, when faced with a choice like this in the garden, I always start with the one that requires the least effort! (and that would be in following with the best sfg traditions!)

Welcome to forum, and I hope to see more posts. If you can, post some pictures when you're set-up, the question comes up occasionally, but as we can't access pictures from the old forum to show folks, we're starting from scratch-your pics would be appreciated.



Posts

: 7392


Join date

: 2010-02-26


Age

: 64


Location

: yelm, wa, usa



My boxes are on a slight slope as well, but I don't have bottoms in them. Just weed barrier down. I'm curious to see if anyone else has opinions about putting them on a slope.



Posts

: 8


Join date

: 2010-03-11


Location

: Indiana (Zone 5A)



My SFG beds will sit on a slight slope too. Not sure how I'll go about this, but we'll get it figured out.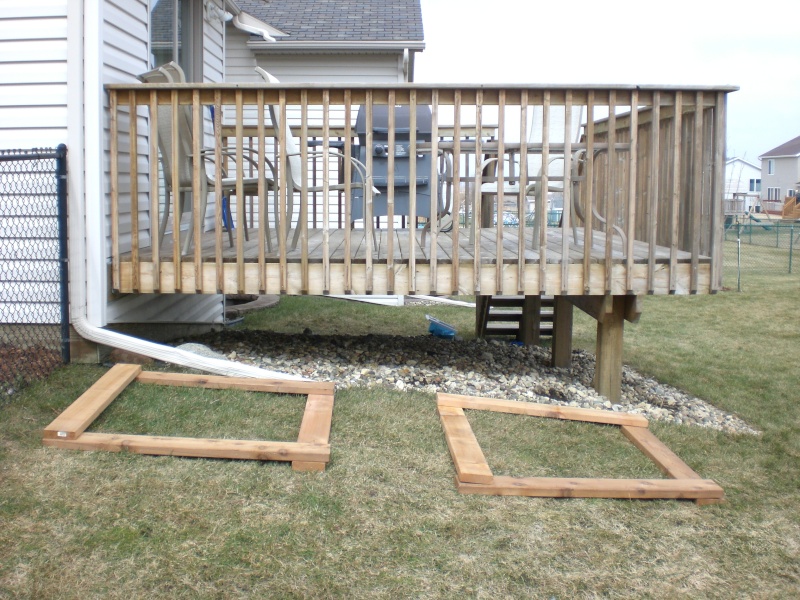 here's another pic - I'll add a small box on the outside of the fence. I planted a tomato and pepper plant there last yr. It was late in the season and my girls really wanted to see something grow....boy, did they ever grow!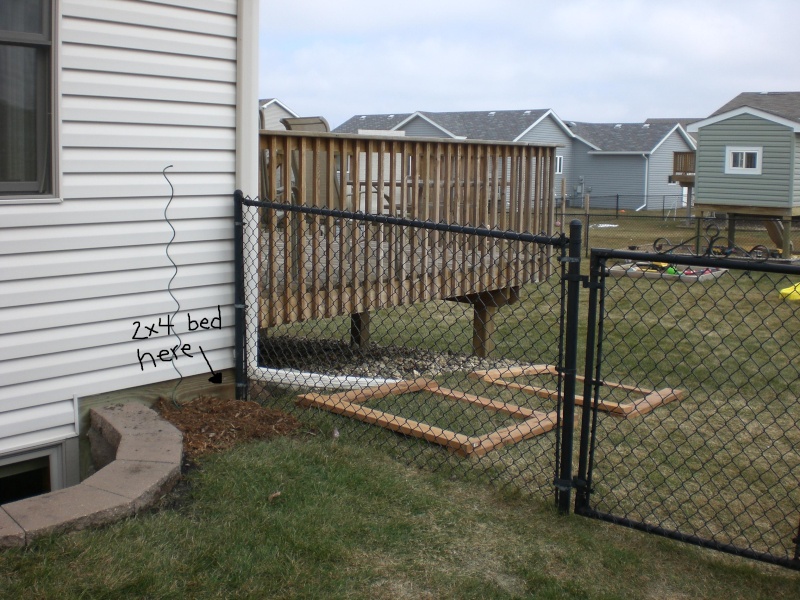 Maybe I'll be doing too much work with my beds, but I am actually going to take off the sod, till down a bit, and add the Mel's mix on top of that.

My neighbor says I'm crazy to even go with the Mel's mix. She has been gardening for a few yrs now and she says our soil is great. I can't argue with her; she gets good results and even shares some of her produce with us. But, I am going to go with the Mel's mix regaurdless, and let the longer rooted veggies grow into our "great soil"....guess we'll see what happens.

Now that I look at the pictures, I wish I had left the lumber in the longer lengths and made it the length of my deck, but oh well - too late now.
I actually had this problem.

The year before I said that I wanted dirt for my birthday. I got bags of "top soil" from one of my guys. Turns out it was just dead yuck at $2.00 a bag for leveling cement. As it happens it worked great for leveling my box. I do have a son who got his level out and got everything perfect but it is a good option instead of using wood scraps. (it all went under the fabric) At 2 bucks a bag (it took about three) it didn't cost much.

Deborah ....having a little trouble writing a complete thought.....went out to my car to run a book to a student and the radio, the seats and the rear deck were all ripped out....turns out I'm getting a new sound system for my birthday, it was supposed to be a surprise....was it ever!



Posts

: 2054


Join date

: 2010-03-03


Age

: 60


Location

: Everett, WA USA



One of my boxes is on a slope with a 3" difference. I just used dirt and a few small rocks to build up the ground on the high side. If I plant root veggies, I'll plant them on that side as there's more depth.



Posts

: 904


Join date

: 2010-03-03


Location

: USA



depending on the materials used to build the box (i.e. 2x4 2x6 etc.) you could always add and angle cut board to the bottom of the box that matchs the slope degree your box will be a little deeper on the down slope side but the benifit would be an area for root crops like carrots radishs etc. If your boxs are going to have a plywood bottom you could also cut a few 2x4's and attach them to the down slope side as legs to lvl the box's out.
not to float my own boat but if you look at the corners of the boxs i made instead of haveing the extension on the top you could do it at the bottom
http://squarefoot.creatingforum.com/showcase-of-gardens-f6/my-garden-pictures-t269.htm
and you should get the propper level your looking for the weight of the soil may push the legs down into the ground so an old brick or patio block under the legs will prevent the legs from sinking



Posts

: 459


Join date

: 2010-03-02


Age

: 42


Location

: New Port Richey FL.



I decided to give choksaw's idea a try. I'll add some additional bracing as needed.
It was tricky getting all 4 sides level, and the 'legs' don't look great, but I think they'll do the job.



Posts

: 6


Join date

: 2010-03-17


Location

: Springfield, TN



lookin good so far improvisation and imagination are the heart and soul of gardening make sure to drill some drain holes in the bottoms and i like the ball level i see much easier then walking around to all 4 sides and getting your lvl's on par



Posts

: 459


Join date

: 2010-03-02


Age

: 42


Location

: New Port Richey FL.



---
Permissions in this forum:
You
cannot
reply to topics in this forum