After 40+ years of gardening my first carrots EVAH! I didn't realize that some were this big, but they are really tender & sweet. I have no idea why some are misshapen since they are in MM.
They are from Baker Creek Rare Seeds, their description:
Yellow: Jaune Obtuse du Doubs:
A delicious, bright lemon-yellow carrot that comes from France. Mentioned in 1894, it was originally used as a stock carrot for livestock. This big, thick yellow carrot has been winning over chefs and gardeners, for it has a fine, sweet taste that is hard to duplicate in modern carrots.
Orange: Muscade: A delicious North African carrot that produces blocky, 7" orange roots that have exceptional flavor and a crisp, crunchy texture. They hold up well at market, and are late bolting. Rare and almost impossible to find!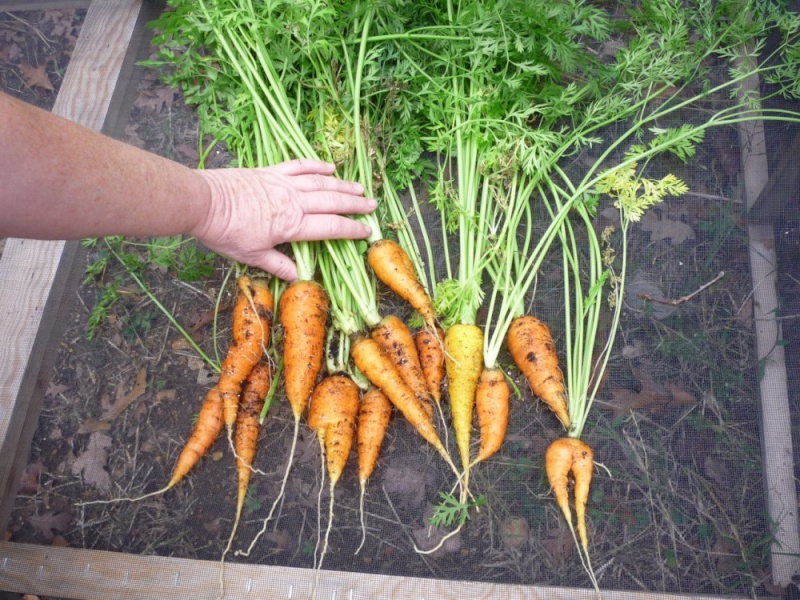 Oh How Sweet it is.

God Bless, Ward and Mary.

Certified SFG Instructor




Posts

: 935


Join date

: 2010-02-26


Age

: 67


Location

: Wake, VA



BEAUTIFUL! I am going to order some of those, I think. Thanks!


Forum Moderator Certified SFG Teacher




Posts

: 14165


Join date

: 2010-03-06


Age

: 54


Location

: Keene, NH, USA ~ Zone 5a



wow, those make me rethink my plan to never do carrots again...hmmm.

WAY TO GO DIXIE!






Posts

: 2260


Join date

: 2010-04-25


Age

: 39


Location

: Post Falls Idaho and LOVING it



Dixie, those are wonderful. Way to go




Posts

: 3141


Join date

: 2010-06-10


Age

: 70


Location

: Coastal Oregon, Zone 9a, Heat Zone 2 :(



We just finished supper - boy were they yummy.
Very interesting. Never thought to 'shop' carrots. I will now!



Posts

: 2467


Join date

: 2010-05-05


Age

: 62


Location

: Warner Springs, CA USDA Zone 8a, Sunset Zone 7 (I think)



Beautiful carrots, Dixie! I had my first time ever success this year with seeds from Territorial Seeds - Nantes. Past years I have only had tops, little or no roots.

But they just did not compare to yours! Thanks for the info on yours. I'm going to check them out.

Jane



Posts

: 116


Join date

: 2010-03-02


Age

: 59


Location

: Garland, Texas Zone 7b/8a



Wow, what a terrific harvest.
I'm glad you grew some this year. I love the flavor of fresh-from-the-garden carrots. Better than store-bought, for sure.



Posts

: 4683


Join date

: 2010-03-21


Age

: 75


Location

: Southwestern Maine Zone 5A



Your carrots look great, Dixie. When did you plant them?

I had tried growing carrots before but they never did well in our clay loam soil. I finally grew beautiful carrots this year in MM, but it seemed to take forever for them to get there.



Posts

: 1450


Join date

: 2010-03-16


Age

: 62


Location

: Southeastern Missouri (6b)



Ander, I planted the carrots sometime in June, probably latter part. I put them in when I pulled the corn stalks. They really do take a long time to mature, but were well worth the wait.
---
Permissions in this forum:
You
cannot
reply to topics in this forum