I copied the picture of Mel's drip system from the his web site and took it to Hendrickson Bros. Irrigation in Corona. He has all the parts you need to make your own system. Only change will be that the main feed line will have to be 1/2 inch instead of the 1/4 inch as shown in the picture. Water flow will be a little less than 1/2 gal per foot per hour. They will cut the ribbon dripper to length and sell you all the parts you need. I may do this next month. If I do, I'll post how it goes.
There address is 2931 Rimpau Ave,
Corona, CA
951- 737-6822
I hear the veggies and the flowers calling with such a sweet tune.
Enjoy the day,
Bruce

So, did you price out all the parts? I'm just curious how it comes out compared to the products available from the SFG site. You can find the SFG system here.

I would really like a comprehensive 'How to' for making a rain barrel to attach a drip system.

Forum Moderator Certified SFG Teacher




Posts

: 14145


Join date

: 2010-03-06


Age

: 54


Location

: Keene, NH, USA ~ Zone 5a



Checked with Hendrickson's for prices for a drip ribbon system today. Here are the prices:
Drip tape adapters are $.48 each.
Drip tape is $.07 foot.
From looking at the picture, you are going to need 8 drip tape adapters at $.48 each = $3.84.
You will need 32 feet of drip tape at $.07 foot = $2.24. I would buy and extra foot or so just to be safe.
Total cost is $6.08.
Keep in mind that the ribbon tape they are selling emits a little less than .5 gallons per foot per hour. Also, you can find ribbon tape that emits more but you may have to buy 1000 feet at a time.
To end the drip tape, you cut off some of the tape, fold the end of the long tape over and slide the cut off piece over the end.
If you look carefully at the picture, Mel is using 1/4 inch line. The drip tape adapters Hendrickson's sell use a 1/2 line. This is to your advantage as you will always have plenty of water. 1/4 line can only go about 20 feet so extending the line can be a problem.
Hope this helps. Check with your local farm supply house or irrigation company or call Hendrickson's. They can ship to you. HD or Lowes do not carry these items. I have NOT installed this yet but will later on as I'm still putting our square foot garden together. When it is up and running, I'll post pictures.
The veggies are calling.
Bruce

I am adding drip irrigation to my boxes. As soon as I fill the boxes with mels mix I will start installing the drip system. I will take pictures and try to figure out what each box cost me for the drip system. The drip tubes I will be using will be from home depot and made by Dig. I have already ran all the hard lines into the boxes and they are hooked up to auto sprinkler valves. I have 4 boxes hooked to each sprinkler valve. I have 3/ 3ftx6ft and 5/ 4ftx6ft boxes. I used redwood fencing for my boxes.here is the web site for the drip system. www.digcorp.com
Suggestion .....
Run your 1/4" lines first (without tips), before adding MM.
The DIG tool for punching your attachment holes is a little primitive & if you get any of the MM into the header piping (the black one), especially the vermiculite, you could clog the smaller line .....and no amount of flushing/pressure will clear the blockage (you have to rip out & reinstall)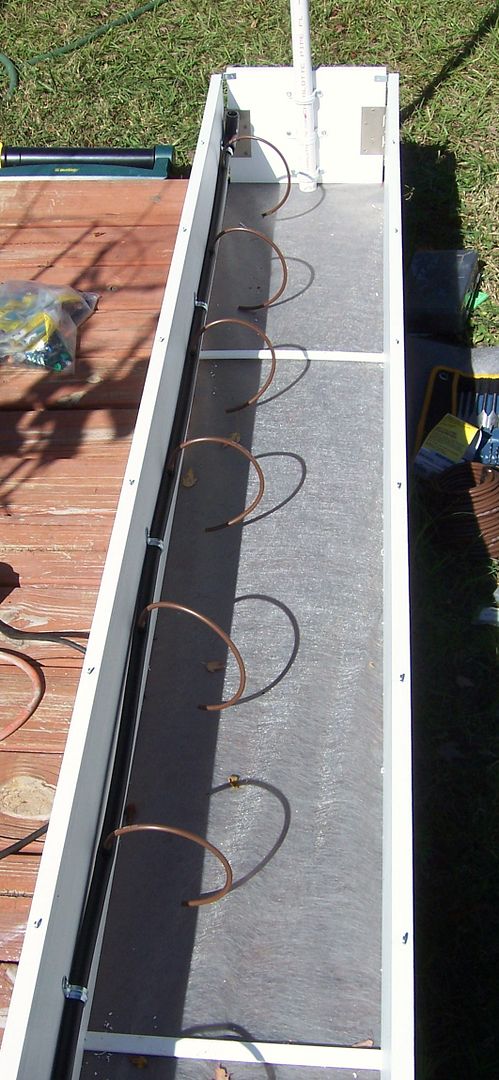 I just run the lines a little long, then put in my MM, then trim, flush & attach the dripper, sprayer or mister head I need.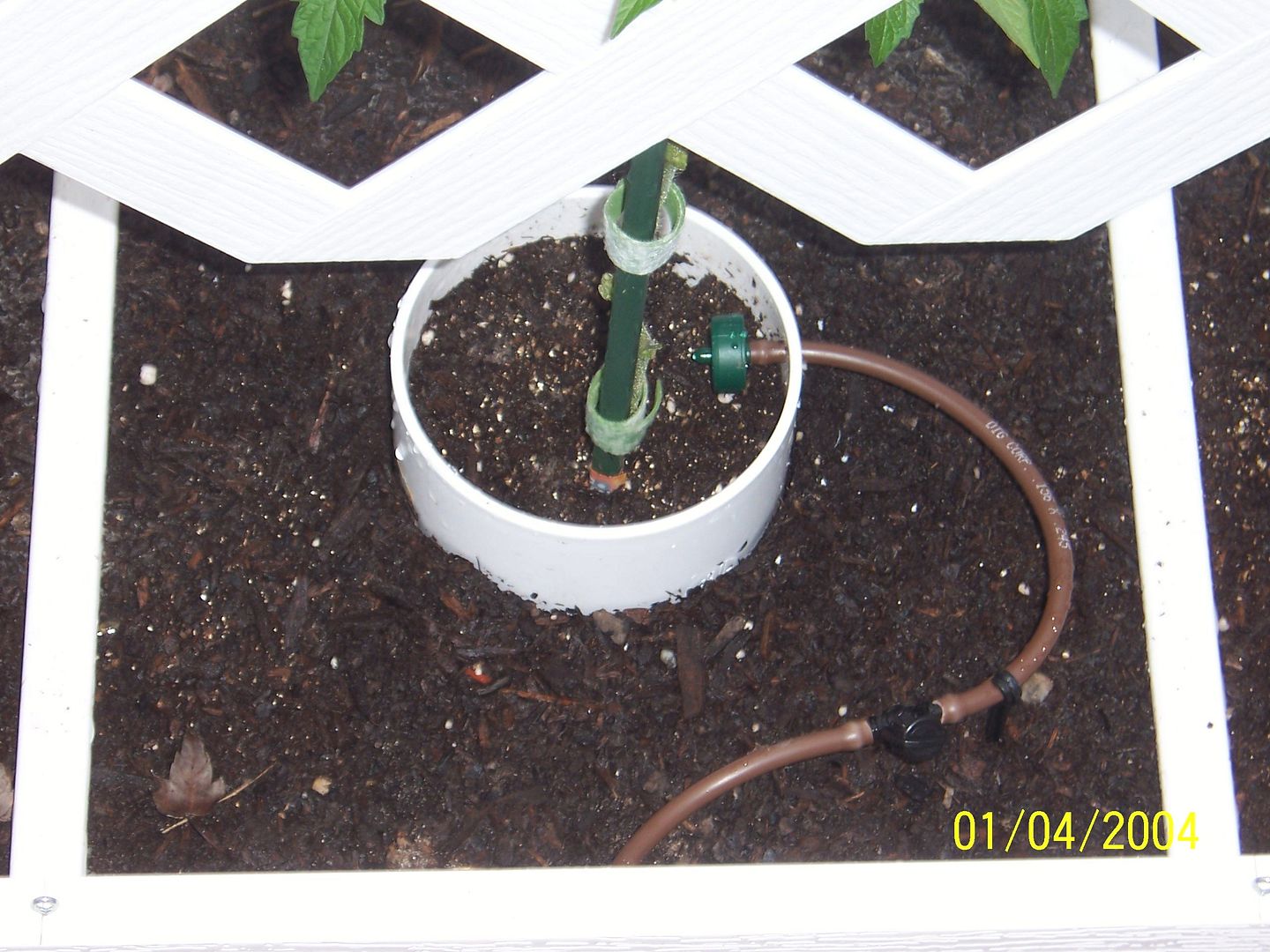 Also, if your running that many boxes/lines per head, you don't want to use the pressure regulator .... just get the self-regulating pressure heads (the 2 gph (green) ones are usually sufficient...even for high-water crops like cukes and tomatoes).
I also find in useful, on multi-box feeds, to have isolation valves on the individual boxes.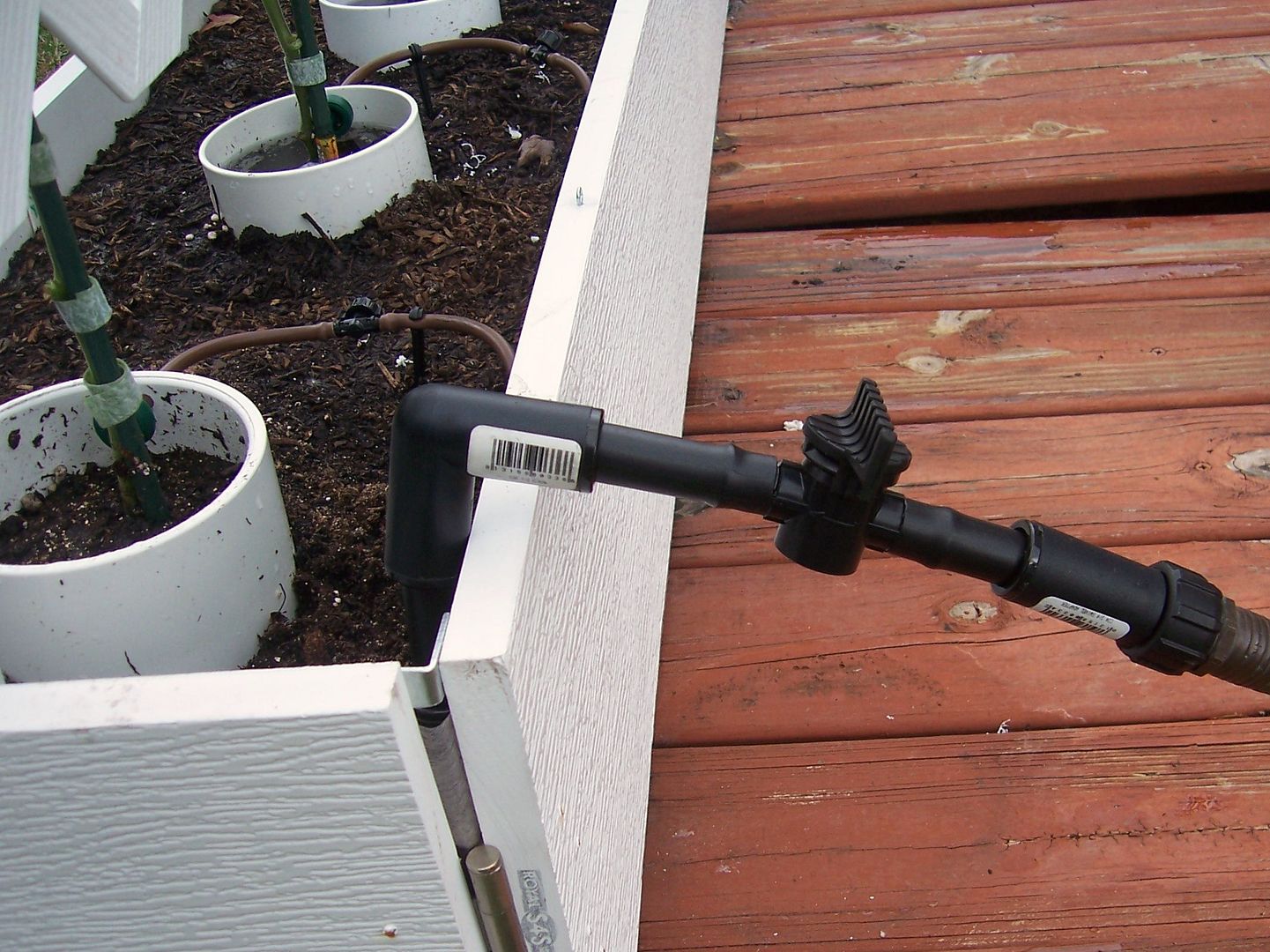 Hope that helps. I love the DIG stuff & I have installed runs in my watergardens/ponds & gardens that are 8-years old ...with no problems...even in the FL sun.
Installed cost is about $1.80/lineal foot, if you "trick it out" ....and thats based on a 50' run. Obviously a lot more for a single run, since you have to buy the header hose and drip line in the "master coils" .... but even then, I think it's worth it.
The DIG cost is nothing compared to your manifold/controller cost ...... that's you "big" expense.



Posts

: 1012


Join date

: 2010-08-27


Age

: 47


Location

: Wesley Chapel, Florida (Zone 9)



I went to home depot today and it seems they dont want to restock their drip system products.

they were out of almost everything I needed. I will either have to try another home depot or try lowes who sell a different brand.
@model a man

wrote:I went to home depot today and it seems they dont want to restock their drip system products.

they were out of almost everything I needed. I will either have to try another home depot or try lowes who sell a different brand.
HD is very seasonal in their offerings. You might want to try ACE Hardware (or another smaller chain), if you need the items right now ... their stuff is comparable to the DIG items.
The current manufacturer Lowe's is using is a little pricey (at least the stuff I see down here) & not as cross-compatible with other brands.



Posts

: 1012


Join date

: 2010-08-27


Age

: 47


Location

: Wesley Chapel, Florida (Zone 9)



Ok instead of using the drip tube with dripers every 18 inches. I used the 1/2" black polly tube and installed dripers every 12". It just seems like there is just not enough coverage. On a 4'x6' box I have 3 main lines spaced with the first one at 1' 2nd one at 2' and the 3rd one at 3'.(using the 3 Polly tubes a the long grids)Those of you using a drip system, How are you getting full box coverage ? Thanks
Try placing an emitter every 6 inches. Merl's flat ribbon system has two emitters per square foot (approximately) from what I can tell in the picture of the flat ribbon unit he sells. I found in my own garden and flower boxes I have to have an emitter every 6 inches to do any good. Give it a try. are you using .5 gal. per hour emitters or what. Some people use the micro spray units. I am using the .5 gal. per hour and the adjustable emitters. I'm going to try the ribbon this year and see how it works.

Good Luck.
Bruce

Ok I removed the black poly tubbing and installed the brown tubing that has 1gph drippers already installed every 18 inches. when I turned it on it still seems like it wasn't enough so I added 1gph drippers inbetween each of the ones already installed. so I now I have 1gph drippers every 9 inches. I did leave the water on for 2 hours and it still looked dry on top but when I stuck my hand down to the bottom of the mels mix it did feel wet, not super wet but wet so I am going to use it this way and see what happens.
I was just at the Lowes in Mira Loma. They had the mister landscaper vegetable garden drip irrigation (Actually all of the mister landscaper stuff) on clearance for $29.99. This is half price. Online, even for this store, they have it listed as unavailable but I got one and there were more on the shelf.

Here is the url:

http://www.lowes.com/pd_320744-1029-MLK-VEG_4294857092+5003699_4294937087_?productId=3134155&Ns=p_product_prd_lis_ord_nbr%7C0%7C%7Cp_product_quantity_sold%7C1&pl=1&currentURL=%2Fpl_Watering%2BIrrigation%2BDrainage_4294857092%2B5003699_4294937087_%3FNs%3Dp_product_prd_lis_ord_nbr%7C0%7C%7Cp_product_quantity_sold%7C1&facetInfo=$50%20-%20$100#



Posts

: 777


Join date

: 2011-01-23


Location

: Bloomington, CA



---
Permissions in this forum:
You
cannot
reply to topics in this forum