The forum gallery is available for displaying and hosting your pictures. Use the 'Gallery' link in the link bar at the top of the page. Look for the 'Users Personal Albums' link to see pictures from other members. Look for 'Your Personal Album' to upload your pictures. It couldn't be any easier to post a pic from your computer. Look for the 'Upload Pic' button in the top left.
If you post some new pics, let us know in the general forum so everyone can go look. And you can make it easy for everyone by copying and pasting the link to your personal album page. It would look similar to this:
http://squarefoot.creatingforum.com/gallery/Personal-album-of-boffer/Personal-album-of-boffer-cat_u7.htm



Posts

: 7392


Join date

: 2010-02-26


Age

: 63


Location

: yelm, wa, usa



excelent set up we can all share our pics of our progress and success and snag some ideas off eachother



Posts

: 459


Join date

: 2010-03-02


Age

: 42


Location

: New Port Richey FL.



Sadly,
The Gallery is full and will not accept my pictures.
It would permit me to open an album.
But, :head scratch:what good will it be with no pics of my gardens in it?
Sigh

....  hope it is up and running soon.
T.
If anyone has a solution - please let me know




Posts

: 4


Join date

: 2013-06-01


Location

: SE Ohio



Yes, the gallery has been full for quite some time.  There is a limited amount of storage space available for it and the foundation doesn't want to start displaying ads and such, which would buy them more storage, so it remains full and that's that.  
But there is a solution!  There is an unlimited amount of storage for pictures that are posted inside of threads.  So go to the
Showcase of Gardens
 forum, and start a thread for your garden and post as many pictures as you like!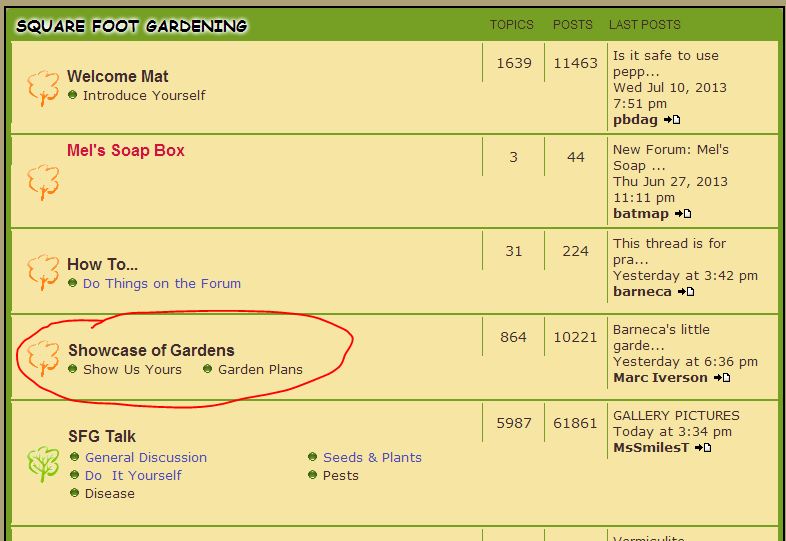 Welcome to the forum and I can't wait to see your garden!  


Certified SFG Instructor




Posts

: 1413


Join date

: 2011-05-11


Location

: Vancouver, WA



boffer - your arch is amazing!!! The plants under the arch are shaded from the sun. Are you growing specific plants that don't require much sun or does enough sun get through the overhanging plants? I'm interested in doing something similar/smaller.



Posts

: 255


Join date

: 2013-05-22


Location

: So Cal: Zone 10a



Are you referring to this one?
This picture was taken in early September, and it looks like mostly lettuce growing underneath the tomatoes.  I have found hoop houses to be multi-purpose: I originally made them for a cold frame,  but they can make good trellises, and you can see the shade cloth on the left draped on the hoop frame.
Using taller plants to intentionally shade cool crops is a technique that works well in hot climates.  In my climate, I usually get a poor harvest when I accidentally shade plants with other plants.  
The shade cloth on the left was an experiment.  It is covering a box full of broccoli.  We had temps in the 80-85° range that summer.  I didn't know how well the broccoli would do in those temps.  I also had several other boxes full of broccoli that I didn't cover.  The shaded broccoli never developed proper heads; the full sun broccoli did great.  The 'hot' in my climate is different than the 'hot' in your climate in southern CA, so experimenting with various ways of shading is probably a good idea for you.



Posts

: 7392


Join date

: 2010-02-26


Age

: 63


Location

: yelm, wa, usa



Boffer ,
I'm happy for all my pictures to be removed from the gallery , but I don't know how to do it . Can you do it for me ?



Posts

: 3652


Join date

: 2011-11-09


Age

: 66



David, it entails more than just deleting your photos. I realize you're just trying to help, but I put this in the hands of Alan and the foundation about a year ago. There were several (and still are) options. They decided it wasn't a good time.
There was a poll taken
about
2yrs ago. Here are the results for that poll and some additional information.
http://squarefoot.creatingforum.com/t9224p15-membership-vote-needed-photo-gallery?highlight=gallery+space
Just an fyi, we get more complaints about ads when Alan forgets to pay bill, than we do about the gallery storage. On that note, if enough members donated on a
monthly
basis, additional storage could be purchased with credits.
____________________________
I am my gardens worst enemy.

Forum Administrator




Posts

: 3919


Join date

: 2011-10-04


Location

: Colorado Front Range



---
Permissions in this forum:
You
cannot
reply to topics in this forum