Our first snow of the season. I guess this means goodbye to my square foot gardens until the spring :-(
Kristan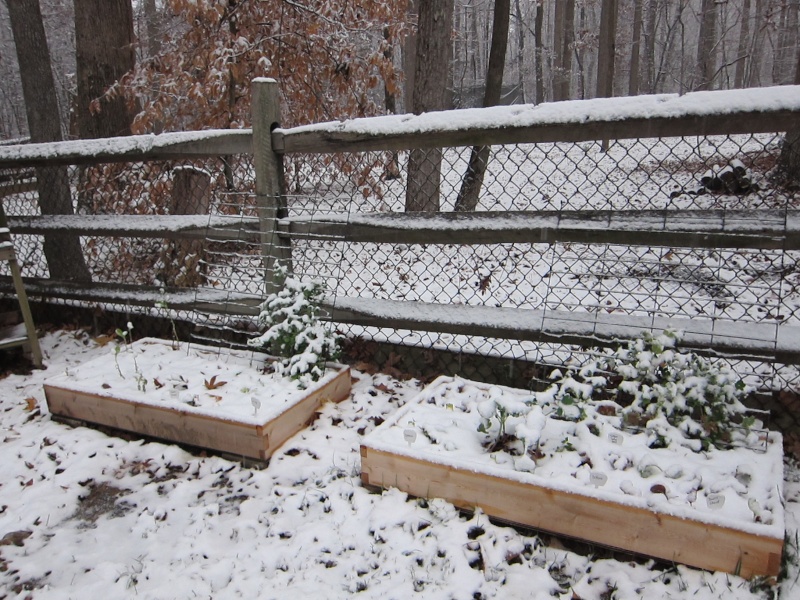 Posts

: 63


Join date

: 2010-08-09


Location

: zone 7-8



so sad to see the snow, but at the same time, nice to have a break and let the soil rest.

but i must admit, i like the snow, too - it's so pretty!

if you have squares in your garden already prepped (new compost added) did you know you can plant some seeds of spinach and/or carrots, sugar peas and they'll start sprouting in early spring for you? i learned that little 'trick' last year mostly by accident. *grin* i'm zone 5b - i think we're similar zones?
do you have all sorts of fun gardening magazines to look thru and dream about what to plant for spring? that's what i'm starting to do here - we just got our first snow last week - but it melted - it was barely a dusting.
and beautiful child in your profile pic! she's just precious!
That is a great idea, happyfrog. I have one mystery sprout which I am really wondering about... if the frost hasn't already taken it out! May have to scatter some giant mustard seed out there and see if I get any nice spring surprises.



Posts

: 3350


Join date

: 2010-04-27


Age

: 50


Location

: Manassas, VA - Zone 7a



megan - last year i left in a bunch of different things and planted a bunch of seeds 'just for the heck of it', lol
discovered that:
carrots turn to mush after thawing - but frozen solid, they're lovely - so chop up frozen and toss in soup. red beets turn to nothing - they completely composted, oops.
spinach will continue to grow.
sugar peas will sprout when the weather is just right coolish/warmish. lol they're easy to grow! so if you can get them in thr ground they'll grow when they're ready.
carrots - all the seeds planted at end of summer/beginning of fall that never geminated - well they sprouted in early spring. it was a hoot to find all these baby carrots in march/april w/out any 'work' from me.

i think the wet snow as it melted made the carrots germinate and kept them moist til they were tall enough to 'survive' on their own. and they ended up hardy 'cause that's how they started life - in the cold.
i have hopes of getting a whole box of all different stuff seed planted 'just to see' what will happen come spring. *grin*
What a great idea happyfrog! This was a surprise snow, so I still have some veggies in my squares. How neat that I can just add some compost and seeds now for the start of a spring crop! Thanks for the tip.

Kristan



Posts

: 63


Join date

: 2010-08-09


Location

: zone 7-8



kristan - go for it - you might be surprised! i know a bunch of local experienced gardeners were very interested in my experiences with it.
it's so much fun to be the first person in the area to have fresh spinach and peas and carrots. *grin* oh and the spinach was SO SWEET!!! it was so incredible! and i had so much i was filling gallon sized bags with it and selling it daily for a $1 (and there was enough in each bag for a person to eat hearty salad for a week!).
the only downside with growing spinach so early is that it went to seed real early - but it could have been because of the weird spring/summer we had in ohio - it got REAL hot real fast here this past year.
happy growing - and be sure to share your experiences - i know i love hearing about happy accidents!

---
Permissions in this forum:
You
cannot
reply to topics in this forum