Latest topics
»
Hello from central Massachusetts!
by
Scorpio Rising
Yesterday at 10:39 pm
»
N&C Midwest: October Happenings!
by
Scorpio Rising
Yesterday at 10:30 pm
»
CANADIAN REGION:What are you doing in October 2016
by
sanderson
Yesterday at 9:45 pm
»
Northern California & Coastal Valleys - What are you doing this month?
by
audrey.jeanne.roberts
Yesterday at 9:43 pm
»
Microbes...you gotta see this one !!!
by
sanderson
Yesterday at 9:33 pm
»
last chance to pre-order baker seeds-rare seed catalog
by
AtlantaMarie
Yesterday at 7:36 pm
»
Second Year SFG in Canada
by
CapeCoddess
Yesterday at 7:09 pm
»
What's eating my plants
by
donnainzone5
Yesterday at 12:30 pm
»
Straw Bales with Seeds?
by
donnainzone5
Yesterday at 12:26 pm
»
Bountea Compost Tea - Got it!!!
by
AtlantaMarie
Yesterday at 12:25 pm
»
Shallots, Prisma
by
AtlantaMarie
Yesterday at 7:59 am
»
Asia Region -Showcase of Gardens - Show Us Yours
by
sanderson
10/21/2016, 10:16 pm
»
Peas and cucumbers: Trellis position and plant spacing
by
yolos
10/21/2016, 8:32 pm
»
California's Drought
by
Kelejan
10/21/2016, 7:37 pm
»
Garlic
by
recoush
10/21/2016, 5:15 pm
»
Mason bees
by
recoush
10/21/2016, 5:08 pm
»
Senseless Banter...
by
CapeCoddess
10/21/2016, 4:51 pm
»
Indian Solar Gardening Calendar
by
sanderson
10/21/2016, 3:50 am
»
New England October, 2016
by
Scorpio Rising
10/20/2016, 8:56 pm
»
leggy potatoes plants were started too early in the hous
by
Scorpio Rising
10/20/2016, 8:38 pm
»
Thin Crust Pizza
by
No_Such_Reality
10/19/2016, 11:34 pm
»
Our Newest Regional Hosts!
by
Scorpio Rising
10/19/2016, 8:10 pm
»
November Planting in SoCal, time to keep working it and bragging rights time!
by
No_Such_Reality
10/19/2016, 10:27 am
»
Winter Hobbies and Crafts
by
Scorpio Rising
10/18/2016, 7:48 pm
»
Cucumber plant visitor
by
Scorpio Rising
10/18/2016, 7:31 pm
»
Hello all
by
Scorpio Rising
10/18/2016, 7:16 pm
»
The Most Annoying Pest In The Yard
by
Scorpio Rising
10/18/2016, 6:45 pm
»
TrolleyDriver's Compost Thermometer
by
sanderson
10/18/2016, 4:32 pm
»
2016 SFG in Brooks, Ga
by
yolos
10/18/2016, 11:17 am
»
Tryst with my first DIY SFG in India
by
rajmahendra
10/18/2016, 7:50 am
Well things have gotten bitterly cold here in upstate SC. Most people are aware of this frigid air that has come to assault our SFG's. However, as you might know by now, "Mr. Stubborn Pants" (as my wife affectionately calls me) had decided to take on ole man winter for a while. This morning (7am) read 15 degrees outside but we had some wind last night also and checking my thermoms minimum button; the temp read 7.4 AGGHH....oh NO!!!!
So with dread, childish anticipation, nervous excitement and a finger that froze to the button, I pressed it to read the outdoor temperature sensor (which really is technically indoors as its under the covers) and......and.....drum roll please.....okay okay....its not that exciting perhaps but still......
A toasty 34.6 degrees was the minimum temp (33 in the other Wagon).....HOORAY!!....that's what my little family of veggies cried out anyhow as I slipped my head under to say good morning. I however........ just well....plain old cried.....okay okay....it wasn't that melodramatic either but now I feel quite confident of doing the whole Eliot Coleman thing for next year. I'm wanting a REAL hoop-house now please Mr. Santa Claus.
I picked this last night thinking it might be my last but now there's plenty more where that came from.....YUM YUM.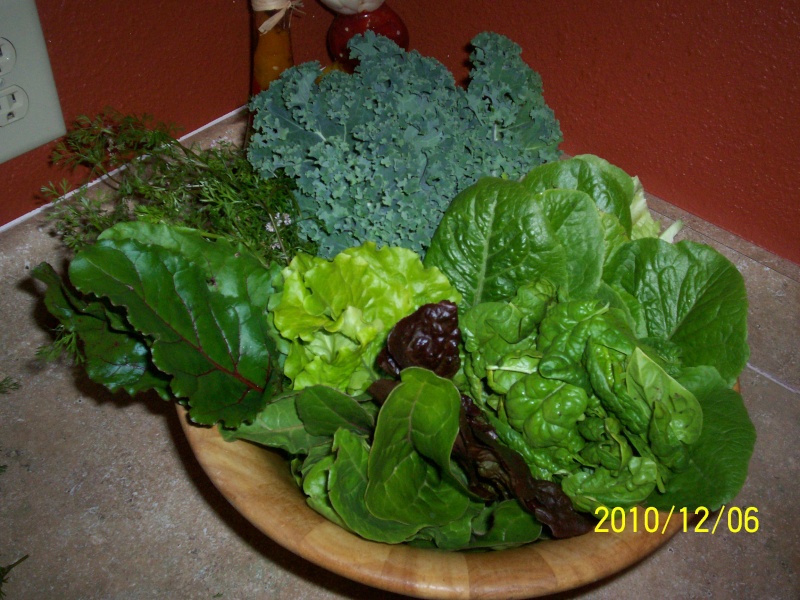 AWESOME!!!

you're completely inspiring me to finish my greenhouse! It's definitely on the list for march now!!!

i just love eliot coleman's books - jhe's so encouraging on the growing year round concept.


AGGGHH......so now I have the opposite problem to also juggle into my day !!!
I left for work this morning and thought I'd chance keeping the covers on seeing as it was only 35 for a high with a wind chill keeping it at 28. However, we had one of our frequent "Carolina Blue, not a cloud in the sky" days. I was a little concerned as I am all to familiar with the greenhouse effect but thought no problem. So I went home for lunch to check on the SFG and boy.... was I glad I did. I heard their cries for help

The thermom read 77 !!!!! Now I know that in the spring things can heat up under the plastic but at this time of the year and with that wind chill, I am really quite surprised. Anyhow, I vented out the sides to a more respectable 60 degrees. PHEW. If I would have left the covers on (four more hours of sunlight), I could easily have topped 100, cooked everything and bolted the lettuce.......
IN DECEMBER....... at 28 degrees....GO FIGURE !
I'm not about to rush home everyday to do this....as much as I love my SFG. This whole experiment was about....could I do it? could I garden year round? With the answer being clearly yes (and I suspected that after reading Eliot Coleman but going through the experience oneself is entirely another matter), I'm just not yet ready to take on ole man winter for 12 rounds. I've lasted the first couple, punched above my weight, landed a few good punches but sadly I can't last the fight. Got a busy Christmas ahead and besides, I'll be starting seeds in mid-January. So I'm gonna go for two more weeks MAX if I can. I'll post again no doubt soon and will hopefully have some sizeable carrots to harvest. This cold snap has slowed down growth considerably. Don't really want to over winter them as i'd like to start again fresh this spring. They are still on the small side right now as I planted from seed a tad too late. Oh well....you live and learn.
For now.....adeiu

wow that's AWESOME!!!!
i'm TOTALLY implementing eliot's ideas next year!!! that'll be my goal in the spring/early summer - create the winter beds!
here's a crazy idea. perhaps in the morning, just lift/clothespin clip a corner of the box. that way, as the temp rises, so will it also vent. heat rises, so if you vent the top of the box, the cold air will still come into the box, but the hottest air will leave. . .. and in such, theoretically, you should keep the inside of the box below 70*F even on the warmest days.
ooh and for fun effects, string some old fashioned christmas lights in the box near the soil so if the temp doesn't raise as high as expected, there will still be warmth generating in the box until you get home each night.
happy gardening!!! i love hearing what's working/what's not. . .

Thanks HappyFrog for the tips...
I have actually been using those old lights (C-9 sized bulbs) around the beds thus far and they work great to keep the beds above freezing.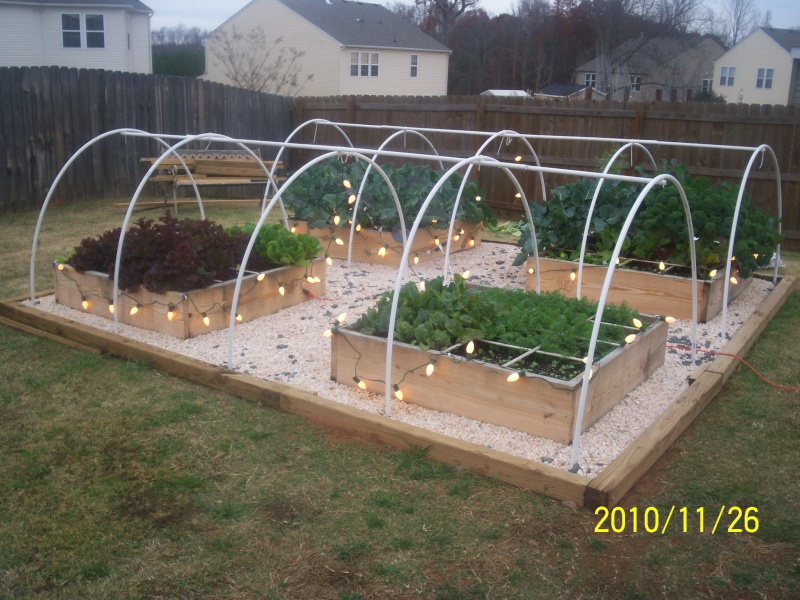 It's been fine just taking off the plastic and going to work until this cold snap arrived. Its been keeping temps so low that I'm not in a good growing temp by uncovering. I'm trying to get the carrots (nearest box) to mature before xmas as I planted them a tad late. Don't want to over winter them as I want to start the boxes anew in the spring but I guess I can't have it both ways now can I ?
With regard to venting the top, as you can see from below I can't do that without actually cutting into the plastic which I'm not sure I want to do.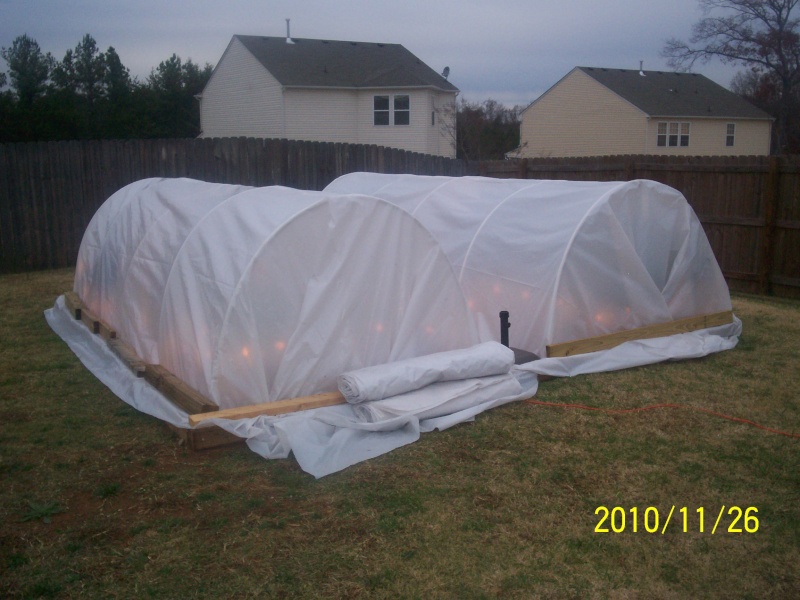 So venting might lower temps too much to mature my carrots in time as we are in an arctic weather pattern but covering will also cook them. I'm pleased with my first SFG and shouldn't drive myself crazy over this. Also, I think my crop is hardier than I give it credit for sometimes so I'll just "crack" the sides and .... Que Sera Sera !!
i love LOVE LOVE your gardens!!! they're so festive!

thanks for sharing more pics - i know it's giving me lots of ideas!
this winter i don't really have anything growing - time got away from me and before i knew it, there was snow on the ground. i'm sure missijng my garden right now!
---
Permissions in this forum:
You
cannot
reply to topics in this forum