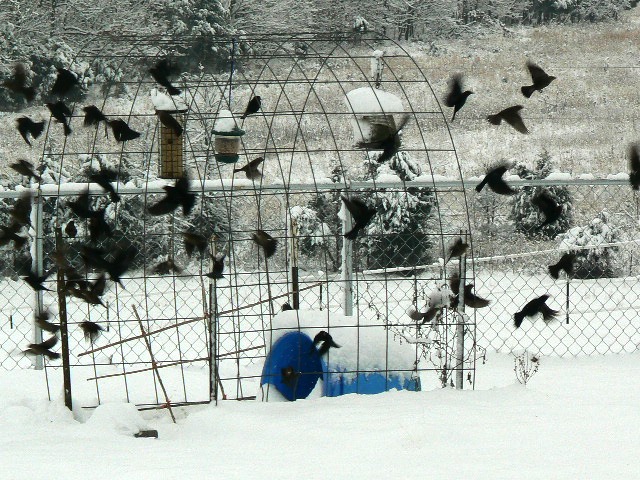 There it is in all its glory

.
Right now arbor is doing duty as bird feed holder and the three gardens are under 4" of snow. The little twigs to the right is a basil plant that refused to give up. And in the background you can see my bamboo grid. Blue bucket didn't do good job as tomato holder last year... need to think of something else for it.
Gardening catalogs have been arriving and I am starting to feel the little tingle of gardening fever beginning.... hmmm I really would like to try okra this year.... and what about a different color tomato....



Posts

: 123


Join date

: 2010-03-02


Age

: 39


Location

: KY (6a)



my garden looks not nearly as charming - I love the birds lol
we have going on 7 inches thanks to our Christmas day dump of snow, but everything was just about dead thanks to repeat teen night temps (way cold for so early in the winter for us in NC Zone 7) however I did have the forethought to harvest all possible brocolli and arChristmas was the 4th and I am not used to seeing it till January - it is georgous though! I lift my spirits (which were already high given the absolute beauty of the yard), I planned my entire spring garden and half of my fall - last spring (2010) was my first sfg and it was wonderful - this next season I want to fully use my space.
I won't plant too much different, but will plant more of the stuff that did well, and do a bit more succession planting so I last a bit longer, try hoops to start the season early - and really working on beating the bugs to harvest with what i learned last year.
Selandra - I am about to send you a PM - keep and eye out for it

Happy Holidays to EVERYONE and stay warm
R



Posts

: 142


Join date

: 2010-05-10


Age

: 44


Location

: Durham, NC



Glad to see someone else is still posting during the winter months. We humans don't hibernate! Can't wait to see your spring shots.



Posts

: 2727


Join date

: 2010-12-25


Age

: 43


Location

: St. Louis, MO



@BackyardBirdGardner

wrote:Glad to see someone else is still posting during the winter months. We humans don't hibernate! snip....
That was what I thought about bi-peds too, then I started working with high-school homeschoolers.



Posts

: 2054


Join date

: 2010-03-03


Age

: 60


Location

: Everett, WA USA



---
Permissions in this forum:
You
cannot
reply to topics in this forum