Latest topics
»
SUGA 2018
by
SQWIB
Today at 8:26 am
»
CANADIAN REGION: What are you doing in March 2018
by
sanderson
Today at 2:33 am
»
N&C Midwest—March and Spring is Here!
by
DorothyG
Yesterday at 11:38 pm
»
Hello from Houston
by
Zuly98
Yesterday at 9:23 pm
»
Fourth Year SFG in Canada
by
sanderson
Yesterday at 6:28 pm
»
Happy Birthday!!
by
sanderson
Yesterday at 2:09 pm
»
Do You Get The SFG Newsletter?
by
sfg4uKim
Yesterday at 8:36 am
»
SW Ohio (Cincinnati Area)
by
AtlantaMarie
Yesterday at 7:56 am
»
First day of spring
by
AtlantaMarie
Yesterday at 7:54 am
»
Coco coir... How often to replenish?
by
AtlantaMarie
Yesterday at 7:51 am
»
Garden Tower Project
by
sanderson
Yesterday at 2:14 am
»
Any suggestions on the stump grinding sawdust plus soil?
by
sanderson
3/20/2018, 6:55 pm
»
How much time for gardening?
by
sanderson
3/20/2018, 6:42 pm
»
Sanderson's Urban SFG in Fresno, California
by
sanderson
3/20/2018, 4:03 pm
»
Northern California & Coastal Valleys - What are you doing this month?
by
trolleydriver
3/20/2018, 1:13 pm
»
New England Mar 2018
by
CapeCoddess
3/20/2018, 10:45 am
»
What are you eating from your garden today?
by
Scorpio Rising
3/19/2018, 6:36 pm
»
Trellis mod
by
SQWIB
3/19/2018, 8:39 am
»
How's the Weather Where You're At?
by
Scorpio Rising
3/18/2018, 6:38 pm
»
Powdery Mildew and SoCal Fall Planting
by
countrynaturals
3/18/2018, 12:34 pm
»
Boat Gardening
by
AtlantaMarie
3/18/2018, 6:51 am
»
How many green beans per square foot?
by
Scorpio Rising
3/17/2018, 9:27 pm
»
2018 SFG in Brooks, GA
by
yolos
3/17/2018, 8:34 pm
»
Comfrey
by
sanderson
3/17/2018, 8:21 pm
»
Hello from Hagerstown MD
by
sanderson
3/17/2018, 6:10 pm
»
Horsetail weed
by
Kate888
3/17/2018, 3:02 pm
»
A new SFG fan from Texas
by
AtlantaMarie
3/17/2018, 7:17 am
»
Potatoes: Yes or No?
by
AtlantaMarie
3/17/2018, 7:13 am
»
Modesto, Central Valley, CA...
by
AtlantaMarie
3/17/2018, 7:03 am
»
has55's R & D Journey
by
sanderson
3/16/2018, 3:28 pm
Page 2 of 2 •

1, 2


PRIZES WILL BE AS FOLLOWS:
1st- $50.00 Gift Cert to the SFG Store

2nd- $40.00 Gift Cert to the SFG Store

3rd- $30.00 Gift Cert to the SFG Store


An in-depth essay/article on a given veggie picked by the contest writer. The essay/article to include basic research with references and to include varieties and their pros and cons, disease and insect control specific to that veggie. The veggies could be picked from the following list or one selected by the writer. Asparagus, Bean, Broccoli, Brussels Sprouts, Beets, Cabbage, Cauliflower, Carrot, Celery, Corn, Cucumber, Eggplant, Salad Greens, Out of the Ordinary for a SFG, Melons, Okra, Onion, Peas, Peppers, Radish, Squash, Chard, Tomatoes and/or anything else that tickles the fancy of the writer. If more than one writer picks the same veggie that should not be a problem and could enhance the contest.

Entries will be voted on by the forum members.

Voting will begin February 25th and continue until Feb 28th. The winners will be announced on March 1st.

All entries are subject to be used in the SFG newsletter, recognition will be given to the author but no monetary payment will be made for use. If you enter an essay/article it is subject to be used by the foundation.

OKAY EVERYONE!!!!! Good luck to everyone!!!

GO!!!!
Last edited by middlemamma on 2/25/2011, 1:21 am; edited 4 times in total






Posts

: 2260


Join date

: 2010-04-25


Age

: 40


Location

: Post Falls Idaho and LOVING it



SFG Essay Cabbage 2011
Cabbages are a member of the Brassica family and very healthy for you. I was not a lover of cabbage except in cole slaw, but I'm learning to like it after growing my own.
One cup of shredded cabbage contains 90% of the RDA for Vit K and 50% for Vit C. Its also a good source of dietary fiber, manganese, Vit B6 and folate and a good source of thiamin, riboflavin, calcium, potassium, Vit A, tryptophan, protein and magnesium according to nutritiondata.self.com and has no saturated fats or cholesterol worries according to great-workout.com.
Being a brand new veggie Square Foot gardener, I started with store-bought Early Jersey Wakefield cabbage seedlings in spring 2009. My new 12" raised Square Foot beds were filled with garden loam to which I added bags of composted manure plus peat moss, and amendments such as limestone, greensand, blood meal, and alfalfa meal.
I transplanted all 6 purchased seedlings in the same raised bed adjoining one another. They grew large, indeed. In June they were already beginning to crowd one another.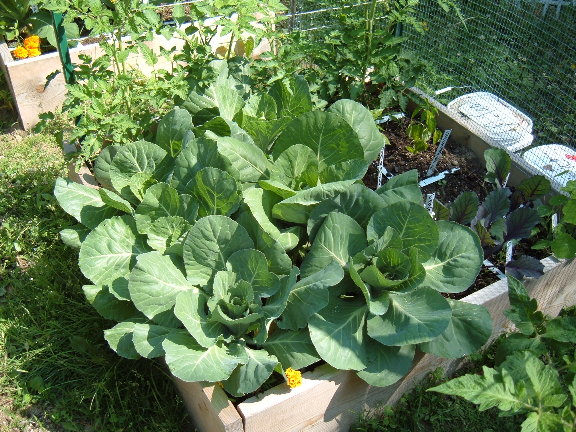 Pic 6/17/09 Large Jersey Wakefield cabbages outgrowing their space.
I knew this large variety would benefit from more room, but I was committed for the season. I made more room by harvesting a couple smaller than intended so the others could grow bigger. A home-grown cabbage, without insecticides, is a wonderful thing. The taste if better than store-bought.
The 2nd year I changed tactics. I'd read Bob Thomson's book,
The New Victory Garden
and he treats brassicas a little differently so I thought I'd try his method but I would also choose a mini variety. Cabbage seed is viable for 4-5 years if preserved in a baggy or jar in your crisper drawer of the fridge with a teaspoon of dry milk wrapped in a couple of layers of tissue and stapled shut (to keep the seeds dry). Even a small grower like myself, who will use less than a dozen seeds a year, can safely keep the leftovers.
This time I was ready to start my own seeds indoors with lights and space in the furnace room. I chose the mini-cabbage Super Red 80 and sowed seeds 12 weeks before my last frost-free date. At 5 weeks before that frost-free date, I was ready to plant my cabbage seedlings, after hardening them off outside for several days.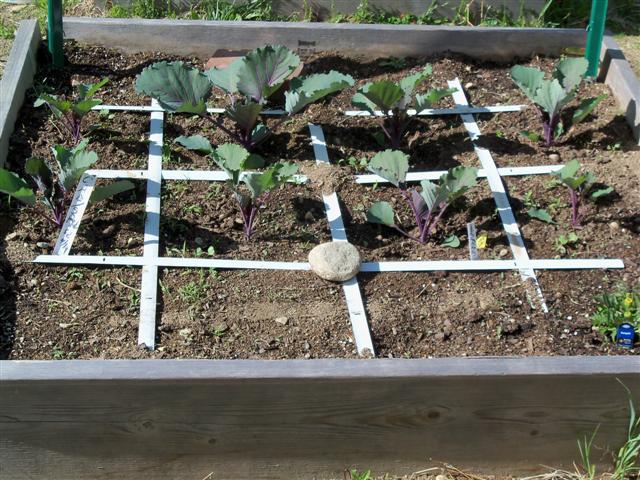 5-09-10 I've planted my 8 Super Red 80 cabbage seedlings.
Again, I planted them adjoining each other but in the bottom of each hole I put a handful of limestone to prevent club root, per Bob Thomson's instructions. Cabbage seedlings can be planted in the garden when they have 3-5 leaves, but less than 7, slightly deeper than in the pot, buried up to the bottom of the upper leaves.
I read they don't like to grow near pole beans, strawberries nor tomatoes. Cabbages prefer to grow near bush beans, carrots, cucumbers, lettuce, the onion family, potatoes and spinach. I find that different growing experts sometimes have different experiences with their crops so this is something an SFGer can experiment with since their gardens are on such a smaller scale.
Try to rotate your crops so that you do not plant in a square where a brassica has grown the prior year, like broccoli, Brussels sprouts, cabbages or cauliflower. All brassicas deplete the same nutrients from the soil so its best to rotate that square to something else next year.
If you stagger your transplants at 2-week intervals, you can get a longer harvest. Seedlings should be shaded for 2 days before being exposed to direct sunlight. You can do that with cheesecloth or light row cover. In fact, all newly-planted seedlings can benefit from no direct sunlight those first couple of days.
Cabbages like cool temperatures, but lots of sunshine.
At 3 weeks, side dress your plants with compost. Hand pull any weeds to avoid damaging the shallow roots of the plants and then mulch heavily to prevent weed growth and keep the soil moist, yet cool.
Water well at planting time and continue until the plant starts to mature, then cut back on the water. Do not let the soil dry out around the roots, or the plants will slow down.
When it nears maturity, if a cabbage head starts to crack, its caused by fast growth. Plunge a spade into the soil on ONE SIDE ONLY to chop roots or twist the head a half turn and pull to slightly dislodge the roots and slow down its growth.
If leaves start to yellow, add a nitrogen boost with compost tea.
When I noticed some insects on my cabbages, I immediately covered the plot of eight heads with light-weight row cover and left it there. Rain and sunshine penetrates the row cover just fine but my cabbages were no longer threatened by cabbage flies.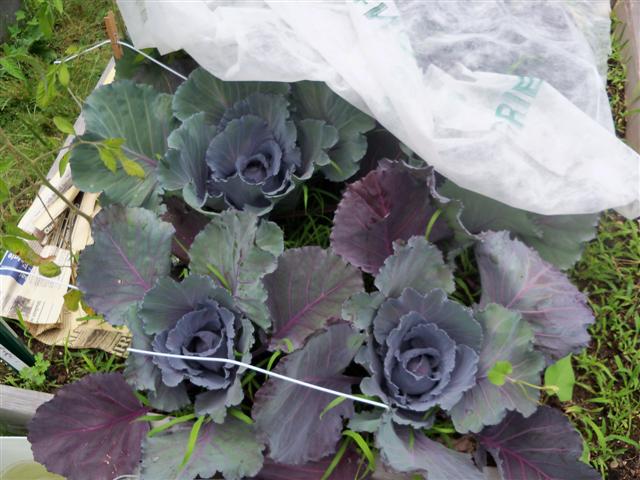 Pic of 6/28/10 Row cover set aside to check health of plants.
When I harvested the last 3 of them in October, they were nicely within the perimeters of their square foot and heading up into lovely red balls. And best of all, no club root. All roots were healthy and strong at harvest.
To harvest, carefully cut it from the stalk an inch above the soil, leaving lower leaves intact to possibly re-grow another small, tasty head.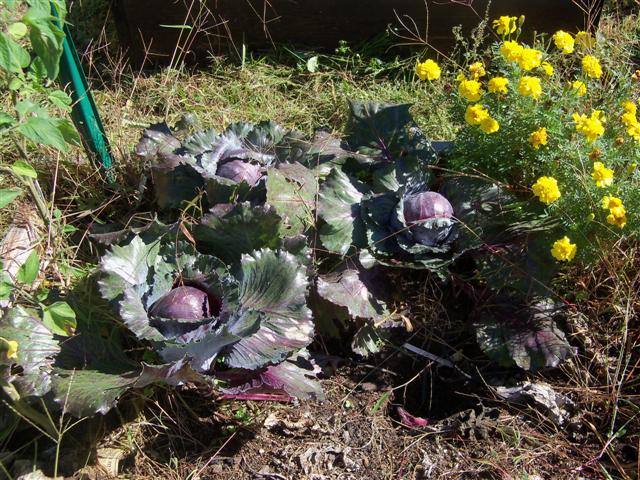 Pic of 10/2/10 My last 3 at end of season.
Here's a cooking tip: Do NOT over cook cabbage. Just put a half to three quarter inch of water in a saucepan. Bring to boil. Add a little lemon juice or vinegar to the water to hold the color and reduce odor. Add the sliced cabbage and cook only a few minutes (3-5) until tender. The longer you cook, the more odor it disperses. Never overcook cabbage.
This year for 2011, once again, I will start my own seedlings indoors and at transplant time, add a handful of limestone to the bottom of their outdoor planting hole and keep that row cover handy.
I understand you can start mid-season crops directly outdoors. They can take a mild frost at the end of their days. I might try that this year.
For Square Foot Gardening, I can highly recommend the mini-varieties of cabbage. They are large enough for a family meal, yet small enough not to crowd out each other or their neighbor crops.
After the harvest, pull up the root and discard in the trash as it may contain club root. Do not put in your compost pile. You can add any chopped leaves back in the bed, add compost, a little lime and plant a cover crop if you desire in preparation for next spring's different crops.
To store cabbage, you can hang the plant with their roots still attached, upside down in a garage or other cool place or you can wrap the heads tightly in newspaper to keep a few weeks.
Try growing your own cabbage. Its easy and it healthy.
Last edited by quiltbea on 1/29/2011, 12:33 pm; edited 1 time in total (Reason for editing : spelling)
Page 2 of 2 •

1, 2

---
Permissions in this forum:
You
cannot
reply to topics in this forum