Today with the warmer weather I did some cleaning in the garden. I pulled old tomato and sweet Basel stalks, pulled some weeds, and turned a few empty squares. I pulled 1 square of carrots and found a few radishes in the mix, with 1 really big radish. The radishes bordered the carrots but these few were in with the carrots. This is my first year growing carrots and radishes and for some reason most are small to medium size. They were still fun to grow.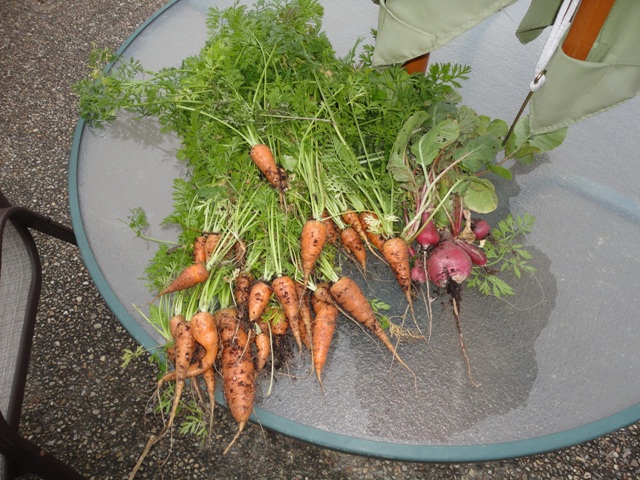 Posts

: 148


Join date

: 2010-07-18


Location

: Baton Rouge, LA, Zone 8b



Well done on your harvest today. I always think small and sweet are better than large and bland. Not sure about the radish though, that may be large and strong. As long as you are having fun that is what this hobby is all about.



Posts

: 167


Join date

: 2010-11-21


Age

: 58


Location

: Burton on Trent, UK - Zone 8



I inter-planted carrots and radishes and didn't have any carrot fly maggot damage, so hopefully that will work again next year and wasn't a coincidence. We built a bed that was about 16 inches deep and 2x2 for carrots (there are some picture in
this thread
) because Josh generously shared some seeds for carrots that could grow to be 12 inches long... and they weren't kidding! I really think the carrots liked the deep bed, based on our harvest, and next year, as in 2012, I hope to put in a couple more little beds like that one. It's a bit spendy because it takes so much soil, but the carrots we harvested were definitely worth it! Even the little ones were delicious

I hope your carrots are flavorful and give you a wonderful taste of summer.



Posts

: 778


Join date

: 2010-04-29


Age

: 48


Location

: Central Virginia, 7A as far as I can tell



my wife agrees with you both that the smaller ones are sweeter. She said these were delicious. I do not eat carrots but I grew them for her.



Posts

: 148


Join date

: 2010-07-18


Location

: Baton Rouge, LA, Zone 8b



That's a pretty good harvest for one square, some may be small, but you already know your wife thinks they are the sweetest.

Enjoy!



Posts

: 3141


Join date

: 2010-06-10


Age

: 70


Location

: Coastal Oregon, Zone 9a, Heat Zone 2 :(



I like the young long slender carrots. Leave some green tops , leave whole and simmer in butter to fatten them up some

Makes the dinner plate look fancy.
Congrats on your harvest. So exciting. Nice big radish you got there. Some of mine got that big too but still tasted good. I did eat a radish today while constructing the greenhouse and they were a little hot------due to the freezing temps they been living in.



Posts

: 778


Join date

: 2010-09-06


Age

: 47


Location

: Alabama Zone 7a



---
Permissions in this forum:
You
cannot
reply to topics in this forum