I noticed on page 164 of the All New SFG book in the chart under the heading Maintenance, Mel recommends to "Mark and protect ground rods with brightly coloured tape or paint". I assume this is for personal safety because if someone fell they could damage themselves seriously on one of these rods. In the house building trade they use plastic safety caps to put on the end of these rods when they are in the process of doing foundations etc. These should be available from a good builders merchant and would be a good addition to any garden to prevent injury.
To give you an idea of what I mean here is a picture showing one type used in the construction industry.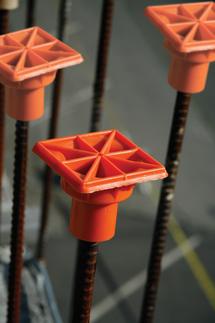 Posts

: 167


Join date

: 2010-11-21


Age

: 58


Location

: Burton on Trent, UK - Zone 8



Great idea Mick, and thanks for the picture of the sfety caps. Those rods sometimes catch you unawares.



Posts

: 3141


Join date

: 2010-06-10


Age

: 70


Location

: Coastal Oregon, Zone 9a, Heat Zone 2 :(



Yeah and that is no joke....hubby was knocking concrete accumulation off of them at a job site once with a hammer after a pour, and one of the tops was mushroomed and he missed with the hammer and it was many many many many stitches and a very hurting husband. So it is better to be safe than sorry here on this subject hands down.

Jen






Posts

: 2260


Join date

: 2010-04-25


Age

: 39


Location

: Post Falls Idaho and LOVING it



That is an EXCELLENT photo, jumiclads. Jen, can you point Alan at this post so he sees this?
I can't keep my big veggies in the front yard anymore

so my trellis rebar is all pulled up (and saved), but had I been able to keep them, I would have pulled the rebar for the winter anyway. I knew I was guaranteed to trip over at least one of them. Speaking of which...I never realized or thought about it before, but frozen bark mulch is incredibly slippery!!!

The one sticky-up thing I have in my garden right now is a railroad spike that marks the termination of one end of my irrigation system (currently with the end clip released for winterization), but it's in a landscaping bed that I won't be traipsing around in.



Posts

: 3350


Join date

: 2010-04-27


Age

: 50


Location

: Manassas, VA - Zone 7a






Posts

: 167


Join date

: 2010-11-21


Age

: 58


Location

: Burton on Trent, UK - Zone 8



---
Permissions in this forum:
You
cannot
reply to topics in this forum