Page 2 of 2 •

1, 2
Yeah, hours might be a bit of an understatement... it was probably more like a few hours every day the past few days. I found a site that reviews the online seed sites and saw the one I normally order from has quite a few negative reviews, so it took some time to find alternate sites.

I could post what I found, but I am not sure if that would violate any forum rules because it would mentions company names/urls.
We welcome feedback about companies...that is not a violation....we are all consumers and info that will help us would be welcome. There is a seed thread around here that has feedback about companies on it...let me see if I can find it and I will post and you could put your findings there.

Here are a couple where feedback on the company would fit in nicely.

http://squarefoot.creatingforum.com/t4326-list-of-seed-companies?highlight=seed+companies
http://squarefoot.creatingforum.com/t3874-gurney-s-feedback?highlight=seed+companies
Last edited by middlemamma on 1/22/2011, 10:57 pm; edited 1 time in total (Reason for editing : to add the links)






Posts

: 2260


Join date

: 2010-04-25


Age

: 39


Location

: Post Falls Idaho and LOVING it



Ah those are good links, and cover a good deal of companies.

After reading lots of reviews on Dave's Garden and Cornell Vegetable Varieties for Gardeners, I decided to go with Johnny's and Fedco for my seeds/garlic/shallots, and Nourse Farms for my asparagus and strawberries.

I went with Gurney's last year, and was tempted by the $25 coupon this year until I saw all the negative reviews.
Hi vasfg, wow, I can't believe I only now saw this thread. So sorry... we aren't neighbors, but reasonably close... I am in Manassas. If you'd like to come visit or have a cuppa joe somewhere in between, drop me a line. I'd be glad to share some seeds with you, too.

Love your plan, and I wish I had a nice big blank space like that to work with! I am a little concerned by the "one square each" for the squashes in that middle bed, though. You will find that whether they are a bush or a vining type, they like to spread. Same for those cucumbers.

By the way, how did you manage to make Growveg.com produce an image that you could post? So far all I can do is make a PDF from it.



Posts

: 3350


Join date

: 2010-04-27


Age

: 50


Location

: Manassas, VA - Zone 7a



The boxes, fence, Mel's mix, and mulch are all ready to go. Now I just have to wait until the 29th to start planting (peas, spinach, broccoli). I reduced my plan from 12'x26' to 12'x24' to accommodate the fence, dropping off some of the watermelon, cantaloupe, and corn. I'll take updated pictures when things start growing and post them here.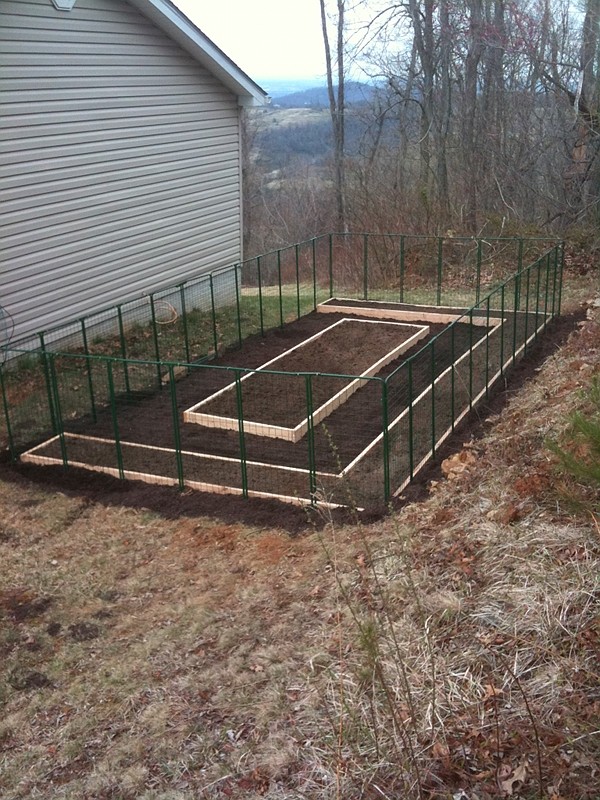 Megan, for GrowVeg I did print screen, and then cropped out the relevant portion in an image editor.
Great job! That looks beautiful!!



Posts

: 710


Join date

: 2010-03-21


Age

: 44


Location

: Aurora, Ontario, Zone 5a



Very Nice! Can't wait to see the veggies growing.




Posts

: 3141


Join date

: 2010-06-10


Age

: 70


Location

: Coastal Oregon, Zone 9a, Heat Zone 2 :(



Page 2 of 2 •

1, 2
---
Permissions in this forum:
You
cannot
reply to topics in this forum