Latest topics
»
The Research Journey:Composting Leaves Only
by
sanderson
Today at 2:36 am
»
California's Drought
by
sanderson
Today at 2:24 am
»
Second Year SFG in Canada
by
sanderson
Today at 2:22 am
»
CANADIAN REGION:What are you doing in October 2016
by
Kelejan
Yesterday at 10:47 pm
»
The Research Journey:Back to Eden Organic Gardening 101 Method with Wood Chips VS Leaves Composting Garden Soil
by
has55
Yesterday at 9:36 pm
»
Can i just mix up the Mel's mix right in the garden box?
by
Kelejan
Yesterday at 6:15 pm
»
Fall garden push
by
Cajun Cappy
Yesterday at 5:44 pm
»
Testing MM Calculator
by
pforrester1
Yesterday at 5:09 pm
»
Sweet Potatoes
by
sanderson
Yesterday at 4:40 pm
»
Tomato Tuesday 2016
by
countrynaturals
Yesterday at 4:06 pm
»
When do I prep potted raspberries for winter?
by
trolleydriver
Yesterday at 1:19 pm
»
Please Welcome Our Newest Forum Moderator!
by
CapeCoddess
Yesterday at 12:07 pm
»
who has chickens
by
bigdogrock
Yesterday at 7:12 am
»
N&C Midwest: October Happenings!
by
MrBooker
Yesterday at 7:05 am
»
Sanderson's experiments with Bio-Flora Ag Products
by
dstack
Yesterday at 6:13 am
»
Flowers that easily reseeded
by
yolos
Yesterday at 12:07 am
»
Jade Plant
by
Scorpio Rising
10/25/2016, 11:21 pm
»
Microbes...you gotta see this one !!!
by
Scorpio Rising
10/25/2016, 9:53 pm
»
Fun Spider addition to Home Page
by
Scorpio Rising
10/25/2016, 9:49 pm
»
The Research Journey:Growing in a Raised Wood Chip Organic Gardening Bed
by
has55
10/25/2016, 7:16 am
»
The Research Journey:Building Healthy Soil
by
has55
10/25/2016, 7:13 am
»
the Research Journey:How to Grow Large Healthy Organic Tomatoes
by
has55
10/25/2016, 7:07 am
»
Bountea Compost Tea - Got it!!!
by
sanderson
10/25/2016, 3:23 am
»
Northern California & Coastal Valleys - What are you doing this month?
by
sanderson
10/25/2016, 1:28 am
»
Straw Bales with Seeds?
by
donnainzone5
10/24/2016, 11:50 pm
»
TrolleyDriver's Compost Thermometer
by
jimmy cee
10/24/2016, 10:44 pm
»
Notice: Gluten-free Recipes Sub-Forum- Up and running!
by
BeetlesPerSqFt
10/24/2016, 9:20 pm
»
Our Newest Regional Hosts!
by
Scorpio Rising
10/24/2016, 8:56 pm
»
Indian Solar Gardening Calendar
by
Scorpio Rising
10/24/2016, 8:52 pm
»
Asia Region -Showcase of Gardens - Show Us Yours
by
rajmahendra
10/24/2016, 8:36 pm
Don't quite know what I have to exchange just yet, but shipping a couple packets of seeds is ridiculous. Would love to talk "trade."
Trading is good!
List what you have available.
Others, including myself, have listed their available seeds this year.
See what you want and you can offer some of yours.




Posts

: 4613


Join date

: 2010-03-21


Age

: 74


Location

: Southwestern Maine Zone 5A



I agree, shipping costs really add up fast if one tries to order seed from multiple sources.

You don't have to ship an entire package, either, only a few seeds from them. I make small seed envelopes by taping together scrap printer paper, and I write all the growing info on each envelope for that variety. I've been able to put six or seven of the small packets into a business-sized envelope and mail with a single first-class stamp. (I tape each packet to the inside of the envelope so they won't bunch up and jam the cancellation machine.)
I can mail five or six envelopes for the cost of one packet from a seed company.

I have buttercrunch lettuce and a few peppers available, or you can check out the IHA thread if you want to find others to talk trade with. PM me if you're interested in my seeds.
Last edited by ander217 on 1/24/2011, 9:11 pm; edited 1 time in total



Posts

: 1450


Join date

: 2010-03-16


Age

: 61


Location

: Southeastern Missouri (6b)



Have some peppers - check my IHA list, let me know if you see anything you like. Trading is the best!!! Have over a dozen new types and varieties of seed all for the cost of a couple of stamps




Posts

: 123


Join date

: 2010-03-02


Age

: 38


Location

: KY (6a)



As I start indoors and get outside, I will have a better idea of what I have to offer in trades. Being that this is my first year storing seeds, I can't make many guesses just yet.

However, it's sure nice to no longer be a seed company's dream. Not that I didn't know they would keep. Just that I didn't know how to, or bother with, storing them. The fact that people are so willing to trade them makes it even better.
Can't wait to see if you can add to your list BBG. I just asked for okra and kale from ander can't wait to start on that new journey. Trying to broaden my horizons slightly, so stuff that I wouldn't think to normally grow are popping out now =D



Posts

: 274


Join date

: 2010-06-21


Age

: 35


Location

: Charlotte, NC -+- Zone 7



How many weeks before first frost can you start buttercrunch? Inside or outside?

:scratch:



Posts

: 440


Join date

: 2010-05-25


Location

: Beaver Dam, Kentucky, zone 6a



Lettuce in general....
They need light to germinate so don't keep them in the dark.
Sow seeds 4 weeks before last frost but for Romaine and the head lettuces, start seeds 4-6 weeks.
Sow seeds every 10 days or so to get an extended harvest.
Transplant into the garden when soil can be worked.
You can also interplant between broccoli, cabbage and cauliflower, other cool weather tolerant crops, to save space. The lettuce will be harvested before the others grow to maturity.
Lettuce prefers to be transplanted just a little higher above the soil than it came from in the pot, along with endive, raddichio and escarole.
You can harvest the outer leaves when they are 3-4" long. Just cut them off with a scissors to not disturb the roots.
On a hot day, cover the lettuce with shade cloth or cheesecloth to protect from the sun and bolting.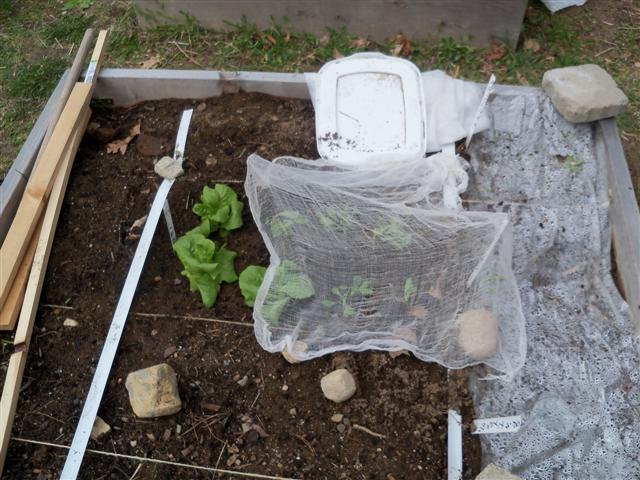 Here's some of my lettuces under cheesecloth. I just bent some wire hangars over the squares and attached with spring-type clothespins. It works. In this particular case I'm shading them from the sun since they were just transplanted but I also do this in hot summer. The Crispino lettuces on the left were planted earlier and are already used to the spring sunshine and didn't need covering any longer.



Posts

: 4613


Join date

: 2010-03-21


Age

: 74


Location

: Southwestern Maine Zone 5A



---
Permissions in this forum:
You
cannot
reply to topics in this forum