I know several of you planted potato onions this year for the first time. I was just wondering how they are all making it through the winter. I think Megan saved some of hers to plant in spring. Did anyone else save some? I'm curious to see which planting time is better in the colder areas.

Mine are looking just as they should at this time of year in my region, with greening tops.



Posts

: 1450


Join date

: 2010-03-16


Age

: 62


Location

: Southeastern Missouri (6b)



I didn't save any

I don't have any shoots yet.

This is my first time. I have no idea what they
should
like! I was intending to plant around Thanksgiving, but I planted in mid-Oct because they started growing while waiting to be planted. The leave tips got a little frost bitten I think, but it looks like they might be OK. Potato onions on the right; garlic on the left.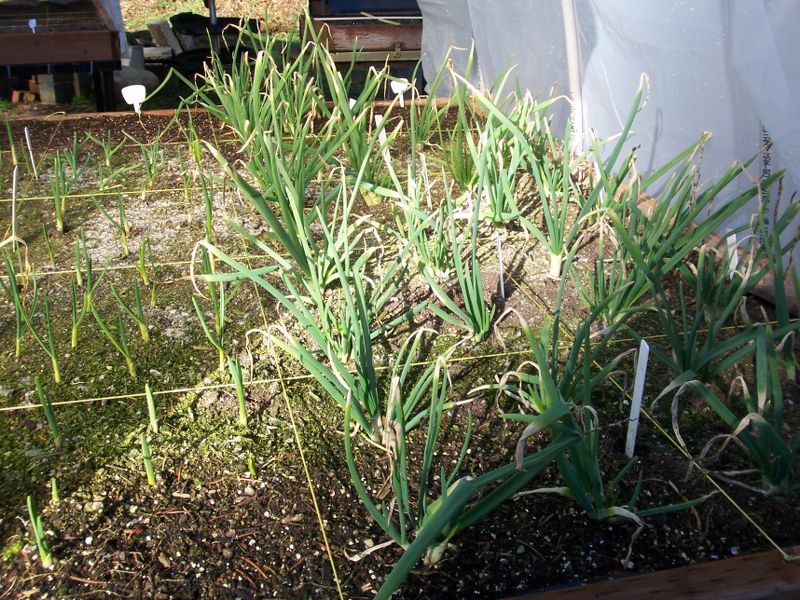 Posts

: 7392


Join date

: 2010-02-26


Age

: 64


Location

: yelm, wa, usa



Wow, Boffer, your onions are looking great. You should have some really large bulbs by harvest time.

Jennie, I think your area is much colder than mine. I wouldn't worry about seeing no growth until the weather warms. Mine are planted in a bed in the open garden, and I mulched them with straw. The top growth on mine is about three inches under the mulch.



Posts

: 1450


Join date

: 2010-03-16


Age

: 62


Location

: Southeastern Missouri (6b)



Ander

I seem to have sprouts...very tiny little green pokies coming up out of the ground....some are the garlic, some the potato onions.

My MM is still frozen solid beneath the first inch....I have no idea how I have healthy little green sprouts!
We had a beautiful day today in the 50's!! AND SUNNY!!! It was absolutely wonderful.....things will be green soon, I can feel it!
Jen
Last edited by middlemamma on 2/5/2011, 8:39 pm; edited 1 time in total
I saved some, both potato onions and garlic. The ones I planted are all under the snow now. In addition, I had Egyptian (walking) onions and garlic from Belfry which I had planted much earlier.... those onions had started to sprout a few inches.
I did lose some garlic and potato onions to storage, even on first planting, so I'm guessing I'll lose some more, but we'll see. I am scrambling around right now because I just got my internet access back, but I hope to post an official update sometime soon!




Posts

: 3350


Join date

: 2010-04-27


Age

: 50


Location

: Manassas, VA - Zone 7a



Has anyone close to zone 8b-ish had any luck so far with their potato onion growing? I love trying new veggies and would love to give this a try, but it would be great to know if anyone in a climate similar to mine in heat and humidity is having any luck.
I understand, or think I do from reading the old posts, that it's not yet time to harvest them, but I just wondered if they seem to be growing for anyone south of zone 8 or so. Also, if someone near my zone has tried them, when did you plant?



Posts

: 850


Join date

: 2011-04-03


Age

: 65


Location

: Mississippi Gulf Coast Zone 8B



Anyone in 8b with potato onions should have major growth by now?

I am in 5b/6a depending on the source you check with and I have several inches of growth above the ground now. They are looking gorgeous.
Thanks, middlemama. I'd love to hear a report on how everybody's potato onions are doing. And hopefully, someone from "down south" or zone 8 and higher will let us know how theirs are doing, too! Inquiring minds want to know!

I think the past posts said that you could use them young like green onions and mature like regular yellow onions? The idea of having a steady supply of them that replinishes itself is appealing!



Posts

: 850


Join date

: 2011-04-03


Age

: 65


Location

: Mississippi Gulf Coast Zone 8B



---
Permissions in this forum:
You
cannot
reply to topics in this forum