Hi, I ordered the book a few months ago and darling hubby is out right now putting some boxes together for me.... I can't wait. My name is Tracy, my hubby is Jeff, and we are from Eastern WA. Lind, zone 6a or some say 5b????
Our yard is in transition, right now, as we are looking into tearing down our home and rebuilding or putting in a Modular???? Hoping to start the process later this summer. But until then I am going to plant my Square Foot Garden. I have a garden area now, but will transplant some and start over with other plants... I have Raspberries, Grapes, Blueberries and Strawberries that will have to be transplanted. I would love input and ideas, from some of you seasoned SFGardners....
Where have some of you gotten your grids for garden ideas and plans that I have seen here? I love them.
Looking forward to a new year with lots of planting fun.
Have a great day
Tracy



Posts

: 5


Join date

: 2011-02-13


Age

: 56


Location

: Eastern WA. Soap Lake , zone 5b



Welcome Tracyjayne as a new SFG'r.
Its a great way to produce your own food with little hard work and less water than a regular garden so for me its a win-win situation.
Those raspberries, grapes, blueberries and such probably want to stay right where they are if they are growing well. They won't find room in a raised bed, that's for sure.
The strawberries are another story. Some grow them in raised beds. I prefer to have mine in a long 16' row which is hilled up so its a 'raised bed without the lumber' so I guess you'd call it a berm. Easier for me to keep it separate from my nine 4 x 4s and easier to remove the old mama plant and let the babies grow for the following year so I don't have to buy new plants.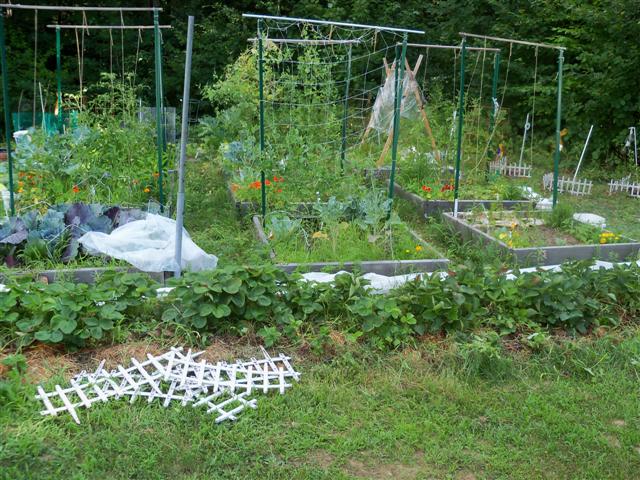 Here you can see my strawberries in the long row in front of my SFG beds.
See those little white picket fences to the right?, those are my blueberry bushes. I have 5 highbush in 2 varieties.
If you have questions, come here to ask. Many here are seasoned gardeners and you'll learn from their successes and mistakes. I love coming here each day to see what's happening.
Don't forget to post pictures. We Lovvvve pictures!
Again, welcome.
quiltbea



Posts

: 4687


Join date

: 2010-03-21


Age

: 75


Location

: Southwestern Maine Zone 5A



Hi Tracy! Welcome.
I think you are one of the closest people on the forum to me. You are a couple hours away from me to the south west. It's NEVER lonely here on this forum but it will be nice to have someone closer to compare notes with !
I had my first SFG last year and I loved it! (Love is an understatement)
Welcome to the forum!
Jennie






Posts

: 2260


Join date

: 2010-04-25


Age

: 39


Location

: Post Falls Idaho and LOVING it



@tracyjayne

wrote:Hi, I ordered the book a few months ago and darling hubby is out right now putting some boxes together for me.... I can't wait. My name is Tracy, my hubby is Jeff, and we are from Eastern WA. Lind, zone 6a or some say 5b????

Our yard is in transition, right now, as we are looking into tearing down our home and rebuilding or putting in a Modular???? Hoping to start the process later this summer. But until then I am going to plant my Square Foot Garden. I have a garden area now, but will transplant some and start over with other plants... I have Raspberries, Grapes, Blueberries and Strawberries that will have to be transplanted. I would love input and ideas, from some of you seasoned SFGardners....

Where have some of you gotten your grids for garden ideas and plans that I have seen here? I love them.

Looking forward to a new year with lots of planting fun.

Have a great day

Tracy
Tracy
So nice to have another gardener in the Pacific NorthWest Region(edit: Maybe not the PNW, perhaps Western Mountains and High Plains). Congratulations on your new Square Foot Garden.
The following is a link to a simple to use garden planning tool, plus it's free
Planning Tool
I would also suggest that you check out our forum on Garden Plans
Showcase of Garden Plans
Hope these help and again, Welcome.
Last edited by Furbalsmom on Sun Feb 13, 2011 7:16 pm; edited 2 times in total (Reason for editing : Not sure of the Region)



Posts

: 3141


Join date

: 2010-06-10


Age

: 70


Location

: Coastal Oregon, Zone 9a, Heat Zone 2 :(



Hey TracyJane,

You will find lots of people here are super willing to help out. Poke around the site, and you will discover zone discussions, seed trading, and more info than you can possibly learn without it spilling out the other ear at times.

Pictures are worth a thousand words, and people here love showing their garden designs off. Can't wait to see yours. Welcome aboard.

I also wouldn't transplant blueberries. They are finicky enough from what I've learned.

I believe you asked about the grids people are posting here? There is a website that some can link you to that will allow you to play around graphically with your planning. I just use graph paper, a ruler, and a pen...but that's just me.



Posts

: 2727


Join date

: 2010-12-25


Age

: 43


Location

: St. Louis, MO



Welcome, TracyJane.
Have you thought about propagating your fruits instead of transplanting them? You can google and find lots of advice on how to grow new plants from your existing ones.
Here's a video on how to root new blueberries from cuttings.
How to propagate blueberries
This article tells how to transplant blueberries. I have transplanted black raspberries, gooseberries, and blackberries following similar advice.
How to transplant blueberries
Remember to send us photos of your new garden.



Posts

: 1450


Join date

: 2010-03-16


Age

: 62


Location

: Southeastern Missouri (6b)



---
Permissions in this forum:
You
cannot
reply to topics in this forum