This is my first post. I'm new to SFG just now getting my small sunny spot on a hillside leveled. I'm in Western NC, mountains. Just wondered how to plant potatoes in SFG. Has anyone used the straw method? Would you use a 12" deep box?
Sharonrn



Posts

: 14


Join date

: 2011-02-10


Age

: 69


Location

: Western NC zone 7a



Hi Sharonrn, welcome to the forum and to SFG!
Straw is fine for taters. I would use a deep box if you can. Cover seed potatoes lightly with soil until they sprout, then slowly/progressively add layers of mix (or straw) and let the stems grow up throw before adding more.
I did not get any potatoes last year but I think it was because I over-fertilized. That made them put all their energy into the greens. Hope to do better this year. Best of luck with yours! Please let us know how your garden is coming along, and remember we love pictures.
Happy gardening!

Last edited by Megan on Sun 20 Feb 2011, 7:33 am; edited 1 time in total



Posts

: 3350


Join date

: 2010-04-27


Age

: 50


Location

: Manassas, VA - Zone 7a



Welcome to the forum, Sharon.
I planted potatoes last year in a 12" box. A lot of people here have had luck planting them in sacks or buckets, too. If you do a search for potatoes you should find several helpful threads from last year. Josh posted a video when he dug his potatoes. You might want to check that out.
If memory serves, I think the conclusion was that early varieties don't need to be planted as deeply as later varieties.
Keep us posted on how your garden grows, and if you need help there are always folks here who are happy to answer questions.



Posts

: 1450


Join date

: 2010-03-16


Age

: 62


Location

: Southeastern Missouri (6b)



to SFG
Hope you have good luck with your potatoes. I have no experience with potatoes but giving it a try this year. I planted a few purple potatoes in a 12 inch deep Table Top Garden.
I am planting some red potatoes and russets this week but haven't decided where, when, or how yet. I have all the soil needed and tons of leaves and straw to run through the shredder.



Posts

: 778


Join date

: 2010-09-06


Age

: 47


Location

: Alabama Zone 7a



I grew potatoes but not in a raised bed but its been done here.
I set aside a raised row area and planted mine in soil and have no experience with using hay or straw.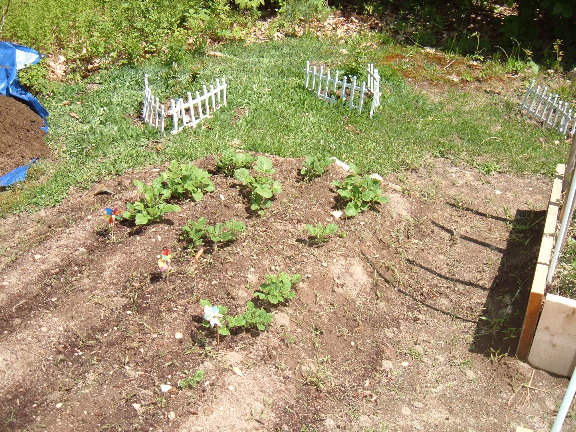 My potato patch 5/30/09
I dug a trench and placed the seed potatoes in the trench and covered them with some soil. As the greens grew taller, I filled in more of the trench with soil keeping only about 6" of green tops showing and continued to do this a few times so the potatoes were well hilled with soil and had plenty of room to grow underneath.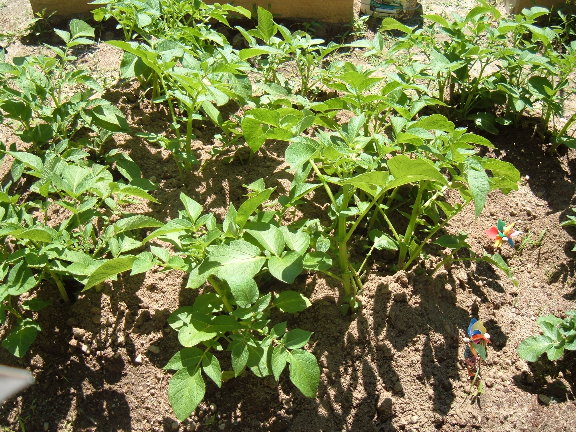 Same patch on 6/17/09 of Russets and Kennebecs
On 8/24/09 I harvested these first Golden Russets
Its worth the effort if you want great tasting fresh potatoes but the crop won't be large so don't expect to store a 100-lb bag in the garage. The amount you get will be detrermined on how many blocks you want to devote to taters. Some here have done a whole raised bed and enjoyed the process and the food. I just didn't have the raised bed to spare so I opted to pile up garden loam, compost, and amendments beyond my beds, hilled up the soil, and made a lumber-less raised bed or berm.
The most important thing is to be sure the potatoes never reach the sunlight or they'll turn green. Green is poisonous in potatoes so never eat a green one.
Last edited by quiltbea on Sun 20 Feb 2011, 3:00 pm; edited 1 time in total (Reason for editing : spelling.)



Posts

: 4688


Join date

: 2010-03-21


Age

: 75


Location

: Southwestern Maine Zone 5A



---
Permissions in this forum:
You
cannot
reply to topics in this forum