Latest topics
»
How's the Weather Where You're At?
by
sanderson
Today at 2:19 am
»
Northern California & Coastal Valleys - What are you doing this month?
by
countrynaturals
Today at 2:10 am
»
N&C Midwest: When are your starting seeds?
by
countrynaturals
Today at 1:57 am
»
Hi Everyone
by
countrynaturals
Today at 1:53 am
»
N&C Midwest: February 2018 !
by
Scorpio Rising
Yesterday at 11:07 pm
»
hanging grow light suggestions
by
Scorpio Rising
Yesterday at 10:52 pm
»
2018 SFG in Brooks, GA
by
yolos
Yesterday at 7:50 pm
»
Horsetail weed
by
sanderson
Yesterday at 7:36 pm
»
CANADIAN REGION: What are you doing in February 2018?
by
Kelejan
Yesterday at 9:31 am
»
MD Home & Garden Ticket Drawing (until 2/24/18)
by
sanderson
Yesterday at 2:55 am
»
Path Width
by
donnainzone5
2/23/2018, 11:20 pm
»
parsnips in square foot garden?
by
Turan
2/23/2018, 8:38 pm
»
A new SFG fan from Texas
by
sanderson
2/23/2018, 6:02 pm
»
Your favorite blackberries or raspberries?
by
Mikesgardn
2/23/2018, 5:51 pm
»
SUGA 2018
by
SQWIB
2/23/2018, 2:02 pm
»
Happy Birthday!!
by
AtlantaMarie
2/23/2018, 4:16 am
»
Mid-Atl - Feb 2018 - Anyone starting seed indoors yet?
by
BeetlesPerSqFt
2/23/2018, 12:22 am
»
Hello from Northern Ontario Eh!
by
skidmoca
2/22/2018, 9:04 pm
»
Eggplant - (Japanese) Millionaire
by
Scorpio Rising
2/22/2018, 8:57 pm
»
Floating Away and New Seeds!
by
Scorpio Rising
2/22/2018, 8:55 pm
»
ahoy mateys from Arkansas
by
Scorpio Rising
2/22/2018, 8:45 pm
»
Sowing Experiment! Anyone Tried This?
by
Scorpio Rising
2/21/2018, 8:49 pm
»
Fourth Year SFG in Canada
by
trolleydriver
2/21/2018, 5:13 pm
»
Aerogrow by Miracle Grow
by
AtlantaMarie
2/21/2018, 7:05 am
»
Seed Organizing Ideas
by
AtlantaMarie
2/21/2018, 7:04 am
»
Areogardening
by
BeetlesPerSqFt
2/20/2018, 9:54 pm
»
has55's R & D Journey
by
sanderson
2/20/2018, 1:55 am
»
WANTED: Pictures of Compost Bins
by
bigdogrock
2/19/2018, 10:28 pm
»
The New Square Foot Gardening Foundation page is now online!
by
sanderson
2/19/2018, 6:40 pm
»
February: What to plant in Northern California and Central Valley areas
by
sanderson
2/19/2018, 6:31 pm

We just had another dusting of snow this morning and my garden is buried under a couple feet of white snow blanket right now, but I can see spring is coming.
I may be jumping the gun just a little, but with heavy-weight row cover and blankets and towels, I hope to save any early starters from freezing nites.
Besides, you can transplant broccoli and cabbage outdoors 5 weeks before the last frost date, so it can take some cold weather.
Some of the seed is so darn tiny I can't handle it with my fingers so I make a dibble with a pencil point.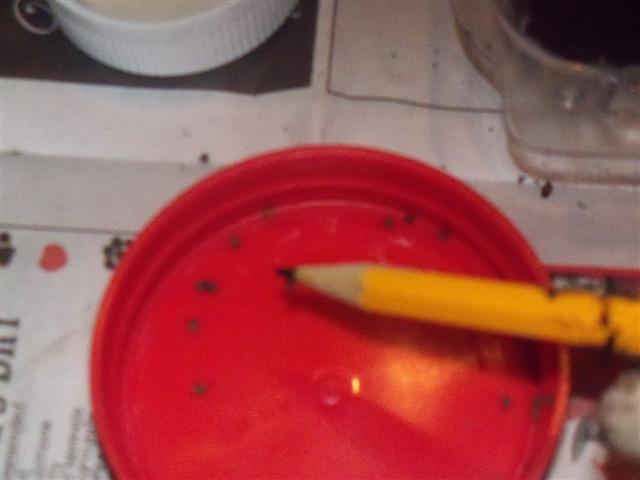 I put some seeds in a jar cap, wet the point of the pencil and touch one seed. It will adhere to the point. I move the pencil to where I want to place my seed, and voila, I've done one seed and didn't waste a half dozen.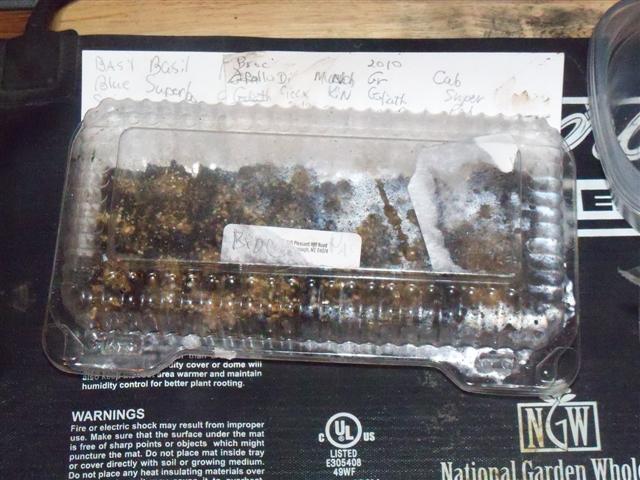 Here I have basil, parsley, broccoli and cabbage seeds under a dome on a heat mat in 3/4" soil blocks.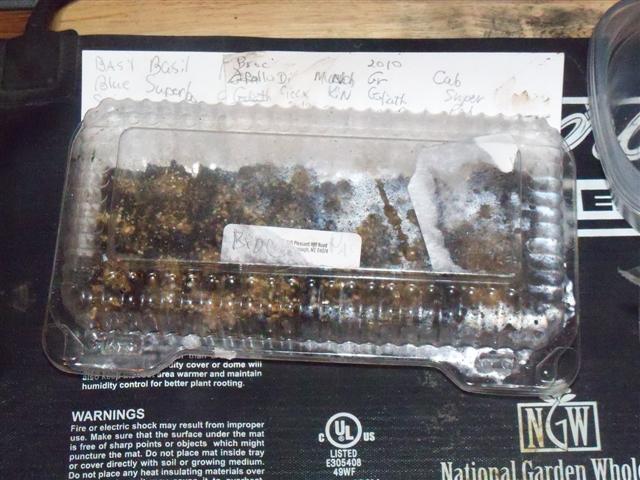 I didn't have luck with sowing Stevia last year in a pot outside so I thought I'd try starting some indoors to get them to germinate, then drop the whole thing into a 10" pot. That way I'll know if I'm wasting my time or not.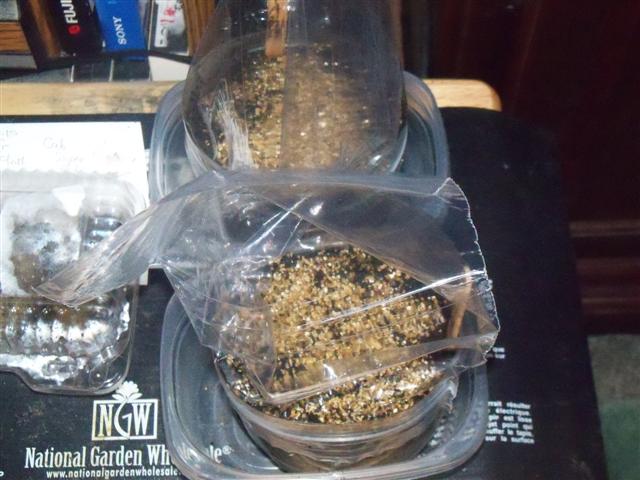 These are in 4-5" air-pruning soda bottle pots. I have chives in front and stevia in the back.
A qt-size zipper bag fits snugly around the edge of the bottles.
I want to put several herbs in containers this year so I can bring them inside in the fall and early wnter and keep on growing them. I can also use that outside space for more veggies.
I think my biggest problem right now is that I keep my house temp down to 60* day and nite to save fuel. I hope the seeds can manage on a heat mat and covered with a dome to conserve that heat.
Cross your fingers for me. I'll keep you posted.
Yeah baby....Git'r'dun!! Sounds like spring is officially 12 weeks away for you. Boy, that sounds like a lot of snowmelt, though. C'mon sunshine!!



Posts

: 2727


Join date

: 2010-12-25


Age

: 44


Location

: St. Louis, MO



I like the dibble idea! I am planning on starting the brassicas in a week or two. I am really trying to be conservative and not get ahead of myself this season.

Forum Moderator Certified SFG Teacher




Posts

: 14165


Join date

: 2010-03-06


Age

: 55


Location

: Keene, NH, USA ~ Zone 5a



quiltbea, do you use a heat mat AND a grow light, or just a heat mat?

Also, are those used berry containers you're using? That's a great idea. I'm going to save those this summer and use them next year. I go thru a lot of those.
NHGardnener,
I use anything I think will work for me. Used waterproof containers that I save, cut down milk cartons sliced in half lengthwise, you name it, I use it.
When I sow my seeds in the beginniing I put them on the heat mat, covered with plastic, to preserve the moisture. NO lights then. They don't need extra light. Mine are on a table in front of the TV set so I can check them easily a few times a day to see if they are germinating. I use very tiny 3/4" soil blocks because they take up much less space than cells and only one seed per block. Saves me lots of space I can't waste in my small apt. and I don't waste seeds by having to thin them later.
They don't go under the lights until they germinate. Then they don't need that extra heat under them. That's specifically to germinate the seeds.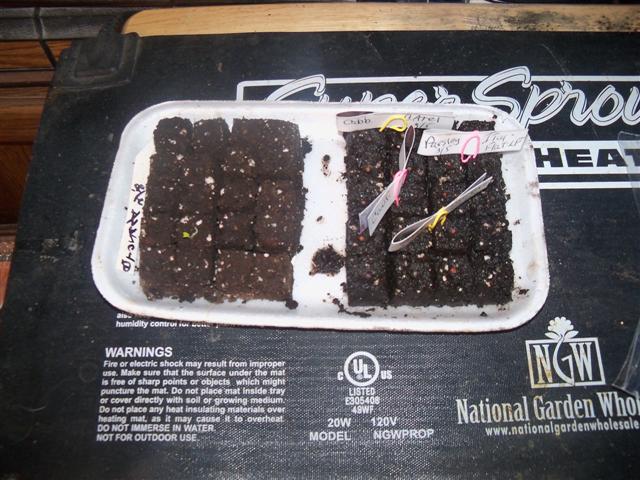 This tray of soil blocks will be covered with a plastic dome from a veggie container from groceries bought last year.
When they stick up their pretty little heads of green they can go under the lights and off the heat mat. I transplant them within the week to 2" soil blocks
Thank you! Great ideas. Any place in particular you like to shop for the mats?

PS - I never heard of the soil blocks, but I see they sell them (the block-maker) at Johnny's and there's also a video about them. (I really like the idea of the tiny blocks at first, then when they outgrow those, you place them into the 2" blocks, and then if you need, into the 4" blocks. That looks simpler than using pots!)
NHGardener,
That's where I got mine last spring and they are much simpler.
Saves space and seeds and pots you don't need.
I have the mini that makes 20 at 3/4" sq and the midi which makes 4 of the 2" soil blocks. I couldn't afford the maxi so I make my own air-pruning pots from 2-litre plastic soda bottles that I can use year after year. Those are the only pots I have to save.
I got my seed mat online last spring from nationalgardenwholesale and am very glad I did. They wouldn't germinate without it since I keep my apt at 60 degreesF 24/7 during the winter and early spring. Mine does not have a thermostat but things germinate fine without one.
This is the propagation site for my heat mat:
http://www.sunlightsupply.com/p-12153-super-sprouter-seedling-heat-mat.aspx
Happily the furnace room stays pretty much around 66* all winter with the furnace and water heater in there so that's where I have my shop lights to grow the plants after they germinate.
Thank you quiltbea. The soil block makers and the mat are quite an expense! But obviously they're worth it and if you stick to the SFG, then I suppose averaged out over the years they become much cheaper.
Still makes me think tho - couldn't you just take a small square pot, turn it upside down, and use it as a cookie cutter to make your own soil squares?
PS - If I turned my heat down to 60 degrees day and night, I'd be wrapping that warming mat around myself! I kiss my woodstove every night before bed.

Yes, you can make a soil block maker if you like.
You need a square container the size you want, a short bolt, washer and a large nut for the inside to make your hole.
I happen to have taped the gardening show, 'Gardening Naturally' with Eliot Coleman and Barbara Damrosch over ten years ago on TLC just because I loved flowers and trees at that time. I never thought I'd be using his advice about soil blocks since we lived in a condo at that time and weren't allowed to grow things outdoors because it would interfere with the maintenance crew. They also had a few shows on growing veggies. He showed how he made a 4" soil blocker himself for those that didn't want to buy the soil block maker. The biggy is over a hudnred bucks. Too much for my thin purse but I'm quite happy with the bottle pots I make.
As for my low living temps, I wear layers all day long and then change into my nitey layers at nite including my flannel robe. I made myself some sleep masks that cover my nose, cheeks and forehead so I'm kept warm there at nite.
Its satin on the underside so you can't even feel it on your face. If you keep your face, feet and hands warm the rest of you can take a little more cold.
To be perfectly honest, I'm usually as snug as a bug in a rug unless its really blowing outside and the wind is hitting my side of the house. Then I can feel the cool air all around the apt so I snuggle into my recliner with a good book.

---
Permissions in this forum:
You
cannot
reply to topics in this forum