I am looking to buy worms in a month or so...

where have you bought yours?

how many did you buy for how much?

would you buy from the company again?






Posts

: 2260


Join date

: 2010-04-25


Age

: 39


Location

: Post Falls Idaho and LOVING it



I want some worms !

I have been looking at the worm hotels for sale in Intl greenhouse supply web site and trying to figure out a method to qaud druple the qty



Posts

: 228


Join date

: 2010-04-07


Age

: 52


Location

: Mount Vernon Texas









Posts

: 2260


Join date

: 2010-04-25


Age

: 39


Location

: Post Falls Idaho and LOVING it



Hi Jennie,
We bought 1 lb of wigglers from a local source Texas Worm Ranch, Heather Rimaldi.
http://www.txwormranch.com/Wormshop_Services.html
We paid $25. She ships for $33. Heather is great. She is open to all questions. We emailed back and forth for about a month before we we took the plunge. She has always been there for me in support and I do not anticipate that changing.
Now an aside. We bought small. By that I mean I calculated Bob and I really needed 1.5 lb of worms (or 2 lb), because we eat a lot of veggies, and more when daughter visits (almost every weekend

). We discussed my concern with Heather and she thought starting small was good for us (didn't want casualties, if possible!). This turned out to be an unwarranted worry on my part, the worms have doubled, we have now 2 Worm Factories, they are doing great and making great compost. Citrus and onion/garlic stuff goes in regular compost bin along with any excess veggie matter.
I would say try to buy from a local worm rancher if you can. This will cut down on losses in transit. But I know that may not be possible.
Here is the website of the Vermicomposters where you may find other info or Vendor suggestions. Heather referred me here early on.
http://vermicomposters.ning.com/
Another suggestion: I used for months a small vermicompost rake to pull bedding aside to add food. I thought I noticed I might be harming the worms. So I switched to using disposable gloves. I did not want the salts, residual soap, residual skin sanitizer, etc on my hands harming the worms. This works great! I use these also when I harvest the compost. The worms seem less stressed.
Jennie, I promise you, soil in your hands never felt so good as worm poo!
Hope this helps! We love our worms

!
Jane



Posts

: 116


Join date

: 2010-03-02


Age

: 59


Location

: Garland, Texas Zone 7b/8a



You'll find that worms will regulate their numbers by the amount of food that is available. More food, more worms. Less food, fewer worms produced.
I love having my worms. I use a little hoe/rake combo thing I got from the dollar store. I pull up the top layer of bedding along the side and drop the food in, then replace it with same. I don't see that I'm harming any of my worms.
Surprisingly enuf that even tho they are lowly worms, I care for them and take good care of them. They are my little compost workers and the cost for great compost is small. Very little care, a nice home under a shade tree all spring, summer, and fall and in my bathroom in the winter.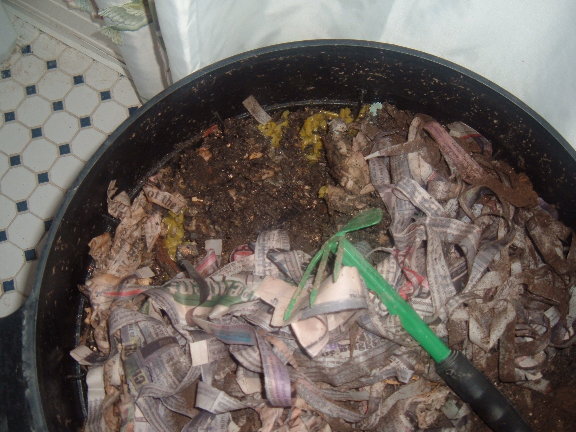 See my green hoe/rake? I just gently lift the bedding along the side and drop the food scraps under the bedding and then lower it. I don't rake up my worms.
Tearing up newspaper into strips and dampening it before adding it to the condo makes a good bedding and food source for worms if your kitchen scraps are scarce.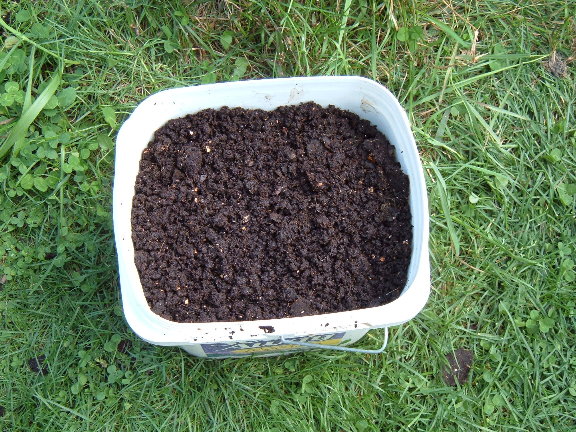 Good luck with your worm farm. You'll appreciate that terrific worm compost.



Posts

: 4646


Join date

: 2010-03-21


Age

: 75


Location

: Southwestern Maine Zone 5A



OKAY, what worms do you want in your garden?

I have a compost pile (sort of) and I have massive worms in it, and they sometimes get transfered to the garden with the stuff on the bottom. Does that matter. These guys are fatter than my husbands finger and twice as big. We plan on getting rabbits again one day, and the worms that we found while cleaning the poo, were just as big as these, I used to sell them for fishing worms.

I am hoping to make some worm towers in some of my boxes this year or next.



Posts

: 1611


Join date

: 2011-01-29


Age

: 50


Location

: NE Texas, 75501, Zone 8a



Thanks for pasting in the thread middlemamma thats the ticket, I thought I had seen it before (memory loss) it is the perfect low cost alternative to the purchase variety and looks to have more volume. COOL



Posts

: 228


Join date

: 2010-04-07


Age

: 52


Location

: Mount Vernon Texas



When you go to the vermicomposting forum, make sure and take a close look at flow-through type worm bins. I started with a Wiggler Hilton style (with a few changes for my situation), but within a couple months I built a flow through after reading about them on that site. I don't have enough experience with it yet, to tell if it's going to work as well for me as they have for others, but I sure like what most peeps say about their FT bins.

I felt safer starting with just the Rubber Maid (RM) bin to jump into it and had bins on hand, so there was really no cost except the worms. I purchased from another local wormer who was also a great help. Liz at:

http://www.wormbincomposting.com/index.html

I don't want to quote her prices since they may change. Just follow the link, she does ship, so if you can't find someone local to you, either of our TX lady wormers would be a great choice.



Posts

: 327


Join date

: 2010-03-08


Age

: 54


Location

: DFW, TX, Zone 7b/8a



I understand that garden worms and red wigglers for compost bins are two different varieties and that garden worms should not be used for confined composters. I may be wrong, but that's the word from other worm ranchers.
I got approx 500 red wigglers in April of one spring and by the following June when I was harvesting the compost, I counted out over 2000 of them, big and small. The big ones do not get as big as your finger. They stay smaller and are reddish in color.
I couldn't figure out how to make a worm bin on my own so I bought one online, the Can-O-Worms and it works for me. Its a condo with 3 stories for worm living plus a basement area for seepage and a spigot for liquid to emerge.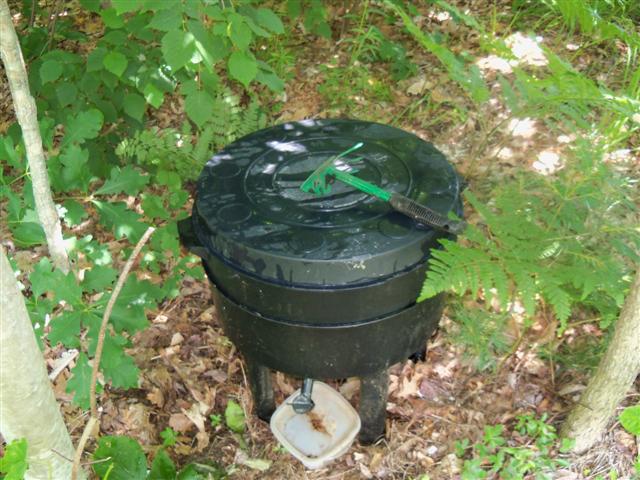 Here it is in the shade of the trees in June with only one story fitted on top. There are 2 other 'floors' that fit snugly one over the other when I need to expand the colony.
I know there are all sorts of these bins out there if anyone can't figure out how to build their own. I'm afraid I'm not that handy about building things so there are people who build them commercially for us.
I'm so glad I've got mine. Great, rich compost for little effort.



Posts

: 4646


Join date

: 2010-03-21


Age

: 75


Location

: Southwestern Maine Zone 5A



---
Permissions in this forum:
You
cannot
reply to topics in this forum