Latest topics
»
who has chickens
by
bigdogrock
Today at 7:30 am
»
The Research Journey:Composting Leaves Only
by
has55
Today at 7:20 am
»
The Research Journey:Growing in a Raised Wood Chip Organic Gardening Bed
by
has55
Today at 7:16 am
»
The Research Journey:Building Healthy Soil
by
has55
Today at 7:13 am
»
the Research Journey:How to Grow Large Healthy Organic Tomatoes
by
has55
Today at 7:07 am
»
The Research Journey:Back to Eden Organic Gardening 101 Method with Wood Chips VS Leaves Composting Garden Soil
by
has55
Today at 7:03 am
»
Microbes...you gotta see this one !!!
by
has55
Today at 5:56 am
»
Sanderson's experiments with Bio-Flora Ag Products
by
sanderson
Today at 3:53 am
»
Bountea Compost Tea - Got it!!!
by
sanderson
Today at 3:23 am
»
Northern California & Coastal Valleys - What are you doing this month?
by
sanderson
Today at 1:28 am
»
CANADIAN REGION:What are you doing in October 2016
by
Kelejan
Today at 12:10 am
»
Straw Bales with Seeds?
by
donnainzone5
Yesterday at 11:50 pm
»
Second Year SFG in Canada
by
sanderson
Yesterday at 11:08 pm
»
TrolleyDriver's Compost Thermometer
by
jimmy cee
Yesterday at 10:44 pm
»
Notice: Gluten-free Recipes Sub-Forum- Up and running!
by
BeetlesPerSqFt
Yesterday at 9:20 pm
»
Our Newest Regional Hosts!
by
Scorpio Rising
Yesterday at 8:56 pm
»
Indian Solar Gardening Calendar
by
Scorpio Rising
Yesterday at 8:52 pm
»
N&C Midwest: October Happenings!
by
Scorpio Rising
Yesterday at 8:40 pm
»
Asia Region -Showcase of Gardens - Show Us Yours
by
rajmahendra
Yesterday at 8:36 pm
»
California's Drought
by
countrynaturals
Yesterday at 1:23 pm
»
Fun Spider addition to Home Page
by
sanderson
Yesterday at 12:56 pm
»
last chance to pre-order baker seeds-rare seed catalog
by
sanderson
Yesterday at 12:48 pm
»
Senseless Banter...
by
AtlantaMarie
Yesterday at 7:37 am
»
Mason bees
by
Scorpio Rising
10/23/2016, 8:45 pm
»
2016 SFG in Brooks, Ga
by
yolos
10/23/2016, 8:05 pm
»
Hello from central Massachusetts!
by
Scorpio Rising
10/22/2016, 10:39 pm
»
What's eating my plants
by
donnainzone5
10/22/2016, 12:30 pm
»
Shallots, Prisma
by
AtlantaMarie
10/22/2016, 7:59 am
»
Peas and cucumbers: Trellis position and plant spacing
by
yolos
10/21/2016, 8:32 pm
»
New England October, 2016
by
Scorpio Rising
10/20/2016, 8:56 pm
Page 2 of 2 •

1, 2
So my kids pick up when I care about things and make it their duty to look after it..... here's what I mean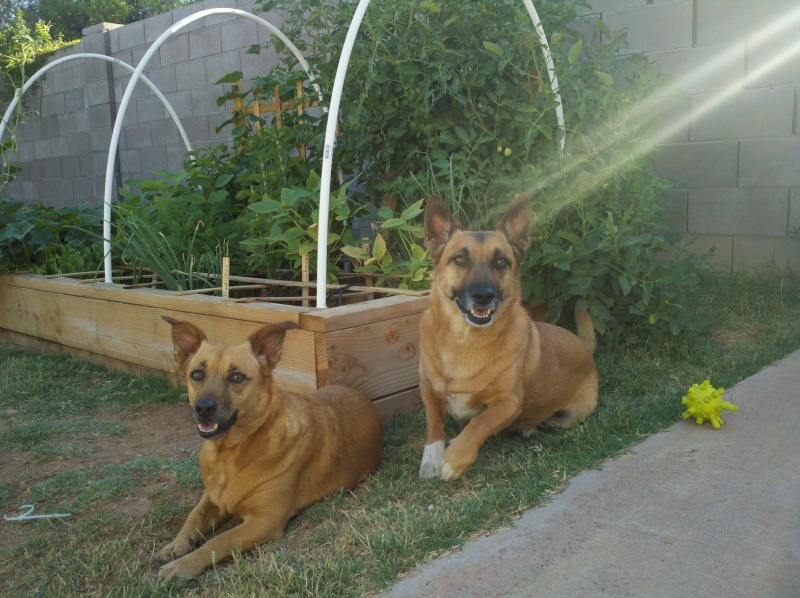 Already picked all the radishes and have been eating spinach, tomatoes, and cucumbers for a couple weeks now. The cucumbers are producing around 2 a day now and it looks like that's soon to rise with it spreading out the way it is. Hope everyone's doing great talk atcha laters
Dfizzle, everything looks lush, green and beautiful. Did you use the square foot gardening soil right out of Mel's Mix bag or did you mix your own? With temps the way they are here, are you watering everyday now?

I'm having some slow growth and I can't figure out why. I planted my cucumber seeds mid April and I still do not have flowering. My squash has discolored leaves. These are my full proof vegie plants and they are slow.

Any advice. Keep us posted with pics.


Thanks! I just had a soil mix delivered from a local landscape store and mixed in some of my mulch. Can't lie I've added some nutrients to the mix a couple times to increase veg production too but only a couple times. Yes I have it set to water for an hour every morning at 530am. It's been watered every single day since late march and twice a day when it was 105 and dry. So far it only seems my soybeans are experiencing any problems.
As far as your cucumbers are concerned.... and I'm still new at this.... but I got my in the ground a few weeks before yours and they have JUST started producing in the last week or so. Expect another week or 2 to start getting flowers then just a matter of days after that till your making cucumber water! Good luck!

Thanks for the info Dfizzle. Besides being new to SQG, I'm also new to Mesa and the only nursery I know of is A & P nursery. What landscape store did you use? And it sounds like you are watering a lot. What watering system are you using? sprinklers or directly to the roots?

I have increased my watering a bit and I am seeing more growth. My cucumber plants are growing more and ready to climb up my trellis.

Thanks for your input and happy gardening!
Love the picture! Unfortunately my kids just like to eat my garden or dig a nice cool spot to lay in. They are not allowed in that area anymore!



Posts

: 378


Join date

: 2010-03-04


Age

: 35


Location

: Glendale,AZ



Page 2 of 2 •

1, 2
---
Permissions in this forum:
You
cannot
reply to topics in this forum