This is a wonderful, easy, no-yeast bread to bake on a weekend morning. It works best with a blender and a non-stick popover pan, but a whisk and a muffin pan will do just fine. Those of you "Across the Pond" may know these as a vegetarian version of Yorkshire Pudding.
There are a few secrets to this recipe, but they're not hard:


Eggs and milk should be at room temperature before you begin.

Rest the batter for an hour before baking.

Use a non-stick pan, or grease very well with butter or non-stick spray. (I do both--non-stick plus butter.)

NO PEEKING!

Ingredients:
3 whole large eggs, at room temperature
1-1/2 cups all-purpose flour
1-1/2 cups milk, at room temperature (I use skim)
1/2 teaspoon salt
1 tablespoon unsalted butter, melted
more butter or non-stick spray
Preheat oven to 450 degrees Fahrenheit. This will take 20-30 minutes, so plan accordingly.
Grease pan with butter or non-stick spray.
In a large bowl, beat eggs slightly. Add remaining ingredients and beat just until smooth and no more. Now, rest that batter for an HOUR. Really. Do not refrigerate, just let it sit there.
Fill cups (popover pan or muffin tin) 3/4 full. Popovers made in a muffin tin will be smaller.
Bake 15 minutes, then reduce heat to 325. Continue baking 25-30 minutes, or until golden brown.
DO NOT
open the oven until done baking, as the rise depends on steam inside the popovers.
De-pan and serve immediately. Excellent with jam....maybe from your SFG?

Note: If you have to hold them for any time at all, pierce each one with a sharp paring knife to let steam out.
Makes 6 popovers...possibly more from a muffin tin.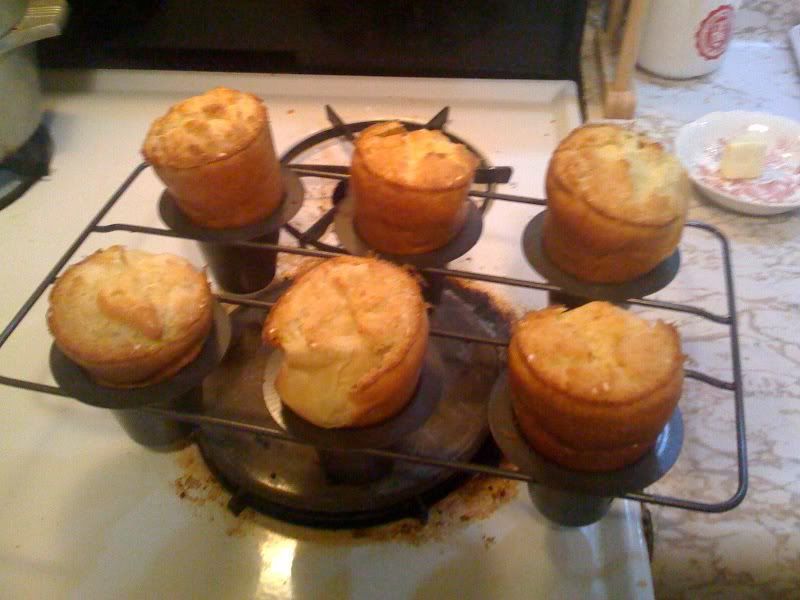 Last edited by Megan on 3/6/2011, 7:45 am; edited 3 times in total (Reason for editing : clarification)
I really, really need to get a popover pan!

Thanks for the recipe Megan.

Forum Moderator Certified SFG Teacher




Posts

: 14144


Join date

: 2010-03-06


Age

: 54


Location

: Keene, NH, USA ~ Zone 5a



Welcome sweetie. It can be made with a muffin tin, though! The popover pan was a birthday splurge from a few years ago.
Beautiful Megan. Every time I read a new popover recipe I learn something new to help mine. It was a revelation learning to let the batter rest an hour, highly recommended. This time I learned to start at 450. Awesome idea. I'll be trying that soon.

Cooks Illustrated recommended skewering them with a pick when they first come out of the oven than baking for 5 more min to keep the structure when they start to cool. That has NEVER worked for me. It just makes ugly popovers as far as I can tell.

I like them with as much as half whole wheat flour.
I like them with a pinch of dry oregano or lavender, or herbs d'Provonce (the kind that doesn't have rosemary).

Biggest mistake ever....noticing that the "nonstick coating" in the bottom of my tin was flaking off. Instead of throwing the pan away I put muffin paper in it. Even though I oiled the papers the batter inculcated them into their structure, stuck to the pan and...... big mess. I meant to just throw the whole works away but my husband did the dishes that night. He spent an amazing amount of time cleaning that pan.

Thanks Megan!

Deborah....who is on the last jar of home made wild blackberry jelly.



Posts

: 2054


Join date

: 2010-03-03


Age

: 60


Location

: Everett, WA USA




Forum Moderator Certified SFG Teacher




Posts

: 14144


Join date

: 2010-03-06


Age

: 54


Location

: Keene, NH, USA ~ Zone 5a



Debs,
I hope something in here helps yours. I learned these tips from my mother-in-law. I am a big fan of Cook's Illustrated but hadn't read their popover version. Resting the batter lets the dough hydrate better, and having everything at room temperature (not chilled) is important because you need all the punch from the steam you possibly can get.
They would be absolutely lovely with herbs, though I'd probably be more likely to herb the butter than the popover, again out of weight concerns. (I am looking forward to cooking with lavender this year. I planted some in your honor, last year, but left it strictly alone so it could get established.)
My popovers are sometimes a little ugly, but they are always tasty! I don't think they would work at all with paper liners. They need a slick surface to poof up on, otherwise I think they would get crusty and stuck pretty fast.
Also....envious of that blackberry jelly!

popovers are DELICIOUS with maple syrup.
Gwynn
Regional Hosts




Posts

: 1156


Join date

: 2010-08-12


Age

: 66


Location

: Canada 3b



Wow, Megan!
This looks so good!
I passed this thread on to my daughter. She will love it, too!
Thanks!

Jane



Posts

: 116


Join date

: 2010-03-02


Age

: 59


Location

: Garland, Texas Zone 7b/8a



For a second there I thought I smelled them....

Looks yummy....will try this maybe next weekend.

Thanks!






Posts

: 2260


Join date

: 2010-04-25


Age

: 39


Location

: Post Falls Idaho and LOVING it



We love popovers! They're so easy to make, and they're wonderful scoopers for eating hearty stew.



Posts

: 778


Join date

: 2010-04-29


Age

: 48


Location

: Central Virginia, 7A as far as I can tell



More popover torture....

Unsalted butter and jam. There were no survivors!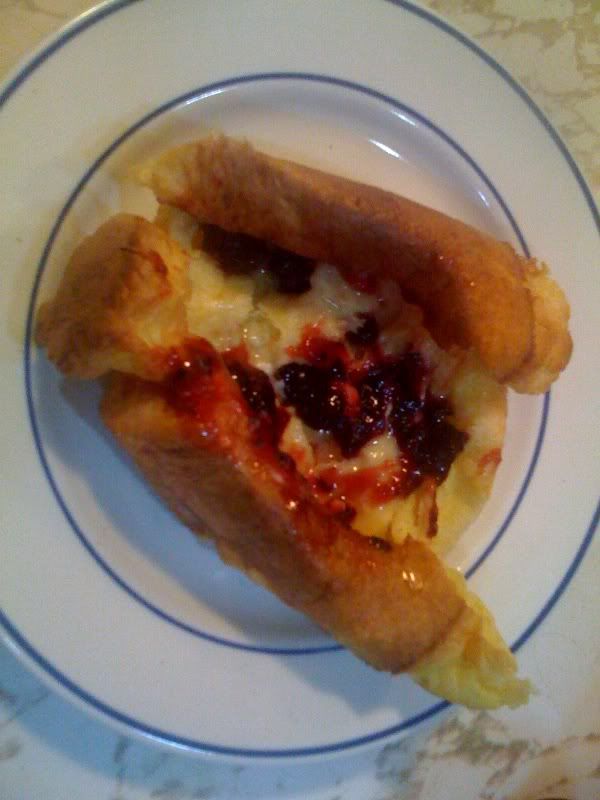 ---
Permissions in this forum:
You
cannot
reply to topics in this forum