Latest topics
»
First day of spring
by
Scorpio Rising
Today at 9:08 pm
»
SW Ohio (Cincinnati Area)
by
Scorpio Rising
Today at 9:06 pm
»
What are you eating from your garden today?
by
Scorpio Rising
Today at 9:02 pm
»
Hello from Houston
by
sanderson
Today at 6:52 pm
»
N&C Midwest—March and Spring is Here!
by
Scorpio Rising
Today at 6:23 pm
»
Coco coir... How often to replenish?
by
plantoid
Today at 5:53 pm
»
SUGA 2018
by
SQWIB
Today at 8:26 am
»
CANADIAN REGION: What are you doing in March 2018
by
sanderson
Today at 2:33 am
»
Fourth Year SFG in Canada
by
sanderson
Yesterday at 6:28 pm
»
Happy Birthday!!
by
sanderson
Yesterday at 2:09 pm
»
Do You Get The SFG Newsletter?
by
sfg4uKim
Yesterday at 8:36 am
»
Garden Tower Project
by
sanderson
Yesterday at 2:14 am
»
Any suggestions on the stump grinding sawdust plus soil?
by
sanderson
3/20/2018, 6:55 pm
»
How much time for gardening?
by
sanderson
3/20/2018, 6:42 pm
»
Sanderson's Urban SFG in Fresno, California
by
sanderson
3/20/2018, 4:03 pm
»
Northern California & Coastal Valleys - What are you doing this month?
by
trolleydriver
3/20/2018, 1:13 pm
»
New England Mar 2018
by
CapeCoddess
3/20/2018, 10:45 am
»
Trellis mod
by
SQWIB
3/19/2018, 8:39 am
»
How's the Weather Where You're At?
by
Scorpio Rising
3/18/2018, 6:38 pm
»
Powdery Mildew and SoCal Fall Planting
by
countrynaturals
3/18/2018, 12:34 pm
»
Boat Gardening
by
AtlantaMarie
3/18/2018, 6:51 am
»
How many green beans per square foot?
by
Scorpio Rising
3/17/2018, 9:27 pm
»
2018 SFG in Brooks, GA
by
yolos
3/17/2018, 8:34 pm
»
Comfrey
by
sanderson
3/17/2018, 8:21 pm
»
Hello from Hagerstown MD
by
sanderson
3/17/2018, 6:10 pm
»
Horsetail weed
by
Kate888
3/17/2018, 3:02 pm
»
A new SFG fan from Texas
by
AtlantaMarie
3/17/2018, 7:17 am
»
Potatoes: Yes or No?
by
AtlantaMarie
3/17/2018, 7:13 am
»
Modesto, Central Valley, CA...
by
AtlantaMarie
3/17/2018, 7:03 am
»
has55's R & D Journey
by
sanderson
3/16/2018, 3:28 pm
Page 2 of 2 •

1, 2

I had been going NUTS trying to figure out how I was going to deal with the sand and working on my third bed I STRUCK IT RICH.
This is what I had on the top shovel depth for reference that is plain old DIRT in the center. Yuck right?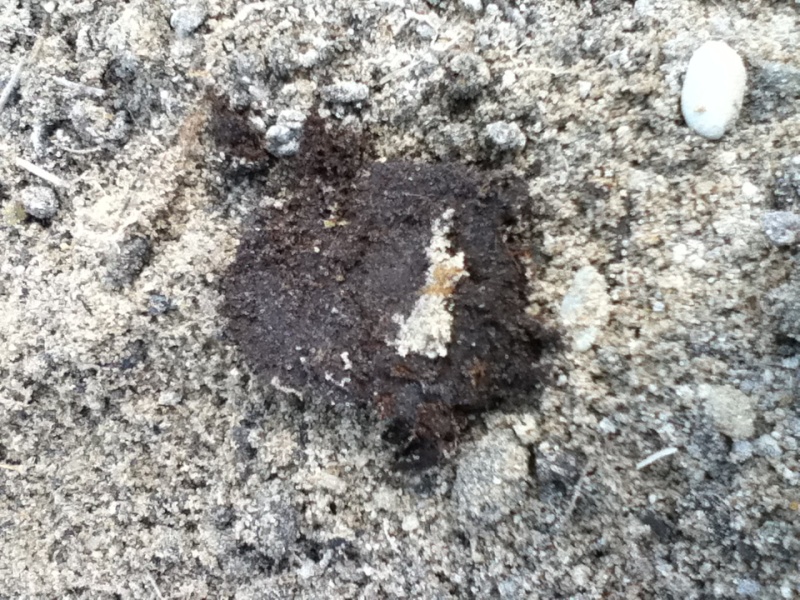 Well I hit what I thought was clay, actually went a bit lower and found this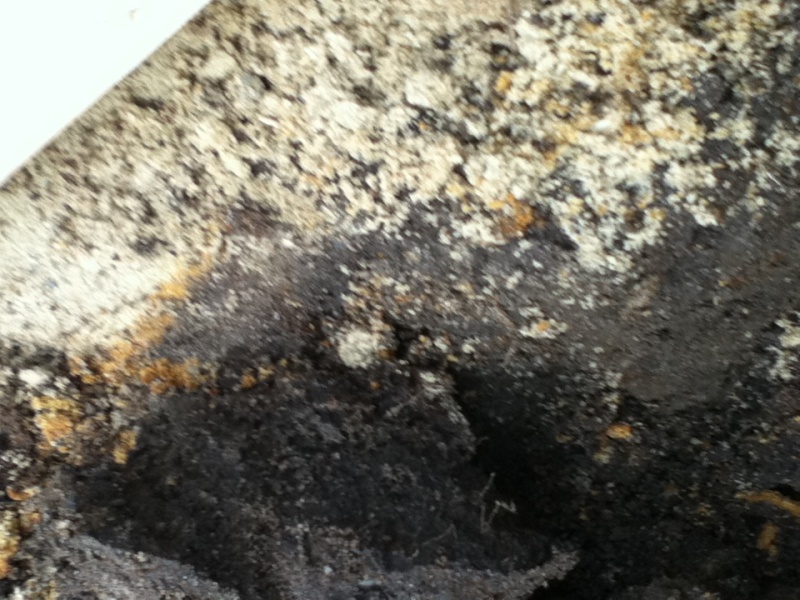 I started the wonderful process of double digging. I am going to drop the sand down to the lower level for drainage and pop the wonderful rich black stuff up to the top. It is seriously hard pack but fluffs and seperated fantastically.
I think someone got cheap at one point when leveling the land. It is OLD farmland and this stuff looks dark enough to be solid manure... I am going to add the manure I already bought in with it and probably some of the sand back in to loosen it up a bit. Gonna go back and see what the other 2 beds I already dug look like underneath. But it looks like I am a HAPPY garden girl
Wow. That looks AWESOME!
The one thing I am curious about is how deep it goes and how far it spreads. It could be manure... or it could be an ash/fire pit, or a place where something burned down? You might want to test the pH. I will cross my fingers for you and pray that it's manure, though!

How do I test it cheaply? do you know if a garden center will test? It looks, once broken up, like the soil in the beds outside my front porch. From talking to neighbors that have been there awhile there were no buildings in the area and it goes down well over 2 spade depths below the sand layer. I really think the sand was an add on and this is native soil. but I will test if I can

Will it give me a decent idea if it is growable if I drop a few "quick sprouting" seeds in it and see how they do?
I have heard that at least some agricultural extension offices will test, probably for a fee. You can buy a simple test kit (vials and some capsules that you break into the vials and mix with a water-soil mix, then compare colors to a standards chart) from big box stores for just $3-4, but I have read warnings here that they are not hugely accurate. On the other hand, I am guessing that even a so-so test kit would have a hard time missing a strong alkaline reading from ashes.
As for growable... they are only seeds, go for it!

Radishes grow quickly.
The only reason I even bring up ashes is that I grew up on a very old farm (built mid-1700's) and there WERE a few forgotten fire pits here and there. What you probably have there is some great soil, but I'd be sad for you to run into trouble with a pH issue.
LOL - I am an idiot with a capital I. My hubby works at the local university and they have a agricultural department. I sent an email to the head of the "soil research" subdepartment asking if he had a recommendation for where I can have it tested. I am hoping he will say .... bring it on down. Meanwhile I will fill a peat pot and drop some quick sprouting herb seeds in and see how they do
LOL! Well, here's to hoping your ag dept will prove that I'm a silly alarmist!


The acre + that we live on is all the richest blackest softest soil I have ever seen in my life...I don't use it in my boxes out of fear of the weed seeds and bermuda grass. This property was totally neglected for 6 years before we got here, and we are surrounded on all sides by pasture. So all the blown on the wind seeds had 6 years of populating and reproducing

I'd love to use my beautiful soil in my boxes. I have planted bulbs etc by the doors etc in the soil and they grew right up no problem...
I hope you hit the jackpot! Good luck.






Posts

: 2260


Join date

: 2010-04-25


Age

: 40


Location

: Post Falls Idaho and LOVING it



Well we had mega rain yesterday, so I am hoping all my digging wasn't in vain. Worst that happens I hope is some mising between the soil that was loose and the sand pile. Need to add some back in to loosen things up anyways. Gonna get back up there this afternoon.

Rain is a BAD thing ... I will admit it seriously sidetracked me yesterday. I have a confession to make ... this mom is a serious Gleek. I swear I watched every episode from this season back to back yesterday. My daughter's fault, I started watching it to see if it was "12 year old appropriate" (mature 12 year old YES) and got hooked myself.

Back to garden today and no more cheering on the newest couple
Well - it was a bit wet going but got the double dig done on one of the beds. I put the sand back underneath to help with drainage, but this stuff REALLY holds water. Dorpped some into a peat pot to see how it sprouts some herb seeds, added a bit of water and it turned to SOUP. Wondering if I should just mix everything together, instead of layering. I have about 2/3 soil and 1/3 sand. Will this help with the drainage?

Sherri is off work tomorrow so we are supposed to work together tomorrow on some of the other beds. Hope to get at least the first 2 weeks worth of planting dug and ready before we get too far. Usually takes about 3 hours per bed with the double dig and sod pull. Gonna be busy.

Thinking about doing some seperate either pots or spaced plantings at my house for some of the nonhybrid seeds that a very sweet member of the forum sent me - thanks Andrea, it WAS like Christmas. I want to be able to harvest and replant for next year and share back out.
Page 2 of 2 •

1, 2

---
Permissions in this forum:
You
cannot
reply to topics in this forum