You know those nifty little aqua globes that we have all seen in the "as seen on tv" aisle at walmart? I tried last year with little success to just stick the neck of a 2 liter bottle in the soil to keep my melons watered. They kept falling over. I found the following idea in a search and think I may try it this year for my toms and peppers. Real easy.

http://growandtell.wordpress.com/2010/04/28/diy-watering-spike-theory/

You can click the update link to see them in action. Basic theory is to take an old hose - pretty sure we all may have one sitting aroud that is a bit worse for wear - tho you could use cpvc - the tan stuff that is drinking water safe - cut a length that will go down roughly the root depth of the plant, drill or poke some holes in it, plug the bottom and insert the hose into the ground. Place a 2 liter bottle filled with water over it (should fit fairly tight) and your plants will love you.

Anyone tried something similar?

Second idea that is similar using "floral spikes" like florists use on roses
http://www.kahnlandscaping.com/blog.html

and cheap supplier for the spikes
http://www.afloral.com/Floral-Supplies/Water-Tubes-and-Picks



Posts

: 87


Join date

: 2011-03-03


Age

: 50


Location

: delmarva peninsula



FABULOUS! Thanks for sharing!!!


Forum Moderator Certified SFG Teacher




Posts

: 14146


Join date

: 2010-03-06


Age

: 54


Location

: Keene, NH, USA ~ Zone 5a



What a great idea! I'll start saving bottles since I will be adding several buckets for tomatoes this year.



Posts

: 754


Join date

: 2010-03-02


Age

: 68


Location

: Southeast Tennessee



I tried something similar last year for the first time using plain old, clean vegetable cans.
I hammered a hole in 4 places around the sides at the bottom with a nail, I buried the cans almost to their rims. Next I added some compost and filled the can with water. When there's a dry spell, I filled them with water and they did well for my plants. They not only water, they feed them a little with compost tea, as well.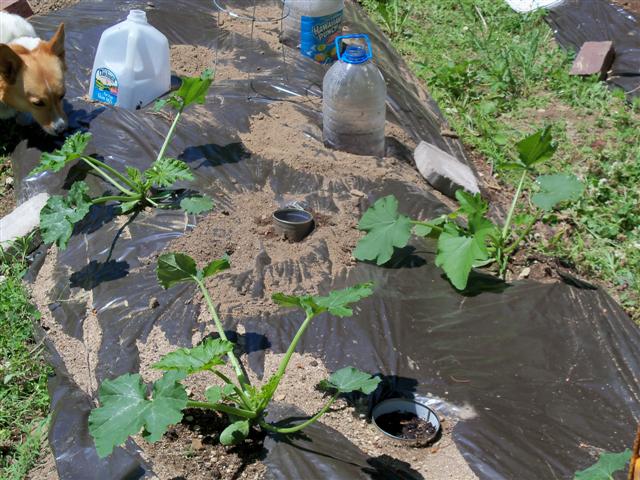 I tried some between the zucchini.
If you put very small holes in a few places around the bottom, it should seep out the water more slowly.
I buried 4 cans in the middle of my cucumber tower
I plan to do this again to more of my plantings this year. Like between every 4 spinach or nearby the peppers and tomatoes.



Posts

: 4648


Join date

: 2010-03-21


Age

: 75


Location

: Southwestern Maine Zone 5A



I was considering making my own ollas to help, especially around water-demanding tomatoes. Buying ollas that are made for the purpose is very expensive, but you can make your own for much less. Here's the first site I found about making your own:

http://www.closertothedirt.com/experimenting-with-ollas/

Here's another site I just found, that contains a couple more options, including the ability to make an automatic system out of it:

http://www.globalbuckets.org/p/olla-irrigation-clay-pot-system.html



Posts

: 343


Join date

: 2011-03-08


Location

: Zone 8b, Coastal & Tropical South



Quiltbea, when I lived in Southern California, we used that milk-jug trick you are showing. Took an ordinary milk jug, stuck a few holes in the bottom, and then buried it part way and filled it from the top. The general idea was that the burying would maybe get the water closer to the roots and/or help keep the water a little cooler... and the narrow neck help against evaporation. But we didn't exactly do any experiments to see how effective it was. Still... it was a great, cost-free solution.




Posts

: 3350


Join date

: 2010-04-27


Age

: 50


Location

: Manassas, VA - Zone 7a



Those ollas are really nifty... I may try something like that since I always forget to water.




Posts

: 38


Join date

: 2011-03-10


Location

: New Hampshire



Megan.....In my case the milk jugs are cloches, keeping the heat around some newly planted summer squash plants. I've never used them as watering devices, just the tin cans.



Posts

: 4648


Join date

: 2010-03-21


Age

: 75


Location

: Southwestern Maine Zone 5A



---
Permissions in this forum:
You
cannot
reply to topics in this forum