Latest topics
»
New England September 2016
by
RJARPCGP
Today at 1:18 am
»
Mid-Atl - Oct 2016 - Fall Garden 2016
by
countrynaturals
Today at 12:45 am
»
1,000 worms on their way....
by
Kelejan
Today at 12:38 am
»
CANADIAN REGION: What are you doing in September 2016
by
Kelejan
Today at 12:28 am
»
Another item for composting.
by
Kelejan
Today at 12:23 am
»
Second Year SFG in Canada
by
Kelejan
Today at 12:22 am
»
N&C Midwest: September 2016
by
Scorpio Rising
Yesterday at 11:05 pm
»
compost thermometer
by
jimmy cee
Yesterday at 10:26 pm
»
NEW ENGLAND OCT 2016
by
Scorpio Rising
Yesterday at 10:02 pm
»
Tryst with my first DIY SFG
by
Turan
Yesterday at 9:29 pm
»
leggy potatoes plants were started too early in the hous
by
sanderson
Yesterday at 8:31 pm
»
Plantoid' s going into hospital ....
by
Turan
Yesterday at 5:46 pm
»
The Research Journey:what to plant now, fall gardening in Dallas-Ft worth
by
sanderson
Yesterday at 2:37 pm
»
EXPERIMENT: Tomatoes to Powder
by
llama momma
Yesterday at 1:58 pm
»
mulching
by
dstack
Yesterday at 1:46 pm
»
Soil Blocks: Tutorial In Photos
by
Kelejan
Yesterday at 12:49 pm
»
What are you eating from your garden today?
by
BeetlesPerSqFt
Yesterday at 8:08 am
»
Mid-Atl - Jul 2016 - Wwwwaaaaahhhhh!
by
BeetlesPerSqFt
Yesterday at 8:03 am
»
Mix for making soil blocks
by
trolleydriver
Yesterday at 7:54 am
»
soil testing
by
Kelejan
9/23/2016, 9:26 pm
»
Kale Question
by
countrynaturals
9/23/2016, 9:15 pm
»
Terrible News: Bumblebees In Trouble
by
Scorpio Rising
9/23/2016, 8:51 pm
»
Facebook - SFG Foundation postings
by
Scorpio Rising
9/23/2016, 8:49 pm
»
A traditional German dish with a Fall twist.
by
sanderson
9/23/2016, 6:38 pm
»
Apparently Radishes Need Sun
by
sanderson
9/23/2016, 6:28 pm
»
Northern California & Coastal Valleys - What are you doing this month?
by
sanderson
9/23/2016, 6:22 pm
»
SFG Adventure of a first time gardener in ND
by
sanderson
9/23/2016, 5:49 pm
»
When is a great time to start a garden? The Fall!
by
landarch
9/23/2016, 9:46 am
»
Gardening in Central Pennsylvania
by
trolleydriver
9/22/2016, 8:27 am
»
The Most Annoying Pest In The Yard
by
has55
9/22/2016, 7:51 am
Anyone grown fennel from seed - the bulb variety not the flowering herb? My seedlings are all coming up great in my little peat greenhouse, then all of a sudden yesterday ALL but one of my fennel seedlings laid their tops down. They didn't hit top of the tray lid, and light has been constant so it is not like they have been "stretching" for the light. They were very leggy - tho it has only been a week. The dill - which is about the same height is doing fine, it is just the fennel.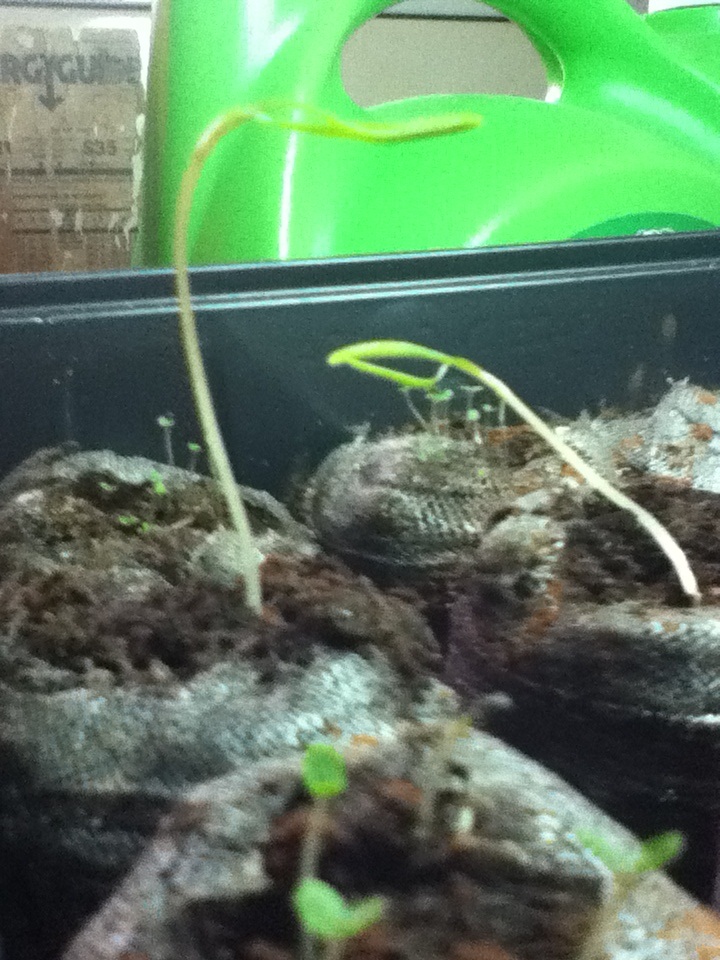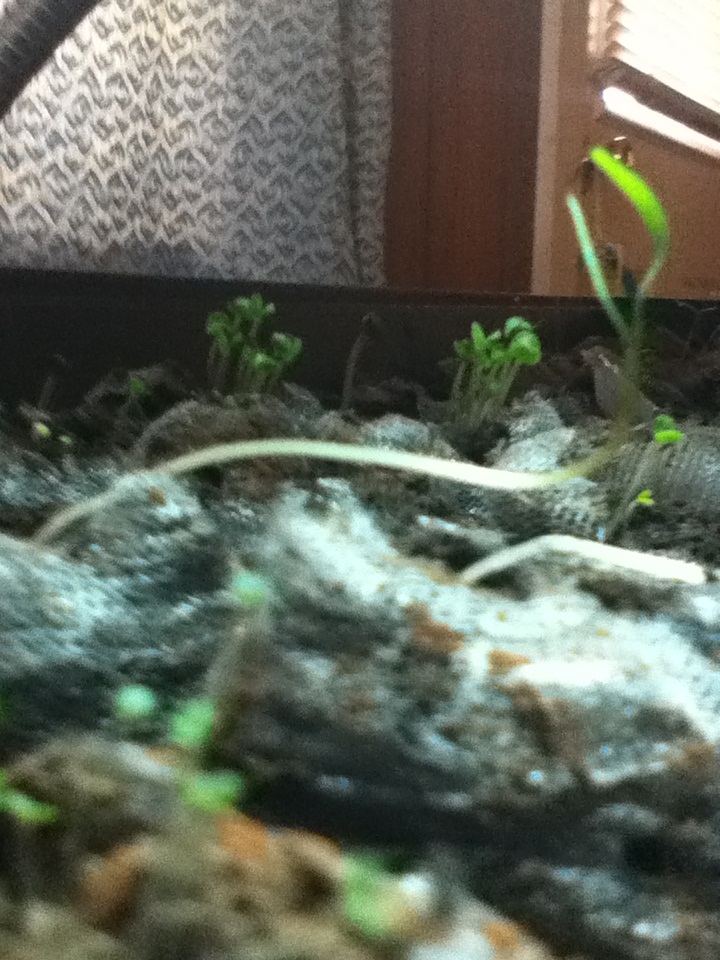 I did take them outside for a bit yesterday, took the lid off and let them get some mid 50s sun. It was a bit breezy out - are they THAT fragile? Are they likely to "regrow"? Any suggestions appreciated.
My guess is: The light was too far away from your greenhouse lid, which made them get leggy. Seedlings started indoors are very sensitive, that is what the hardening off process is for--it desensitizes them to temperature and humidity fluctuations, as well as vibration /motion from wind and insects, etc.

As for suggestions...I hope someone more experienced chimes in, but here is what I would do. I don't know if they will re-grow or not. I'd say, take them back inside and coddle them a bit. And start a second batch of seeds, just in case.

Again, I am going on gut instinct here. Hopefully someone else will have better/more detailed advice for you. Hope it helps, though!



Posts

: 3350


Join date

: 2010-04-27


Age

: 49


Location

: Manassas, VA - Zone 7a



Thanks Megan - just gonna have to wait and see. If nothing else, when we get closer to final frost I can always restart outside. Herbs have a way of making out - that is why most ppl think of them as "weeds" if they didn't plant them themselves. I know I have about 3 types of wild mint growing in my yard, plus chives and wild asparagus. Only problem is they have planted themselves SQUARE in the center of grassy areas where I can't cut around them easily. BAD PLANTS
I think you'll be fine. I put my herbs in perimeter, permanent beds for exactly that reason (except for the chives...I've seen what they can do when they go loose!) And, I have to laugh about your mints. I grew some lemon balm years ago that got "loose" and it naturalized. The bees love it. The sad part is that somehow in the process of naturalization, it doesn't taste like lemon balm anymore. Also some years back, I was gifted with some wild ginger (from a cultivated source). It has slowly been spreading. The flowers are subtle but gorgeous, like little brown thimbles just above the soil.



Posts

: 3350


Join date

: 2010-04-27


Age

: 49


Location

: Manassas, VA - Zone 7a



What you describe sounds sort of like damping off. You can sure try to coddle them but your seedlings are at a critical stage. Until they have true leaves they have only a limited amount of energy. The momma in me would want to baby them. The gardener in me would start over. My problem with weak seedlings has been that I can get them to survive (if it isn't damping off) but survive is all they really will do for me when I want them to thrive. Since you are looking for a bulb base to harvest instead of fruit or seed head, surviving might be good enough with fennel.

In the PNW it is not too early to start fennel outside. They are a bit more cold hardy than their pretty leaves would suggest. You can start them under a cloche if it makes you feel better about them.

Among other things, don't put them in the same box that you will be planting beans in. Last year was the first year that I ever grew Florence Fennel. I had read that they put off a toxin that weakens other veggies planted near them. They did not like my beans. The beans in nearby boxes would sprout, even get a set or two of true leaves but that was as far as they would get. Somehow I would mix up in my head dill and fennel, thinking I needed to isolate dill. Dill is fine, I should have isolated the fennel. Flowers, broccoli and onions seemed fine near funnel. Now that I think about it the nursery bed of leeks that were next to the fennel only grew near the front of their square, not on the fennel side of the square.

One more odd observation was that fennel planted later in the season did not have a noticeable effect on the beans planted nearby. Those beans were growing for quite a while before I planted the fennel. In that case beans and fennel grew side by side.

All the best as you grow one of my favorite veggies TO COOK.



Posts

: 2054


Join date

: 2010-03-03


Age

: 59


Location

: Everett, WA USA



I have never really cooked with fennel - but I watch too much "Cooking channel" to not give it a try.



Posts

: 53


Join date

: 2011-02-22


Age

: 45


Location

: South Orange County, CA



Maybe the lettuce is just a slacker and filed the memo right in the trash? LOl

Glad your lettuce didn't conform!






Posts

: 2260


Join date

: 2010-04-25


Age

: 38


Location

: Post Falls Idaho and LOVING it



---
Permissions in this forum:
You
cannot
reply to topics in this forum