Latest topics
»
CANADIAN REGION: What are you doing in January 2018
by
Kelejan
Today at 10:20 am
»
My first Attempt
by
21Actual
Today at 9:56 am
»
Newspapers vs Weed Cloth
by
Saazhops
Today at 9:45 am
»
Biochar?
by
SQWIB
Today at 9:18 am
»
SUGA 2017
by
SQWIB
Today at 8:14 am
»
Spring Fever Anyone?
by
plantoid
Today at 5:37 am
»
Too Many Red Wiggler Worms in Raised Beds??
by
plantoid
Today at 5:21 am
»
What is this? Plant identification?
by
sanderson
Today at 3:10 am
»
Areogardening
by
sanderson
Today at 2:38 am
»
January 2018 Avatar: Surprise Us
by
sanderson
Yesterday at 4:51 pm
»
My Shreveport Garden 2018
by
sanderson
Yesterday at 4:47 pm
»
2018 - First Annual Seed Exchange Week - January 20-28 (Edited)
by
BeetlesPerSqFt
Yesterday at 4:13 pm
»
Are vegetables hurt by too much light?
by
BeetlesPerSqFt
1/20/2018, 8:38 am
»
Seed Starting!!
by
brianj555
1/19/2018, 9:14 pm
»
How's the Weather Where You're At?
by
sanderson
1/19/2018, 2:56 pm
»
Weight Watchers Turkey, Bean and Vegetable Chili
by
hammock gal
1/19/2018, 8:43 am
»
Sow True Seeds
by
AtlantaMarie
1/19/2018, 8:00 am
»
Colored Mulch
by
No_Such_Reality
1/18/2018, 7:12 pm
»
Taking on 4 Season Gardening
by
Roseinarosecity
1/18/2018, 5:19 pm
»
Fourth Year SFG in Canada
by
trolleydriver
1/18/2018, 3:53 pm
»
Senseless Banter...
by
sanderson
1/17/2018, 9:42 pm
»
Butternut squash, turkey Italian sausage, cannelini bean soup
by
yolos
1/17/2018, 9:25 pm
»
Happy Birthday!!
by
yolos
1/17/2018, 9:12 pm
»
N&C Midwest—January 2018!!!
by
Scorpio Rising
1/17/2018, 7:08 pm
»
Is there ever enough compost?
by
has55
1/17/2018, 2:41 am
»
What are you eating from your garden today?
by
Scorpio Rising
1/16/2018, 9:10 pm
»
Gophers
by
countrynaturals
1/16/2018, 12:32 pm
»
High heat tolerant tomatoes
by
walshevak
1/16/2018, 6:03 am
»
Mid-Atl - Jan 2018 - Brrrrrrrrrr! and Happy New Year
by
AtlantaMarie
1/15/2018, 6:43 am
»
New England Jan 2018
by
hammock gal
1/13/2018, 5:50 pm
I am in the process of moving one of my beds. Today as I was taking mix out, I saw little white worm looking creatures on the inside wall. I think they are termites. They went into hiding pretty quickly when I uncovered them. Is my bed ruined? Can it still be used? How do I get rid of them? Any help would be appreciated.




Posts

: 35


Join date

: 2010-04-26


Age

: 60


Location

: Chardon, OH



Bump! Can you post a photo of the little critters?



Posts

: 3350


Join date

: 2010-04-27


Age

: 50


Location

: Manassas, VA - Zone 7a



I had carpenter ants or termites (I never actually saw which, as there's quite a difference) ruin a kiddie sandbox I built after only a couple of years. I figure the same will happen to my SFG's.

I hope your wood isn't ruined. My uneducated guess would be that if you can actually move them still, the wood is still holding, and you may be fine. But, I don't know about erradicating the buggers with chemicals that close to your garden. You may want to scrap the pieces and replace with new wood.

Experts, in a raised bed could you feasibly sprinkle granular insecticide down on the perimeter of the beds, outside the garden obviously, and still avoid leeching when it rains? If the roots never really touch that ground level, would the roots even be exposed to anything underneath?



Posts

: 2727


Join date

: 2010-12-25


Age

: 44


Location

: St. Louis, MO



If they look like worms they are not termites or carpenter ants since neither has young that are worm like.
Here are some photos of termites
I would not recommend using an insecticide unless it is organic because it will contaminate your bed. It would be a good idea to find out what they are. You could take a few to your
county extension service
.
If they are something you need to eradicate cedar can repel and kill many insects. Cedar chips or cedar essential oil on cotton balls. You could put either around the edge inside and out and even on top the soil. They should not harm earthworms or your plants although I would not let the essential oil touch plants.

Certified SFG Instructor




Posts

: 150


Join date

: 2010-03-04


Age

: 59


Location

: Bountiful, Utah Zone 6



I wouldn't rule our termites so fast. I can see how they might be described as worm like: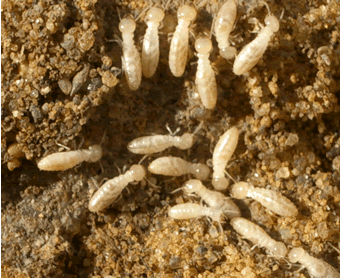 Posts

: 668


Join date

: 2011-01-26


Location

: WNC 6b



Termites lives in warm place. I mean you live in warm place. They are harmful to you. You have to try to kill them. If you not protect those then if may be very dangerous for you. here you can see the life history of termites.




Posts

: 1


Join date

: 2012-01-18


Location

: dhaka



The termites will not harm your bed (i.e. MM and plants), as they only feed on wood and woody substances. They will, however, ultimately destroy your wooden frames.

If there are actually termites in the wood frame of your bed, you need to dispose of any wood that might contain them. Without highly toxic materials, you will not be able to eradicate them. If you actually have termites in your current bed frames, you will ultimately have them anywhere in your yard where you might relocate your garden, even if you rebuild with new wood frames. Ultimately they will find the wood and begin to eat it.

If you rebuild or relocate your beds, consider using non-wood containers, such as cement blocks or blocks specifically made for retaining walls. Another option is the use of pressure-treated wood. Although some on this site might have concerns otherwise, there is no scientific evidence to date that current methods of pressure-treating wood can affect the plants of your garden or that any substances are taken up by plants from the treated wood (unlike the older methods). If you have concerns about possible leaching of materials, line the inner surface of the frame with thick plastic. We have lots of termites on our property as we have lots of forested areas. Any piece of wood or stick left on the ground long enough will be found and eaten by those voracious creatures. I have used pressure-treated wood in my garden and have had no issues with termites.

Of course, another option is to consider your wood frames something that must be renewed every few years, and just live with the termites.



Posts

: 188


Join date

: 2011-05-04


Location

: 7a (Northern middle Tennessee)



---
Permissions in this forum:
You
cannot
reply to topics in this forum