My first time ever to attempt gardening, and the SFG method seems like a sure way to go! My husband & I are planning to have a baby in the next year and it is important to me that we eat nutritious food and not worry about pesticides/chemicals. We've built a 4 x 4 and have all of the seeds in their proper places. It has only been a week and I'm seeing lots of sprouts. We did transplant the 2 tomato plants.
So far I haven't needed to spend lots of time gardening and when I do I'm loving it!
We also constructed an easily removable cage to keep any animals out and to use with a covering for those heavy rains we sometimes get. I haven't constructed a vertical support yet, which I will need for the tomatoes, cucumbers, and pole beans. I'll have to tweak the cage some once we get that done but its doable.
I love the forum and reading about everyone's experiences and looking at pictures!!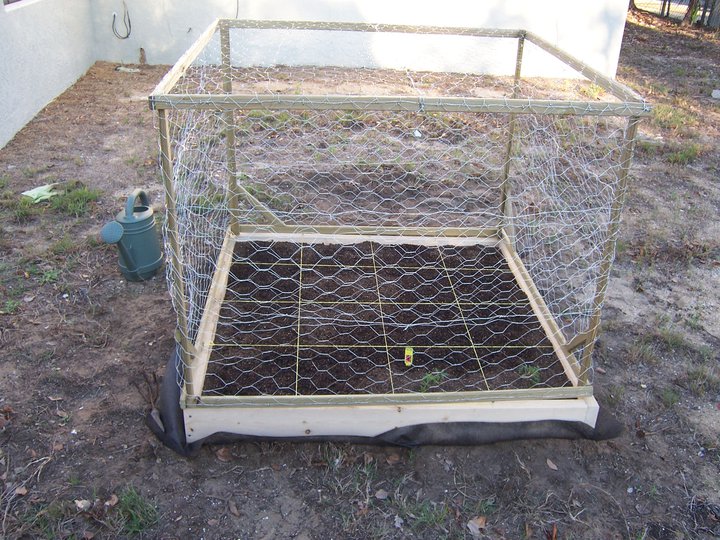 Posts

: 1


Join date

: 2011-03-11


Age

: 36


Location

: Space Coast, FL



Welcome from the thawing North! You will love the forum. This is my first year and everyone has been so helpful and informative - and entertaining.

I am in NE South Dakota and am still only dreaming of building my boxes. Just got back from vacation today and the 4 feet of snow on the ground when I left is now down to various mounds around the yard between stretches of brown grass and last year's dead garden.

TC



Posts

: 3411


Join date

: 2011-02-16


Age

: 52


Location

: Zone 4A - NE SD



SunshineMo
Very glad to "meet" you. You will find that SFG really is a simple, easy and fun way to grow those nutritious veggies. Glad you got a chance to read around the forum. There is a lot of information available from prior posts.
This is a great group of people who are very willing to help each other when questions come up, as they frequently do.
Thanks for posting the picture of your first SFG, and please keep us updated on how your garden is doing.



Posts

: 3141


Join date

: 2010-06-10


Age

: 70


Location

: Coastal Oregon, Zone 9a, Heat Zone 2 :(



Welcome to the forum and to SFG!
That's a great box you have there! It's so exciting to see those first plants coming up.

Looks like you have plenty of room to expand in years to come, too, should you want to.



Posts

: 3350


Join date

: 2010-04-27


Age

: 50


Location

: Manassas, VA - Zone 7a






Posts

: 1012


Join date

: 2010-08-27


Age

: 47


Location

: Wesley Chapel, Florida (Zone 9)



We are so happy to have you join us. That is a lovely SFG you have there. We love pictures. You will find that before this year's growing season is done, you will be so hooked on growing your own veggies that you will be needing more boxes before long.

Just a tip...........get your trellis/vertical supports for climbers in ASAP. It is best not to wait so you don't disturb the roots any more than necessary. And those plants can have a grow spurt and suddenly need something before you know it.

Best of luck with your garden and family.

Gwynn
Regional Hosts




Posts

: 1156


Join date

: 2010-08-12


Age

: 66


Location

: Canada 3b



---
Permissions in this forum:
You
cannot
reply to topics in this forum