Hello,
I'm very excited to start my first garden and have taken an initial shot at designing a 4X6 foot bed. This bed will be in addition to a few container tomato plants I hope to have on the deck along with some flowers in containers. Also, I have a 3rd year Cascade hop plant that has been doing great (I homebrew beer and use my harvest for as "wethop" beer every year).
Of course, I'm just getting started and certainly have a lot to learn. Any feedback and/or advice would be greatly appreciated. This sure seems like a great community of very experienced and helpful people. Thanks in advance!
- Craig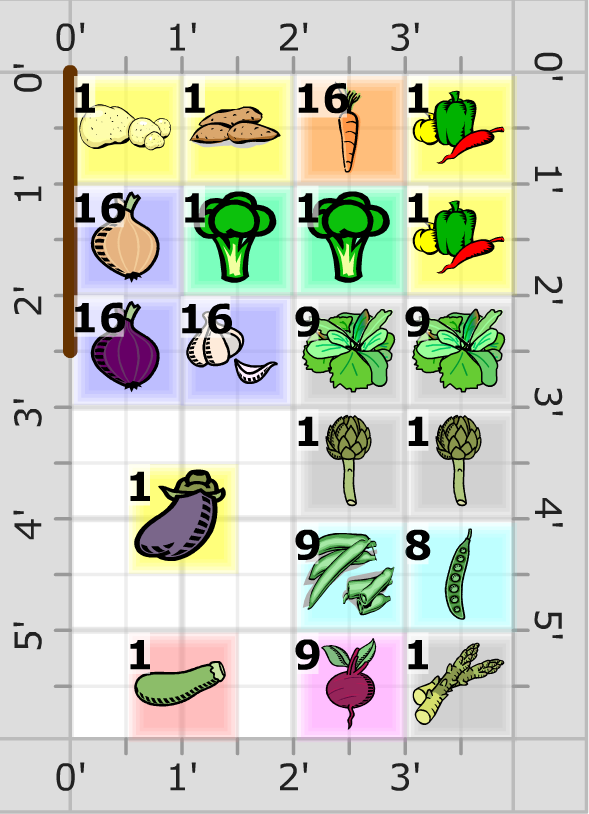 Forgot to mention one thing... I was planning on the top 4 boxes being deeper than the rest (potatoes carrots).
Hi Craig,

Your plan looks great. I'm on my 3rd consecutive garden, and I had my first garden many years ago. I'm still kinda experimenting myself. I'm working with difficult soil and although, I got some good stuff last year, I'm hoping to do a little better this year.

xoxo



Posts

: 141


Join date

: 2010-05-26


Age

: 55


Location

: South Eastern Ontario, Canada



Craig, your plan looks pretty good, and congratulations on your Cascade Hops. I grew Cascade and Willamette in a half barrel up the side of the house on a trellis system. Of course the roots came out of the bottom of the half barrel and started new plants all along the side of the house.

My youngest also brews beer and we were growing the hops for him.
I really like that you have one deeper end for longer rooted crops. I do have a couple of questions about your garden plan.
Which way is north on your plan? If your taller plants and vining plants are along the north side, they will not shade shorter plants.
Will you have a trellis for the peas or beans or are these bush style?
Is that one eggplant taking 4 sq ft. on the left side of your garden? I only use 1 sg ft, but perhaps that purple represents a bushy squash plant?
Did this planner suggest you could grown an artichoke in 1 sq ft? Mine took a minimum of 4 sq ft and really closer to 9 sq ft (3X3)last year. But, boy were those artichokes good.
Please keep us posted on your progress and also, share pictures.



Posts

: 3141


Join date

: 2010-06-10


Age

: 70


Location

: Coastal Oregon, Zone 9a, Heat Zone 2 :(



Welcome to the forum, Craig. (Both our sons-in-law are named Craig, and both have the same middle names, too!)
I like your garden plan.
If you have questions there are plenty of folks here happy to help if they can. You can also use the search feature to see if your question has already been answered in a previous thread.
Keep us posted on how your garden grows.



Posts

: 1450


Join date

: 2010-03-16


Age

: 62


Location

: Southeastern Missouri (6b)



Thanks for the replies everyone!

- North would be the left side of this plan. Also, my house is on that side.
- I was thinking bush style beans.
- Yes, that is an eggplant. Sounds like I've allocated too much space for that!
- Yes, the planner I used put the artichoke in 1 sq ft. Sounds like that isn't going to work!

A couple of other thoughts I had...

I don't feel like I'm anywhere near prepared to try and start seeds indoors this year. So, I'm thinking about buying seedlings from a local nursery and taking any advice they may have. Seems like a good place - here is the website... http://www.whiteflowerfarm.com/

If I go the seedling route, I'm guessing I would also buy seeds for those plants that will be replanted over the course of the growing season. Or am I thinking about that wrong?

Thanks again! So much to learn!!




---
Permissions in this forum:
You
cannot
reply to topics in this forum