I want to think creatively about a trellis, but not expensively. I want it to be decorative, as who knows what the HOA might say...? Plus, I like pretty things.

SO, what are the basic parameters for a trellis? I'm thinking about using an iron headboard that I can get from craigslist or freecycle. Would that be sturdy enough? That's just one thought I've had so far. As I brainstorm, I'd love to have some must-haves/must-avoids in my brain to run my ideas through.

Thanks in advance. You all rock!
Tracy



Posts

: 309


Join date

: 2011-03-20


Age

: 42


Location

: Fort Mill, SC



It depends on what crops will be using that trellis.
If its for peas or pole beans, a headboard alone isn't high enough. They can easily grow 6' or more.
I put in two 7' high green rust-proof fence posts that are buried a foot into the ground at the north end of 6 of my 9 raised beds. With mine I can attach twine or trellis netting or wires or even brace a headboard in the upper regions, if I so desire. Of course, I went for practical, not for beauty.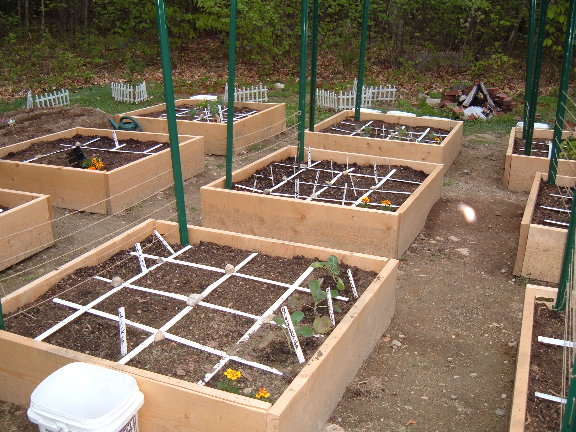 Posts

: 4648


Join date

: 2010-03-21


Age

: 75


Location

: Southwestern Maine Zone 5A



Hi Tracy,
Good luck with your HOA! I had fun with mine last year.
After one year of SFGing with trellises, here are my thoughts on them:
1. You must be able to afford them. (Well, d'oh!)
2. You must have room for them. And LIGHT for them. (Depending on how your boxes are laid out, one trellis can potentially shade another. I had some trouble with this last year.)
3. You must be able to tend and harvest your plants safely. My garden last year had sloping ground and I was bound and determined not to be falling off a step-stool, so I built mine with the top rail at 6" over my head. (I can reach much higher than that, but plants do not stop growing at the top of a trellis rail...they stretch beyond that.)
Which leads us to.....
4. Trellis size and construction is probably determined by what you want to grow. Some plants would laugh at a low trellis like a headboard. And there are others where that is all you would need. (Short vining peas come to mind.) But, if you are trying to build trellises you will re-use again and again every year, you probably want to make them as tall and sturdy as you can.
5. Trellises should be sturdy and easy to anchor.
The conduit / rebar trick is a great one and I'm a convert. But there are a million ways to trellis plants, I'm sure, and I would LOVE to see an iron headboard trellis.
I really want to put in an above-ground pond in my backyard this year... and my first choice was a gorgeous cast iron, clawfoot bathtub that I found on Craigslist. But the weight and pain of transporting it decided me against. Ah well. I've found a 2nd choice and it's actually bigger and probably better anyway... just have to procure it.
Good luck, and please let us know what you come up with. (And we LOVE pictures!!)



Posts

: 3350


Join date

: 2010-04-27


Age

: 50


Location

: Manassas, VA - Zone 7a



Thanks for a great response. Lots to think of there. Lots to think of everywhere it seems. I need to just get some seeds in the ground before my head explodes...

I love the idea of the claw foot tub pond. Sounds like you have a great creative mind.
I can't wait to have pictures to post. Believe me, I will. I'm so proud, and want to share it with people who I know will appreciate it.



Posts

: 309


Join date

: 2011-03-20


Age

: 42


Location

: Fort Mill, SC



Thanks... and, can't wait to see your pictures! Know what you mean about head exploding. Plant some radishes... they sprout in a just a few days and give you something to watch (and eat!) while the ground warms up some more.




Posts

: 3350


Join date

: 2010-04-27


Age

: 50


Location

: Manassas, VA - Zone 7a



---
Permissions in this forum:
You
cannot
reply to topics in this forum