I'm probably getting way too deep in the details, but here goes a "newbie" question that will probably be very obvious to those of you with experience. I had planned to plant potatoes in my new SFG, but in looking at various sources re: planting, it says that they should not be planted in soil that has been amended with manure within the past 6 months. If this is the case, how can we plant them in MM which is 1/3 compost? Is all compost aged for longer than this? How can I check to be sure the compost that I get isn't too "new"?
Many thanks!

Very good question Masonite. I don't have a good answer but if you grow your own compost you could easily control the answer. I have seen some pretty astounding attempts at growing taters on youtube.com. Mine will not be done directly in SFG but some kind of auxiliary container yet to be decided. There are videos there on everything from tires carved up and stacked to bags, coolers and suitcases used to organically grow them. I don't consider any of those containers organic friendly but am considering making square stacking cedar frames where each layer is rotated 90 degrees. I figure at 3 or 4 levels a 3 foot base could narrow it's way upward and hold about 20 hills. What I use for dirt or MM type mix is still also undecided. What are others doing for your potato beds ?



Posts

: 512


Join date

: 2011-03-22


Age

: 75


Location

: West Union, Iowa



Uncomposted manure can cause potato scab. Some varieties are more susceptible than others. My favorite, White Cobbler, is one that is particularly vulnerable to it. It doesn't usually make the potato inedible unless there is a serious infection, but it causes hard, scaly patches on the outer skin.

I'm no expert and others can correct me if this isn't right, but I think the problem is only with fresh manure which increases alkalinity of the soil. It usually takes about six months to break manure down. As long as you use composted manure in the MM and keep the mix correctly proportioned it should be okay.

Crop rotation also helps, so try not to grow potatoes in the same place year after year or the scab pathogens can build up in the soil.



Posts

: 1450


Join date

: 2010-03-16


Age

: 62


Location

: Southeastern Missouri (6b)



Thanks for the help Ander. I guess the key word is "composted", so I guess I should be fine. It was in the wee hours of the morning when I posted that message, and I was a bit bleary-eyed and not thinking clearly!
Spuds - When I set them up, my beds will be 18" deep (I'm using the Lifetime beds sold at Costco stacked two high), so I am hoping this will work out . My family LOVES potatoes so I'm looking forward to growing my own.

Those spuds will be the best you've ever tasted.
Good luck.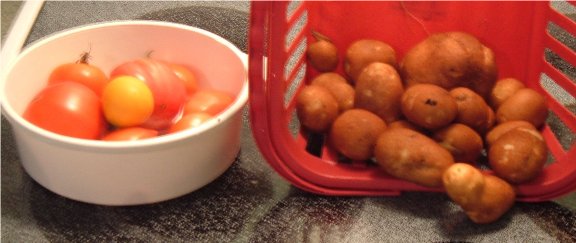 Some of my earliest ones in mid August. The flavor was superb.



Posts

: 4688


Join date

: 2010-03-21


Age

: 75


Location

: Southwestern Maine Zone 5A



Quiltbea, I can't wait. Your harvest looks good! About how many potatoes do you get from one plant? Also, once you harvest them, does the plant continue to grow new potatoes, or do I have to remove the plant and put in a new one? I want to make sure that I plant enough!
This is my first year with potatoes too. From what I read everywhere, excepting the manure, potatoes aren't terribly picky about quality of soil. So I planted mine with a mixture of MM, potting mix, and straw. I made my own potato grow bags out of leftover weed barrier fabric.



Posts

: 293


Join date

: 2011-03-10


Age

: 42


Location

: Cincinnati Zone 6A



I understand you can usually get about 10# per pound of seed potatoes. I think I got about 30# from the 4# of seed taters I planted.

You can snitch new, young potatoes anytime they are big enough. Just stick your hand in the dirt and pull out a few small ones. Leave the other taters there and they will continue to grow and produce until the tops die back. That's when they are ready for the final harvest.



Posts

: 4688


Join date

: 2010-03-21


Age

: 75


Location

: Southwestern Maine Zone 5A



Thanks for the heads up! I can't wait to get my hands on some home grown potatoes! Yum!
---
Permissions in this forum:
You
cannot
reply to topics in this forum