I can't really afford to get wood lath to make my grids so I am thinking of just using string. What kind of string will last a long time? Any help is appreciated!

Jennie



Posts

: 232


Join date

: 2011-03-25


Location

: St Louis MO Zone 6a



Hi,
Any synthetic string should last a longer time, than a natural string. Having said that I use the second cheapest natural string I can find. I want my string to rot over the coarse of a gardening season. I feel it makes spring clean up so much easier.

Patty in Yorktown



Posts

: 350


Join date

: 2010-03-05


Location

: Yorktown, Virginia



I use natural fiber twine. It is good for one season, sometimes two, but it is compostable.
I used a cotton twine for grid making
and jute twine for my trellis web.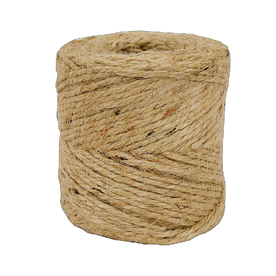 Forum Moderator Certified SFG Teacher




Posts

: 14146


Join date

: 2010-03-06


Age

: 54


Location

: Keene, NH, USA ~ Zone 5a



If you can find it, try bailing twine (the stuff used to hold together bails of hay). If there are any farms or ranches around, they will likely give it to you. It's is strong, sun resistant, and comes in a variety of colors.



Posts

: 12


Join date

: 2011-03-19


Location

: South East Idaho (Zone 4a/4b)



I just used mason's twine since I already had it. It is lime green color, so it stands out a bit against the dark soil back ground!



Posts

: 520


Join date

: 2011-02-17


Age

: 48


Location

: Frisco, TX zone 8a



when i was still using string i used cotton string that i got from the dollar tree store. at the end of the season i would throw it in the compost pile.


Certified SFG Instructor




Posts

: 438


Join date

: 2011-01-06


Location

: nashville, TN



Last year I used leftover yarn, it lasted all season. It probably would've been fine to use again this year, but I took it off and tossed it at the end of the season. I'm using yarn again this year.



Posts

: 110


Join date

: 2010-03-08


Location

: Z5 Chicago Suburbs



I think the most common thing is to find a compostable string and toss both it and your plants using it into the pile when the season ends.

I used a nylon twine this year because I had it and was thinking about keeping it for a couple seasons. However, I will be cutting it every year to replenish the compost in my beds and mix again. So, I am now a compostable guy.



Posts

: 2727


Join date

: 2010-12-25


Age

: 43


Location

: St. Louis, MO



I use plastic-coated clothesline-- waterproof, UV-resistant, *cheap*, doesn't scrape my knuckles or a plant that gets placed a little closer than I'd intended, and lasts multiple seasons.

I put screw eyes around my box, then threaded the clothesline through those, and tied it off with a bowline knot (all those years in Scouts taught me a few things!) so last week I untied it to do my fluff and mix in some new MM.



Posts

: 1023


Join date

: 2010-03-03


Location

: West Central Florida



---
Permissions in this forum:
You
cannot
reply to topics in this forum