Hello. Since I was unable to mix my mix and fill my box yesterday due to rain, I've been doing more cerebral work on my garden.

I'm hatching an idea, and want to get some feedback on it. I would like to have a cover for the birdies and other pesties once I plant my seed. I'd also like to keep out the bunnies and deer. In the book, Mel recommends a chicken wire frame boxy thingy, and a dome of PVC or covered wagon. Do you think I could combine the two? Cover the PVC with wire when I need that, plastic or cheesecloth as recommended for the other times those would be needed?
It's totally half-baked that this point, so I'd love some brainstorming help. Or shooting it down if not feasible before I spend too much more time on it...
Thanks,
Tracy
PS I really want my garden outside already, and not living in my garage! I'm getting so impatient!

I have been experimenting with that idea for a couple years and getting more and more into it.
It started with putting up plastic for protection from the winter rains, then to use as a cold frame, then as a trellis for indeterminate tomatoes. I have a metal hoop house that I covered with chicken wire. I have a 1x4 MM box sitting beside the 4x4. I use the 1x4 to plant peas and they climb up the chicken wire. Go for it! I'm putting on them on a number of beds. Quite versatile.

I'll look for pictures tomorrow



Posts

: 7392


Join date

: 2010-02-26


Age

: 64


Location

: yelm, wa, usa






Posts

: 520


Join date

: 2011-02-17


Age

: 49


Location

: Frisco, TX zone 8a



Awesome Boffer. Thanks so much! Look forward to those pictures.

Tracy
I've got mine cover with nylon net (bridal veil illusion 108" wide) for bug control.

Will probably cover with plastic in the fall to extend the season a bit.

Kay

pictures don't seem to be loading tonight
____________________________
A WEED IS A FLOWER GROWING IN THE WRONG PLACE
Elizabeth City, NC
Click for weather forecast

Certified SFG Instructor




Posts

: 4360


Join date

: 2010-10-17


Age

: 74


Location

: wilmington, nc zone 8



I will try and get more pics up as soon as I get time. But, I have done what you are talking about because of my dog. She was my "critter."

I took off my plastic when I was forecast to get a week of spring weather with no freezes. I put the plastic aside for later....it's not past my freeze date for another month. I ran out to the store and bought bird netting in a 4'x50' roll for about $15.

If it makes sense, I put some screws almost all the way into the wood beds to anchor the netting. I rolled the netting over the hoops from left to right as you are looking down the length of the bed. Essentially, I was cutting the 50' roll into what amounted to 6 or 8 foot pieces. I overlapped them on the sides and used "zipties" to make them one long net. I made sure it was taught so the screws would hold the netting in place.

Now, when I need access, I pop the netting off the screws and just go under the nets. I fasten it back down when I'm done. If it's supposed to get cold at night, I just brick the plastic down over the netting. The netting is permanent, as it's ziptied down to the hoops, too. If I get tired of anchoring the netting to the hoops, I will just find a 1x3 of wood and staple the netting to those and I will be able to roll the netting up all at once.

I will try and post a picture of what I've done. However, you may have to look for a post started by me to find it.

Good Luck!



Posts

: 2727


Join date

: 2010-12-25


Age

: 43


Location

: St. Louis, MO



Awesome, this will solve my dog pest problem, no natural animal pests in my backyard. :o)



Posts

: 298


Join date

: 2011-03-19


Location

: Central Washington Zone 7a



[quote="BackyardBirdGardner]
I will try and post a picture of what I've done. However, you may have to look for a post started by me to find it.
[\quote]

BackyardBirdGardner,
You somehow got right into my head and deciphered my mental process and created just what I'd envisioned... before I even got there myself. That's impressive! And yes, I would LOVE to see pictures!!!



Posts

: 2727


Join date

: 2010-12-25


Age

: 43


Location

: St. Louis, MO



When I first made one of these, I attached hoops to the box, and had trouble getting into it to water, transplant, weed, whatever.
(first generation, no picture)
I later made the below one, the hoops are attached to a light wooden frame, and feature "gate hooks" so that I can completely remove it.
I thought of using hinges originally, but rejected it due to the wind concerns. (look at the blown up version to see the gate hook on the corner)
(second gen has a picture)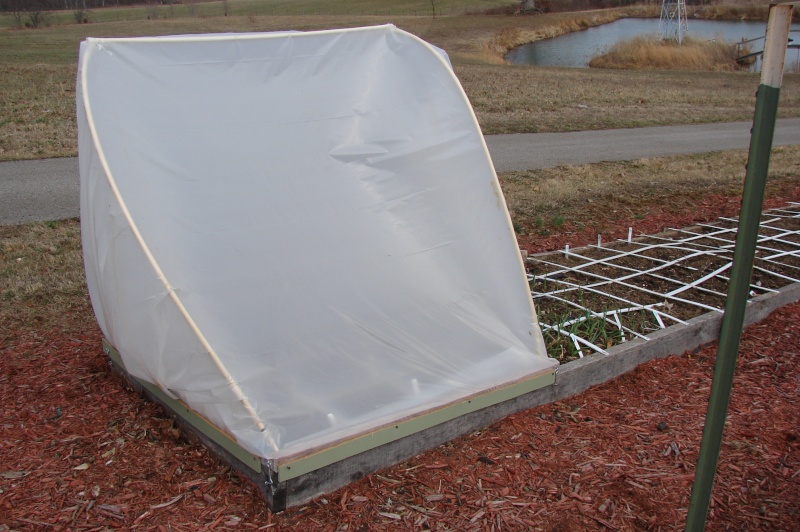 (third generation has an image in my mind.)
It looks like this from (backyardbirdgardner):
http://squarefoot.creatingforum.com/t5892-just-before-my-freeze
with a lightweight frame. You could make it with hinges in back if you were using the bird netting.



Posts

: 440


Join date

: 2010-05-25


Location

: Beaver Dam, Kentucky, zone 6a



---
Permissions in this forum:
You
cannot
reply to topics in this forum