Latest topics
»
Garbanzo (Chickpeas, Cicer arietinum) and Kidney Beans
by
sanderson
Today at 3:27 am
»
N&C Midwest: December 2016
by
GardenGal
Today at 12:15 am
»
Second Year SFG in Canada
by
yolos
Today at 12:13 am
»
CHALLENGE - Smallest possible footprint
by
sfg4uKim
Yesterday at 10:14 pm
»
CANADIAN REGION: What are you doing December 2016
by
Scorpio Rising
Yesterday at 9:02 pm
»
What are you eating from your garden today?
by
BeetlesPerSqFt
Yesterday at 6:24 pm
»
Holy snow Batman!
by
llama momma
Yesterday at 4:52 pm
»
Tomato Tuesday 2016
by
llama momma
Yesterday at 4:35 pm
»
2016 SFG in Brooks, Ga
by
CapeCoddess
Yesterday at 4:02 pm
»
New England, December 2016
by
CapeCoddess
Yesterday at 3:27 pm
»
TrolleyDriver's Compost Thermometer
by
trolleydriver
Yesterday at 1:04 pm
»
Bon fires on the Levee
by
Cajun Cappy
Yesterday at 12:17 pm
»
Mid-South: December 2016
by
Scorpio Rising
12/5/2016, 10:26 pm
»
Mid-Atl - Dec 2016 - Seed Catalog ?
by
Scorpio Rising
12/5/2016, 10:24 pm
»
Gardening in Central Pennsylvania
by
Scorpio Rising
12/5/2016, 10:21 pm
»
1st Seed Catalog Arrived :)
by
Scorpio Rising
12/5/2016, 10:15 pm
»
Amaranth
by
countrynaturals
12/5/2016, 12:06 pm
»
Northern California & Coastal Valleys - What are you doing this month?
by
countrynaturals
12/5/2016, 12:03 pm
»
Garlic: Freeze, thaw, and heave
by
donnainzone5
12/5/2016, 11:14 am
»
Live and learn
by
jimmy cee
12/5/2016, 9:08 am
»
AtlantaMarie's Garden
by
countrynaturals
12/4/2016, 2:04 pm
»
Mychorrhizae Fungi
by
audrey.jeanne.roberts
12/4/2016, 1:28 pm
»
December 2016 Avatar: Show your Winter Season Colors!
by
Scorpio Rising
12/3/2016, 11:17 pm
»
SFG not giving the results I expected
by
No_Such_Reality
12/3/2016, 7:21 pm
»
New Member
by
trolleydriver
12/3/2016, 4:14 pm
»
First season SFG results / lessons learned
by
countrynaturals
12/3/2016, 10:36 am
»
Eat Broccoli Leaves? Brussels Sprouts? Cauliflower?
by
sanderson
12/3/2016, 2:55 am
»
Winter's Coming!
by
sanderson
12/3/2016, 2:53 am
»
Dry versus fresh spices to infuse vinegar
by
sanderson
12/3/2016, 2:50 am
»
Senseless Banter...
by
MrBooker
12/2/2016, 5:17 pm
Hi All! This is my second year with SFG and but my first time participating in the forums.
I'm really excited to get this growing season going. We still have snow on the ground but that hasn't stopped me from playing in the garden.
I have already started some seeds for transplants. I'm hoping to do better this year than last year. Out of 30 plants started indoors last year only 1 made it. Not because I did something wrong. It was the wrath of a scissor-happy 3 year old LOL. She decided to help me "thin out" the seedlings as she had seen me do the day before. However, I will tell you, that 1 cherry tomato plant did awesome

I'll be busy moving things around this year. Last year I had 3 4x4 boxes and 1 L-shaped box that was 8 ft long x 2 ft deep. It looked like this...
This year I'll have 1 U-shaped box. (Closer to my rain barrels and compost pile) And we're going to attempt to go vertical this year. Something like this...
Do you think I'll have issues harvesting the vertical veggies with the trellis right against the shed?
Good luck to everyone this season!
Beth
Depends on how high the trellis is imo. And, welcome aboard! Glad to see you jumping in with the forums. Your experience, while you will shake your head, will be great to have around. Lots of 2nd year people here.

I absolutely LOVE your "L" shaped bed. The "U" will look great, too, I'm sure. But, as a landscaper, you can do so much when you get creative like this. You can really incorporate those beds into your yard and things will look so nice when mature. Well done!

I can relate to the kiddos giving veggies "haircuts." Mine are only learning, too. And, I know it will pay off in the long run.....like when I need a compost pile turned over. But, for now, we are doing the really simple chores together like running things out to the compost and watering.

Remember that you will have to reach over the MM in the beds to get to those veggies on the trellis. If you can't do that comfortably without stepping in your MM (a big no-no as you know), you may need to make an adjustment. Once you get it right, you will be oh-so-happy.

Don't be shy about asking any other questions....or chiming in when you see something you can help with. Hope to see you around soon.



Posts

: 2727


Join date

: 2010-12-25


Age

: 42


Location

: St. Louis, MO



I'm not so much worried about the height of the trellis. I'll only be 5 ft and I can definitely reach the top with only 2 squares in the way. I'm more worried about too many veggies getting stuck behind between the shed and the netting. hmmm? I think I'll just leave it planned as is. It's more aesthetically pleasing. If it doesn't work I can always change it next year

My little helpers are so much more excited this year than last. They're 4 and 3 and can't wait.
I understand your concern, but my experience is...where the sun don't shine, veggies don't grow. I think it may be so dark back there that not much fruit develops. However, I, too, will find out. I put a trellis up against my house this year, too.



Posts

: 2727


Join date

: 2010-12-25


Age

: 42


Location

: St. Louis, MO



The reflected light from the shed should help the veggies, but if it were me, I would move the garden 4 feet away from the shed to allow for more air circulation. Having the moisture laden plants directly against the siding promotes rotting the clapboards pretty quickly, plus if you have tendril type plant on the trellis, those tendrils are much stronger than you might think... they can loosen the siding and allow more moisture in. But hey that's me, and moving it out is what I would do... I also like to walk behind my trellises to be able to inspect the undersides of the leaves more easily. I like to look for pests and produce I may have missed from the front!

I like the idea otherwise, and the lay out is pretty cool; and a Hearty Hello from a fellow Michigander!
Mark



Posts

: 121


Join date

: 2011-03-21


Location

: Mid Michigan



I agree, not to mention training the vines and harvesting.

(Your free hand graphics are soooo much better than mine lol)



Posts

: 7392


Join date

: 2010-02-26


Age

: 63


Location

: yelm, wa, usa



I have my beds (2 feet wide) along the fence and have done just fine with the trellised plants. That said, there are a lot of benefits to being able to access both sides of the trellis and it does give them more room.



Posts

: 842


Join date

: 2010-04-09


Age

: 41


Location

: southern tip of Texas zone 9



Great...now I'm up in the air again LOL So much great advice. Thanks! what to do...what to do...
I could always trellis the corner box on the West side like this.... (I would still have a 12x2 box by the shed. I would have to nix the U-shaped box this year but that also means less work for me since I wouldn't have to move or build anything

)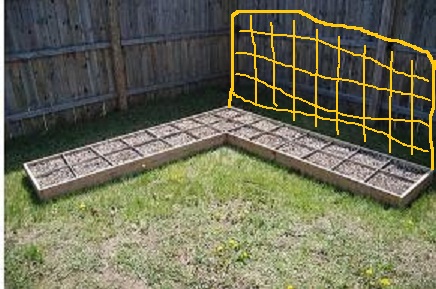 I guess that way it would make it much easier for the kids to pick the veggies too.
Or I could put trellis all around the back of this box (South and West sides) and put some shade loving plants in the front squares. The shade lovin' plants would still get plenty of sun from morning 'til about noon-ish. Like this....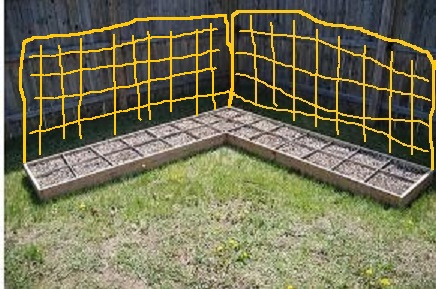 (now I'm just thinking out-loud LOL)
---
Permissions in this forum:
You
cannot
reply to topics in this forum