I'm getting ready to make the purchases for my hoop cover, and I'm getting super anal. I want it to meet all my needs, and want to know what you all did, and what you're happy you did, or what you wish you would have done. Here are my specific needs:
~ I'd like it to double as a frame for bird netting (can I use that for the bunnies and deer as well?)
~ Double (triple?) as a trellis for my cukes and tomatoes, using nylon netting on one of the end hoops - does that mean I would have to make the whole hoop cover 6+ feet tall?
~ I'd like to attach it to my bed with either brackets, or short pieces of rebar or thicker PVC. Here is a picture of my bed - there's a seat, so attaching right to the side will be a little problematic because of the overhang. Suggestions?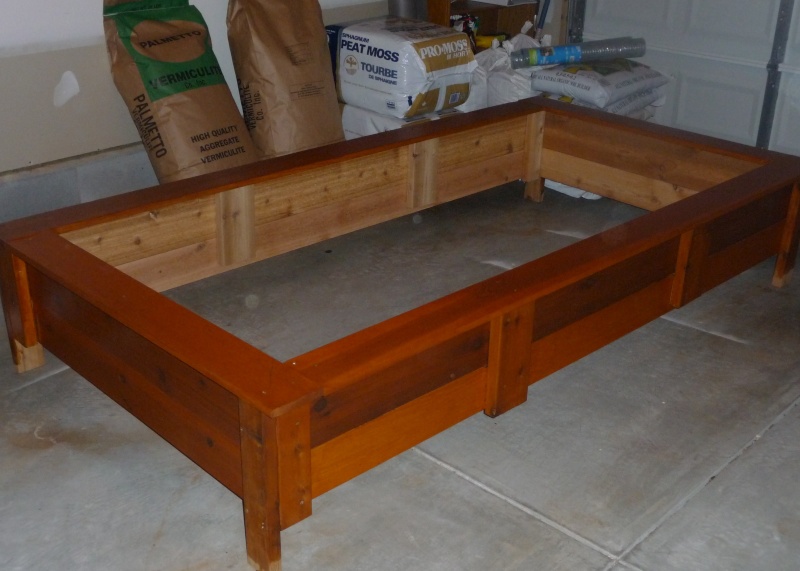 What size PVC would you recommend? I don't get heavy snows, or regular high winds, but sometimes we get hurricane carryover winds (when the hurricane is on the coast, it settles down by the time it gets to us, but can get a bit strong - no super strong though). I do plan to buy snap clasps to clasp the plastic onto the PVC.
Gosh, what else do I need to know?
Thanks SOOOOOOOOOO much. Where would I be without you?!
Tracy



Posts

: 309


Join date

: 2011-03-20


Age

: 42


Location

: Fort Mill, SC



I don't have the time or finances to do this in one shot.....but here is what you are talking about. You want to emulate this guy's design in some way...

http://www.youtube.com/watch?v=kMzjsCDJ7Hw

You would just use a little finer guaged netting to keep out the critters. My issue with the critter netting doubling as trellis netting is.....what a pain in the doohickywhackadoo to take the vines off of that when they are spent.



Posts

: 2727


Join date

: 2010-12-25


Age

: 43


Location

: St. Louis, MO



Whoah! That is intense! I don't know if I have the time/finances either. Maybe one day. So I guess ultimate perfection will have to wait...

I do have to add one more requirement:

~ I have to keep the HOA happy - not too much to draw attention to itself, and not too permanent. I know, that's a big one!



Posts

: 309


Join date

: 2011-03-20


Age

: 42


Location

: Fort Mill, SC



---
Permissions in this forum:
You
cannot
reply to topics in this forum