Latest topics
»
Sweet Potatoes
by
countrynaturals
Today at 12:07 pm
»
Areogardening
by
BeetlesPerSqFt
Today at 12:00 pm
»
1st Seed Catalog Arrived :)
by
countrynaturals
Today at 11:55 am
»
What's Up? Yukon gold potatoes!
by
saganco
Today at 11:11 am
»
N&C MW; Deep Winter December/January 2017-2018
by
Scorpio Rising
Yesterday at 7:57 pm
»
Garden Clean-Up/Preparation
by
Scorpio Rising
Yesterday at 7:53 pm
»
What are you eating from your garden today?
by
trolleydriver
Yesterday at 5:35 pm
»
CANADIAN REGION: What are you doing in December 2017
by
CapeCoddess
Yesterday at 2:01 pm
»
How's the Weather Where You're At?
by
CapeCoddess
Yesterday at 1:50 pm
»
CarbSmart (tm) Potatoes
by
sanderson
Yesterday at 1:41 pm
»
California's Drought
by
trolleydriver
Yesterday at 10:38 am
»
Third Year SFG in Canada
by
Kelejan
Yesterday at 7:51 am
»
Happy Birthday!!
by
Scorpio Rising
12/14/2017, 10:42 pm
»
Spring Fever Anyone?
by
Robbomb116
12/14/2017, 4:03 pm
»
Air Fryer! HELP!
by
countrynaturals
12/14/2017, 1:40 pm
»
Butterfly Junction
by
countrynaturals
12/14/2017, 11:01 am
»
New England December 2017
by
AtlantaMarie
12/14/2017, 6:32 am
»
jalapeno variety question?
by
brianj555
12/13/2017, 6:03 pm
»
Sauerkraut & fermenting veggies
by
brianj555
12/13/2017, 5:28 pm
»
Tomato Questions
by
sanderson
12/13/2017, 3:04 pm
»
Mid-South: December 2017
by
AtlantaMarie
12/13/2017, 8:24 am
»
New Composter - Need Help Filling Correctly
by
saganco
12/12/2017, 9:10 pm
»
December Avatar: 'Tis The Season!
by
sanderson
12/12/2017, 2:29 pm
»
The Research Journey:cardboard covering of newly planted seeds
by
saganco
12/12/2017, 1:15 pm
»
2017 SFG in Brooks, Ga
by
Turan
12/11/2017, 6:39 pm
»
Winter Sowing vs. Winter Growing
by
countrynaturals
12/11/2017, 11:44 am
»
Mushroom in my lettuce!
by
Scorpio Rising
12/10/2017, 10:40 pm
»
5-BOOK BUNDLE GIVEAWAY - ENDS 12/1/17
by
No_Such_Reality
12/10/2017, 4:15 pm
»
December: What to plant in Northern California and Central Valley areas
by
countrynaturals
12/10/2017, 1:24 pm
»
WARNING! Please Read! (Especially Grandparents)
by
Scorpio Rising
12/9/2017, 8:53 pm
Does anyone have deer that come into their yard? I am planning my first garden and need to solve this problem before I go any further. I'm think of putting a fence around the garden area but am not sure what height is necessary. Has anyone else done this or found an effective way of repelling deer? They won't be the only critter I have to worry about come to think of it.



Posts

: 1


Join date

: 2011-04-04


Location

: Alpharetta



Yep, deer are a constant challenge here west of St. Helens, OR. We finally threw in the towel and had deer fencing put in around the garden. For most of our gardening years, we had a large dog or two which did a great job protecting "their turf." However, after the demise of the last four-foot friend, the deer, then the elk, began taking all our fruit and veggies. BTW, elk will even rear up, brace their front feet in an apple tree, and pull branches down so they can strip the fruit off, leaving broken branches! Hence the fence. You probably don't have to go to the extremes we did, a few steel posts like those used for barbed wire pounded into the ground around your garden, and some of the plastc "wire" sold at Ace Hardware stretched around the posts and anchored with those plastic tie thingies, with a simple gate would be a rather low-cost solution. Also, we protected one apple tree with free shipping pallets laid on the ground around the tree, slat side up. Evidently, deer are afraid of getting their feet caught and avoid stepping on the things--kinda like a cattle guard. And, last year, I anchored the plastic mesh to the sides of the arched PVC pipes forming a "hoop house" over the tomato bed--didn't know deer liked tomatoes...or broccoli...or figs...or, well, you get it. Good luck, and remember: If we feed them, shouldn't they occasionally feed us?



Posts

: 1437


Join date

: 2011-02-07


Location

: In hills west of St. Helens, OR



I had deer problems a couple years ago. We've had up to 5 deer at a time in our yard and eating from the birdfeeders. I had put in some dwarf fruit trees and they came and ate the tops and sides of the branches pretty badly.
I couldn't afford deer fencing so I hung Irish Spring soap in net bags from the short fencing I had around each tree. No more deer problems.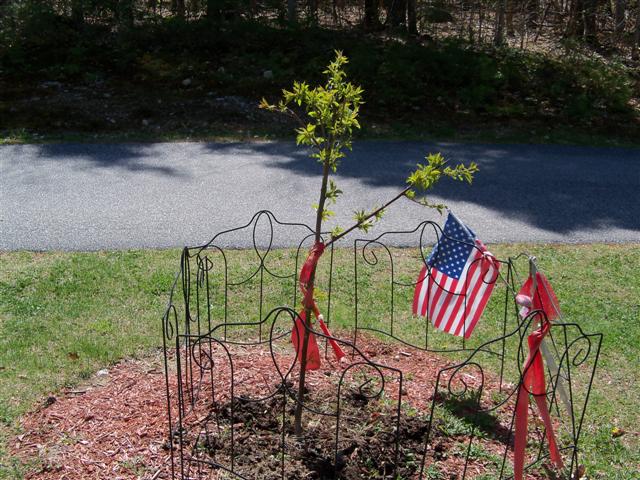 This is my dwarf Amalden Duke Cherry that was topped out by the deer the fall before. Its come back and we have high hopes for it.
I'd read that anti-perspirant soap has an odor offensive to deer and it was a lot cheaper than fencing, so I tried it. It worked for me.
Was I just lucky or does the odor repel them? I can't say for sure, but no problems with deer since. I've even put them hanging on poles around my raised bed garden in the back yard and no problems there either. I understand the soap needs replacing every 6 months to continue working.



Posts

: 4695


Join date

: 2010-03-21


Age

: 75


Location

: Southwestern Maine Zone 5A



we have deer around my place southcentral michigan even had a couple walk right by me when i was standing outside smokin a cig bout 20 feet away, walked right next to the garden witch hadda 4 foot plastic fence around it either they wasnt hungry or they dont like maters,peppers or broccoli. we have a bunch of hosta plants <---deer candy along a fence row on the other side of the house i have yet to see a deer anywheres near them.

boog



Posts

: 260


Join date

: 2010-09-01


Age

: 61


Location

: jackson,mi



I have a pack of FL deer (about half the size of what you would call small deer in your area), and honestly we get all happy/giggly when they show up (about 6am or 8pm & only after a rainy night in the meadow across the street).
Ours wont come within 200 yards of a house/yard .....guess I should count my blessings.
I cant even imagine having to deal with full size deer or elk



Posts

: 1012


Join date

: 2010-08-27


Age

: 48


Location

: Wesley Chapel, Florida (Zone 9)



The deer ate my SFGs a couple years ago (first year). Once they know there is food, they keep coming back to feast. I didn't really get much my first year of SFGing as the deer ate all the lettuce just before July harvest time and ate the tops off the rest of my veggies. It was also a very cool, dark, rainy year so my veggies did not recover.

I installed a mesh deer fence which is 7 feet tall last year and found that it was effective at excluding the deer.

Fences need to be either very tall 7-10 ft to stop deer from jumping over, or enclose a small enough area that the deer don't have enough room to land inside. My mesh fence is light, see-through, and easy to open and close to access gardens. I laid sod over the bottom to hold it down and use clothes pins to hold the overlapping access flaps closed.



Posts

: 189


Join date

: 2010-03-03


Age

: 46


Location

: Petawawa, Ontario, Canada Zone 4a



We back up on woods and deer and other critters are not at all shy about seeing what they can nibble on. Rather than build a fence around the boxes, I went a different route with building the fence into the boxes. Saved a little money by using the support of the boxes and also needed less fencing that way.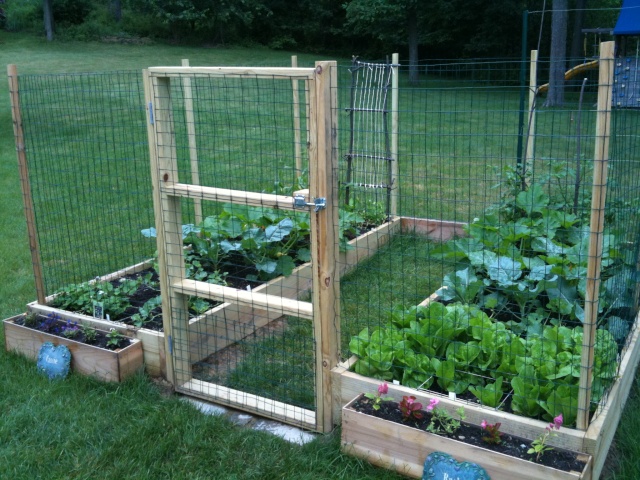 A note... I'm modifying the longer sides in the coming weeks to allow the fence to be removable. I found it tough to get to the outer squares from inside when things started growing.
The fence comes up to 5 feet. I've heard that deer could jump that in a heartbeat, but no problems so far. As bullfrogbabe mentioned in the last post, I think they don't have enough of a landing strip on the inside.
More here on construction:
http://squarefoot.creatingforum.com/t2618-first-sfg-actually-first-any-kind-of-garden
Good luck keeping Bambi away!



Posts

: 90


Join date

: 2010-06-02


Location

: Pittsburgh, Zone 6a



---
Permissions in this forum:
You
cannot
reply to topics in this forum